*This is a sponsored post with The Motherhood and Duncan Hines. All my opinions are my own and not swayed by outside sources.*
Perfect dessert? What is it? Where can we find it? When it comes to mommy time, we're always on the look out for that perfect dessert or sweet treat that checks all the boxes. Something fast. Something easy. Something delicious. Something that WON'T allow us to eat and eat until we pop. Where can we find this sweet, easy nirvana? Actually, we can find it in a cup. Which is soooo awesome.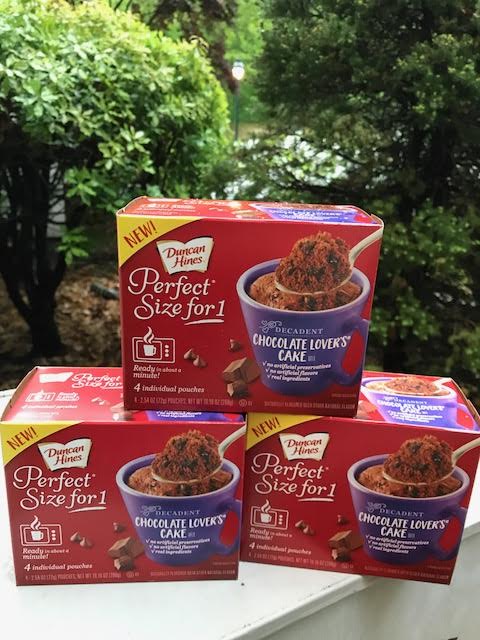 Perfect Dessert for Perfect Me Time
Sometimes we moms just need a little break. Sometimes we want to do what we want to do without sharing it with anyone else. And that's okay. After all, we give so much to our families. When you think about it, 90% of our time is giving our family 100% of our effort. So when it's time for a little mommy time, we want to make it special. Sure, you could just have any old cookie or piece of candy. I mean, it's good enough, I guess. But it's not really special. It's not the kind of awesome that we moms deserve when we finally take a little time for ourselves.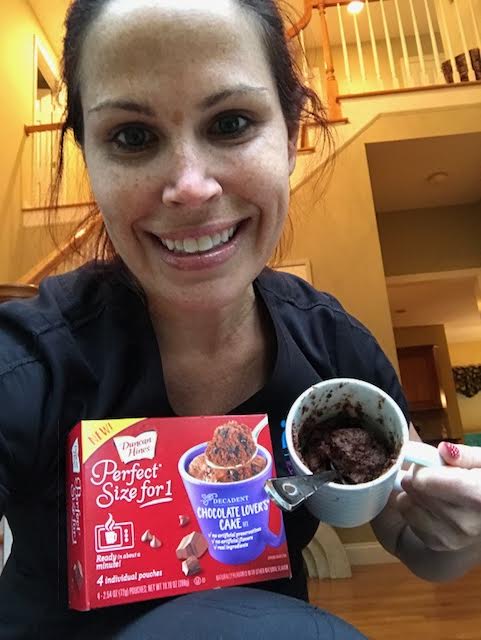 That's where the new cakes from Duncan Hines for 1 come in. The Perfect Size for 1 is simply delicious!  All you need to enjoy a perfectly portioned cake is a mug, some water, and about a minute. That's it. for real. That's all you need. It's the perfect warm treat for when you want to kick back and enjoy a few minutes to yourself. And let's face it, as moms it really is only a few minutes. So if we can get a delicious single serve cake  in a minute, we're all set up for some quality me time.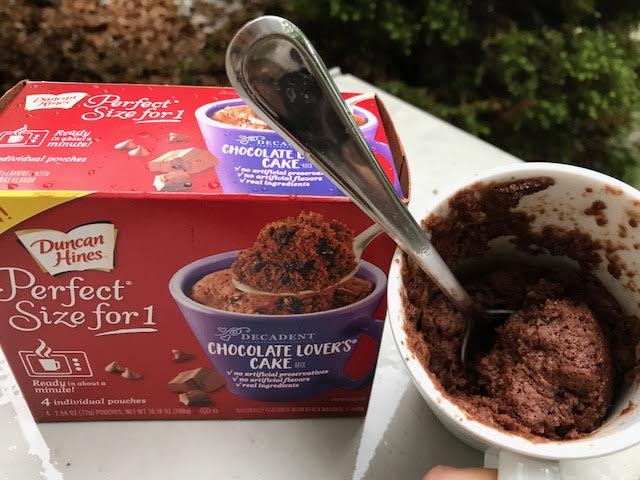 The Duncan Hines Perfect Size for 1 cakes are awesome. Not only are they cooked up in about a minute, they come in all the flavors we love – 18 of them, in fact. Not only that, but they can be easily personalized to our individual tastes. It's pretty amazing. We can make these cakes with almost any liquid like milk, juice, coffee, liquor, and more. The mix is also add-in friendly so we can add in goodies like chocolate chips, nuts, fruit, and the like. It's cake Heaven!
Perfect Dessert? YES!
I am loving these Duncan Hines Perfect Size for 1 cake mixes.  Each one is a single portion so there is no leftovers of waste. When they say it takes about a minute, that is NO exaggeration. With a little water and a 8 oz. mug, I'm good to go. Their single serve cakes bake up fast, and they bake up well! They're perfectly cooked and since they're so easily personalized, we all get the perfect cake for US! They really are so good. And let me tell you, book time is on a whole new level for me now. Because NOW it's book time and CAKE time! WOOT! Make your me time awesome with some delicious CAKE from Duncan Hines. Check out their Duncan Hines for 1 cake mixes and find your perfect warm treat dessert.