A study by the Centers for Disease Control and Prevention found that over a period of 12 months more than 600,000 American children under the age of 12 rode in a motor vehicle at least once without a restraint. This is despite the fact that every year more than 120,000 children between the ages of 0 and 12 are injured and more than 500 die as occupants of vehicles involved in crashes.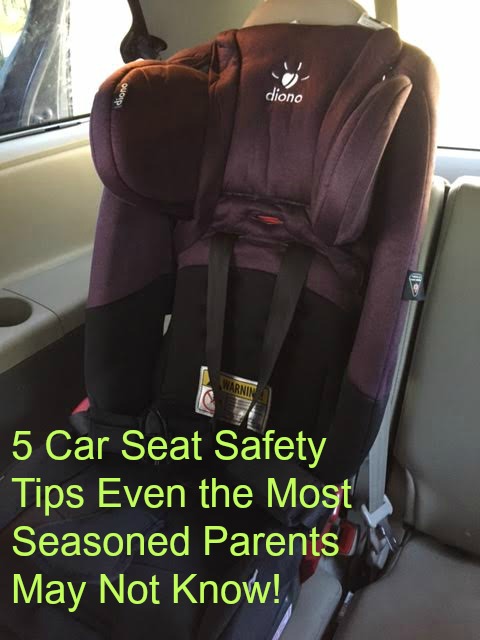 Car seats and booster seats are designed to keep young children safe in the event of a car crash. First-time parents often feel overwhelmed about choosing a car seat; after all, it's one of the first things expectant parents need to pack when going to the hospital! Parents who have already raised multiple kids, however, are likely to roll their eyes and say, "Been there, done that." Here are 5 car seat safety tips even the most seasoned parents may not know.
Adults, Buckle Up!
Studies have found that when riding with unrestrained adults, 4 out of 10 children remain unbelted. Even parents who ensure their child is always secure sometimes make short trips without buckling up themselves. This is a dangerous practice because unbelted adults in a motor vehicle become human missiles in the event of a crash.
Always wear your seat belt – in the event of a crash, it will keep you safe and also prevent you from getting thrown around in the vehicle and causing injuries to other passengers, especially small children.
Car Seat Straps
When a cranky toddler pulls at the car seat straps, parents sometimes reach over to loosen them, thinking that will stop the protests. However, car seats are only effective when the straps fit snugly. What many parents may not know is that bulky clothing like winter coats can render car seats ineffective because they make it necessary to loosen the straps.
Ensure the car seat straps are snug fitting. Remove your child's winter coat and place it over them or use a blanket to keep them warm.
Car Seat Graduation
Infant car seats always face backward, but when the child moves to a convertible seat, parents have the choice between rear- and forward-facing. The American Automobile Association advises keeping children rear-facing as long as possible. This brings down the rate of injuries and death in young children by five times. Children under the age of 2 who are seated facing forward are more likely to suffer head and neck and spinal cord injuries if the car stops suddenly or crashes.
Don't rush your child's graduation from a rear-facing to a forward-facing car seat.
Trained Technician Safety Check
Most parents can install a car seat but are not equipped to conduct a proper safety check. The police and fire departments cannot always accomplish this either. The National Highway Traffic Safety Administration offers information on inspection stations. Many communities hold free car seat inspection events.
After you install a car seat, find a trained technician to assess child passenger safety.
Car Seat Expiry
It's tempting to re-use your older child's stuff for the newest baby on the block. However, car seats come with an expiry date. The plastic becomes brittle with age and may not be strong enough to withstand crash forces. Most car seats do not last more than five to seven years. If you have been in a car crash, your child's car seat likely needs replacement. Infant car seats are typically used for a shorter duration and tend to be in better condition than convertible car seats and booster seats.
Be wary of buying used car seats online. A hand-me-down from friends and family is a better bet.
*This is a sponsored guest post.*