This post is sponsored by Mirum, however all thoughts and opinions are my own. 
Learning to ride a bike is one of the most important things a child will do in their lives. It's a rite of passage. It's one of those "things" that all kids do. Learning to ride a bike builds confidence, promotes physical activity, and it's great fun. Unfortunately, it can also be a big 'scary' for some kids. Getting up on a two-wheeler for the first time can be daunting when you top the charts at 4 feet tall. I've got a game and a pair of bikes that will help your kids get excited about riding their bikes and lose that fear.
Learning to Ride a Bike with Schwinn and Bingo
Schwinn Smart Start bikes make learning to ride a bike easy and fun for the kids. The thing about most bikes is that they aren't sized for little riders. Even most small bikes still have handlebars, pedal spacing, and gearing that make it difficult for kids to get started. Their little hands can grip, their little feet are too far apart, and their little bums are on seats that are two big. It's like giving them a brightly colored, two-wheeled tank. It doesn't make any sense.
Schwinn Smart Start Bikes
Schwinn Smart Start 16″ sidewalk bikes make it easier for kids to learn to ride a bike because they build confidence. They're designed to make it as easy as possible for children to ride. This gives them more confidence because they can master their riding skills faster and with more authority. Kids need that kind of feeling with any new activity, and Schwinn Smart Start Bikes give it to them with bikes that are specifically designed for their little bodies.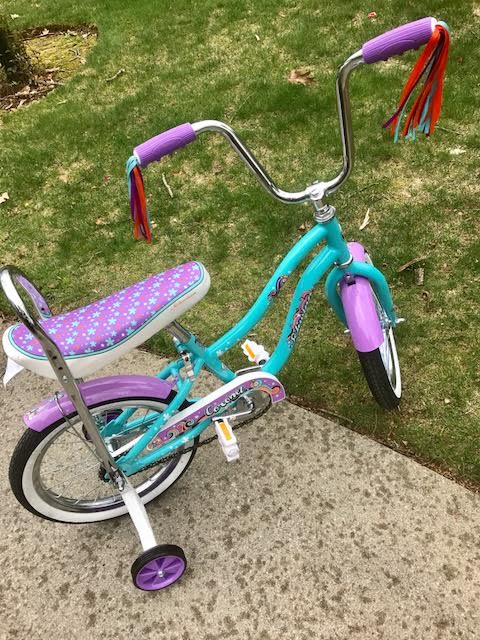 Smaller Handle Grips – Smaller grips make it easier for smaller hands to maintain control over the bike.
Comfortable Fit Seat – Seats designed for a child's proportions make it more comfortable and easier to ride.
Closer Pedals – Pedals are closer together to match the hip proportions of small children.
Better Design for a Better Ride – The positioning of the pedals, seat, and handles are designed to make the entire bike riding process easier for small children.
Schwinn Smart Start sidewalk bikes fit sizes 38″ to 48″ and come in Scorch, featuring flames and a black and yellow design, and Jasmine, featuring pink and white with green accents. They're easy to assemble and you can find them at all retail outlets that sell bicycles. Both are designed to be the best first bike any kid could ask for. And while they're learning to ride a bike on their super cool bikes, they can have more fun while they play Bike Trip Bingo!
Bike Trip Bingo
Bike Trip Bingo is a super fun way to add even more interest to a bike ride. These printable bingo cards feature items that you'll most likely see on any bike ride. To play, the kids simply ride their bikes, keeping their eyes open for things like fire hydrants and other roadside objects, The first to make a bingo wins! Just follow this link to download the Bike Trip Bingo Cards, and you're ready to go.
Learning to Ride a Bike with Schwinn
Learning to ride a bike should be a fun experience for the kids, so why give them a bike that doesn't make it as easy as possible for them. With Schwinn Smart Start sidewalk bikes and a good game of Bike Trip Bingo, learning to ride a bike can be an experience the kids will never forget.
HERE IS A GREAT SWEEPSTAKES TO ENTER:
Schwinn SmartStart Bike Trip Bingo Sweepstakes