Happy weekend! Hope you all have a great weekend with whatever you do!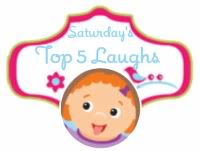 As always, come link up any cute or funny post. Definitely check out the other blogs who link up as they all provide a great laugh. Feel free to take my button or share on social media, although this is not necessary, just appreciated.
MY TOP FIVE LAUGHS:
5. Hayley was going to a sleep over last night. I asked her if she needs help packing and she responded, "Don't be ridiculous! I know how to pack"! Okay then!
4.  Taylor loves to copy everything Zane does. They mimic each other all day long. It is so cute to see!
3. Zane and Hayley got their report cards this week and it was great! I told them I am so proud of them. They said, "Thanks mom… Can I have $50 now?!" WHAT!!
2. Taylor has my heart. Girlfriend is almost 3 and she is just the cutest! I still can't believe she is mine LOL!
1. Hayley is so independent except when it comes to cleaning. I asked her to clean her room and she responded, "But why..It just gets dirty again..Makes no sense to keep doing I!" That kid!
YOUR LAUGHS: