Tips to save money are a dime a dozen, but what about helping moms no the go save money? As a mom of three, full time blogger, and co-owner of my own dental practice, I know first-hand how hard it is to save money. Saving money generally involves taking a lot of time to look for deals, coupons, or codes. I don't have time for that! I've found a few ways to help work saving money into my busy routine, so I thought I'd share these tips to save money with my fellow frazzled moms. Using these tips – including the use of Sift – my BIGGEST tip can net hundreds of dollars a year in savings. So start using these tips, start using Sift, and start saving!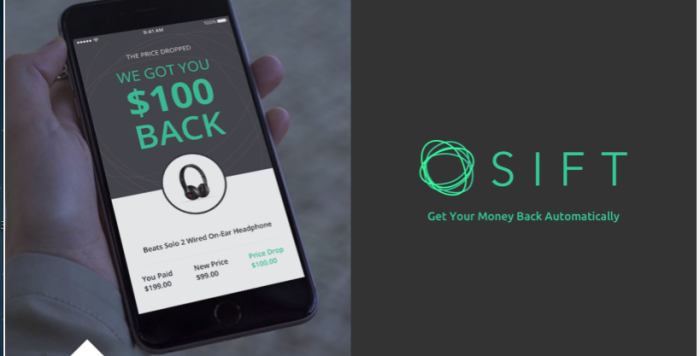 *This is a sponsored post. All my opinions are my own and not swayed by outside sources.*
Tips to Save Money for the Time Crunched Mom
These days, being a mom means being on the go. Being on the go means we moms don't have a lot of time. THAT means that we often leave savings behind. It's a bummer, but that's the price we pay for a plate that's overflowing with events and obligations. However, I've found that there are certain things I can do to help pinch pennies, even with my schedule. And you can do them, too!
Loyalty Cards
One of the easiest ways to save money when you're on the go is to join a loyalty program for the stores you shop at all the time. Almost every store has them these days, and all it take is using their loyalty card to rack up savings. You can even apply for these loyalty programs online to make it even more efficient for you.
Bulk Stores
Another way to save money easily is to join a store like Sam's Club, Costco, or BJ's. These stores require a membership, but it's worth the price. They make the list of tips to save money because you can find great deals on almost everything. You just need enough space in your home to store what you buy. You'll be buying by the case, so the initial cost will be more, but in the long run, you'll save a ton.
Car Pool
If your kids are on a sports team or in any sort of club, one of my best tips to save money is starting a car pool program with the other moms. Each week, a different mom is responsible for picking up the kids. Rotating like this can help you save money on gas and give you a little breathing room, to boot.
Make the Most of Your Credit Card!
This is one of my biggest tips to save money, and it gets its own big heading because most of us never take advantage of all the benefits our credit cards have to offer. That's because we don't know about them! Of course, we know about the perks that our credit card advertised on the TV or laid out in the first paragraph or two of our credit card agreement. But what about all of the other benefits that they hide in the fine print, hoping that we won't take advantage of them? That's where Sift comes in.
Sift is a new app designed to help us busy moms take full advantage of our credit card benefits. Designed with moms in mind, Sift offers a central place for use to track all of our credit card purchase info like returns and shipments. That makes things more convenient, but this app has another HUGE benefit as well. It saves us money by automatically taking advantage of our credit card benefits for us!
To date, Sift users have saved over $200,000 by taking advantage of its features that automatically find things like price protection and free extended warranties, and each use averaged a savings of 5% to 10% back from their credit card purchases! If that's not one of the best tips to save money, I don't know what is. Let's look at how it works.
How Sift Saves You Money
Sift saves you money, by, well, sifting. It sifts through all of the hidden hidden benefits that credit card companies don't want us to see. Sift also makes it SUPER easy to redeem benefits that are made exceptionally difficult to do by the credit card companies. Let's take a look at some of the ways Sift took pride of place in my tips to save money.
Automated Price Protection
Prices on products can change drastically – even over the course of one day. Sift Monitors for price changes and automatically secures refunds is a merchant or credit card company has a price protection policy. What that means for you is that Sift AUTOMATICALLY monitors your purchases on your credit cards and cross references them with the price protection period conferred by your credit card and the store. Rather than having to file a bunch of paperwork, Sift does it all for you. Easy peasy.
Damage and Theft Protection
Up to 90 days of coverage on cell phones, electronics, and high-value items against damage or theft. This is a huge perk these days in a time of electronic EVERYTHING.
Free Extended Warranties
Sift finds free extended warranties that we might not know about for items like TVs, laptops, and other electronics. This is another huge time and money saver. For one, we don't always know about free extended warranties. Another reason is that it saves us the hassle of all that paperwork!
Extended Return Protection
Makes sure you get the best time frame for returning unsatisfactory merchandise. A huge, HUGE perk for us moms on the go.
Follow These Tips and Get Sift to Save Big
Using these tips to save money and taking full advantage of Sift can help you save a ton of money every month. If you're a busy mom, the above tips to save money are easy to do, take very little time, and can help you over the long haul, so there's no reason not to do all of them! I especially recommend you give Sift a try because being a busy mom also means being a mom who probably doesn't even know about all the way she's missing out on savings with her credit card!