The Babymoon, starring Julie McNiven (Hildy on Mad Men) and Shaun Sipos (Vampire Diaries) is a movie about the last adventure of parents to be before the birth of their child. What starts out as a relaxing getaway quickly turns into a comedic adventure filled with action and comedy. The Babymoon takes the classic adventure comedy and turns in on its head to make a great action comedy.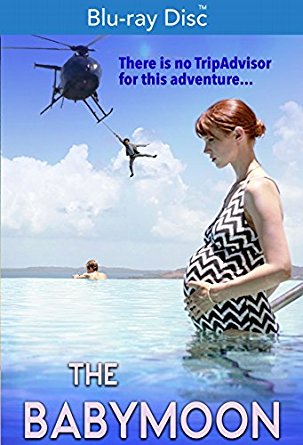 *This is sponsored. All opinions are my own and not swayed by outside sources.*
The Babymoon – Not so Soothing Getaway
Before I get into what I thought about the movie, lets take a look at the official boilerplate of the film:
"The Babymoon," an adventure-comedy film born out of the phenomenon of expectant parents taking elaborate vacations in the few precious weeks prior to the birth of their first child, is set for a Digital and VOD premiere on February 14, 2017, with a Blu-ray and DVD release to follow on March 28, 2017. Directed by award-winning Writer/Director Bailey Kobe, it's the story of one couple's picture-perfect tropical getaway that takes a hilarious turn when they accidentally choose a country that is undergoing a political revolution. The film features a fantastic ensemble cast including Julie NcNiven (Mad Men, Supernatural), Shaun Sipos (Vampire Diaries, Melrose Place), Jessica Camacho (Dexter, DC Comics/CW's The Flash), Michael Steger (90210, True Blood) and Phillip Garcia (Scandal, Telenovela).
SYNOPSIS

In a fragile relationship, a husband tries to impress his pregnant wife with a luxurious babymoon vacation in the most beautiful, exotic, instagram-able country on the planet but quickly learns that the country is undergoing a political revolution!

The Babymoon – Digital and VOD Masterpiece
The Babymoon is a comedic masterpiece, in my opinion. Following in the footsteps of original films from monster streaming services, The Babymoon gives us a high quality digital and VOD experience that has superb acting, a great story, and high production value. The acting is superb, with great performances across the board. The interplay between McNiven and Sipos is endearing, believable, and sometimes tense, and the physical comedy and stunts in the film are on point.
If you're looking for a great action comedy, I encourage you to get The Babymoon. With a talented cast, beautiful locale, and excellent performances, it's a movie that really brings it. I couldn't have been more pleased with it. But that's all you get! No spoilers here. Go watch it! =)
For more info on The Babymoon, follow the film on social media: