You all know how much I LOVE movies! There is nothing better than watching a movie with my kids. And of course one of my favorite movies to watch are those that Disney have made or have been a part of! After all Disney RULES!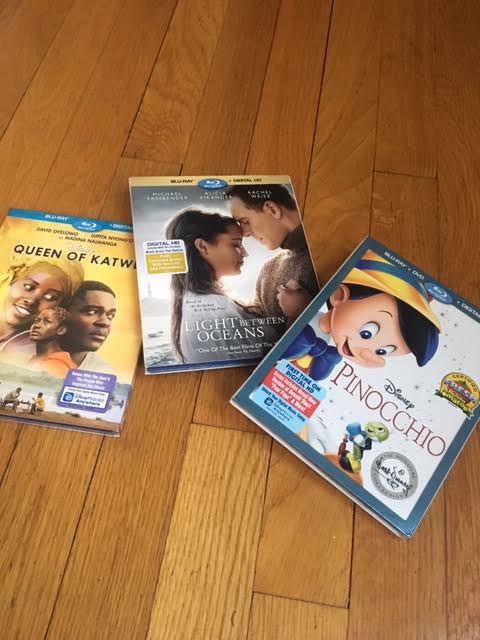 There are three awesome DVDs out now that you must check out: Disney's Pinocchio Collection, The Light Between Oceans, and Queen of Katwe! All three need to be added to your DVD collection- TRUST ME!
1. Disney's Signature Pinocchio Collection:
"Pinocchio" is considered one of the greatest animated films ever made, with two Academy Awards® — for best original score and best original song "When You Wish Upon a Star" – and a rare 100% rating on Rotten Tomatoes. Now, it will delight a whole new generation of dreamers with its masterful animation, unforgettable characters and award-winning music.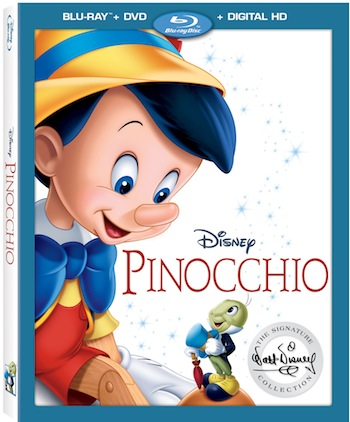 The Walt Disney Signature Collection release includes hours of classic bonus material and exclusive features including a reinvented rendition of "When You Wish Upon a Star" created and performed by music influencers from Disney's Maker Studios; never-before-seen artwork from the film's Pleasure Island sequence; archival recordings of Walt himself during "Pinocchio" production; and a recently restored and scored 1927 short featuring Oswald the Lucky Rabbit.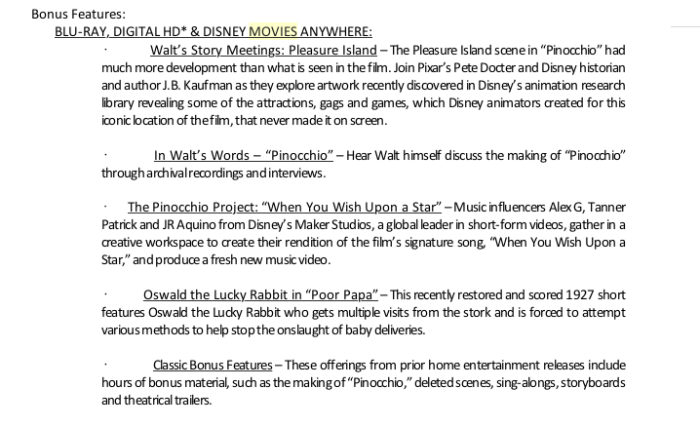 "Pinocchio" tells the tale of wood-carver Geppetto's beloved puppet who embarks on a thrilling quest – with faithful friend Jiminy Cricket – that tests his bravery, loyalty and honesty, all virtues he must learn to fulfill his heart's desire: to become a real boy.
The movie which inspired the world to wish upon a star, arrives for the first time on Digital HD and Disney Movies Anywhere (available now) and on Blu-ray™ and DVD on Jan. 31 with hours of new and classic bonus features.
2. The Light Between Oceans:
This is one of the best books and is now a movie. I have seen it in theaters and it is really good. If you liked the book, you will LOVE the movie.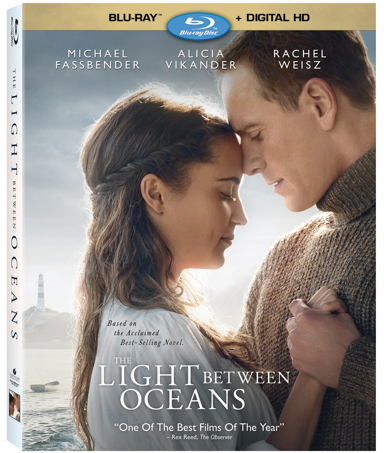 The sweeping romantic film, Disney/Dreamworks Pictures' The Light Between Oceans, arrives on Digital HD, Blu-ray™, DVD and On-Demand on Jan. 24th. This beautiful romance stars two-time Academy Award® nominee Michael Fassbender (Best Actor, Steve Jobs), Oscar® winner Alicia Vikander (Best Supporting Actress, The Danish Girl), and Oscar and Golden Globe® winner Rachel Weisz (Best Supporting Actress, The Constant Gardener).
The timeless tale of love, relationships, and impossible choices is a must for any of lush, beautiful romantic movies. This release includes never-before-seen bonus features, including a documentary which reveals director Derek Cianfrance's unique approach that allowed the all-star cast to embody their characters and examine the power of love; a historical look at New Zealand's Cape Campbell Lighthouse that serves as Janus Rock, a key element in Stedman's novel; and insightful and in-depth audio commentary led by Cianfrance.
3. Queen of Katwe:
I was one of the first people to actually see Queen of Katwe before it got released. You can read about all my thoughts here: Queen of Katwe. This MOVIE IS WONDERFUL!!!! TRULY WONDERFUL AND AN IMPORTANT FILM TO WATCH!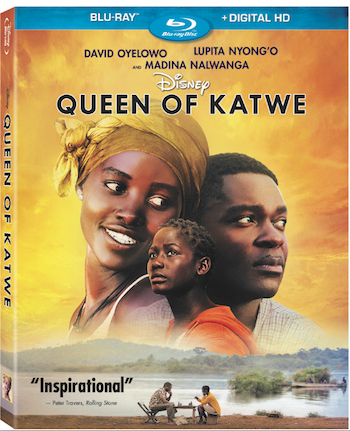 Home audiences will cheer for Disney's Queen of Katwe, which has earned widespread critical acclaim. Based on the vibrant true story of a young girl (Madina Nalwanga) from the streets of Uganda whose world changes when she is introduced to the game of chess, and, as a result of the support she receives from her family and community, is instilled with the confidence and determination she needs to pursue her dream of becoming an international chess champion. It is a remarkable story of perseverance against all odds that will leave viewers feeling humbled and inspired. According to director Mira Nair, "The triumph of the human spirit is not to weep for what we don't have but to focus on what we do have and allow that to take us to a place we never imagined possible." Disney's heartwarming and triumphant tale arrives home on Digital HD (available now) and Blu-ray™ on Jan. 31.
BE SURE TO BUY THESE DVDS FOR WONDERFUL FAMILY MOVIE NIGHTS!