DO YOU LOVE DR. SEUSS? IF YOU DO KEEP READING….
Kohl's  is proud to offer families the enormously popular children's books by award-winning author Dr. Seuss, as part of the new Kohl's Cares collection. The captivating stories, colorful illustrations and menagerie of characters have been enchanting children and parents for decades. Books and toys are priced at $5 each, with 100 percent of net profit benefiting children's initiatives nationwide. Additionally, the collection features The Cat in the Hat book, both English and Spanish versions allowing even more families to enjoy this children's classic.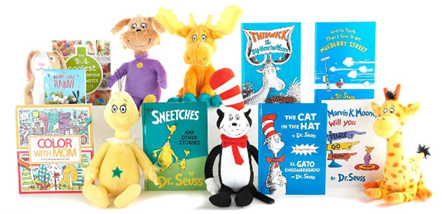 Books and toys featured in the Kohl's Cares spring collection include:
The Cat in the Hat bilingual book and Cat in the Hat toy
Follow Dick and Sally's unexpected adventure after a giant cat wearing his signature hat enters the room and changes the day. The mischievous cat brought his friends, Thing One and Thing Two, to create more chaos and an unbelievable mess. Mom is on her way home, what will she find when she opens the door?
Marvin K. Mooney Will You Please Go Now book and Marvin toy
The book with its lively illustrations follow Marvin K. Mooney as he is asked to leave multiple times and is offered every form of transportation including a Zumble-Zay, a Bumble-Boat or in a bureau dresser on a camel. He's not taking the hint, what will finally make Marvin go now?
And to Think That I Saw it on Mulberry Street book and Giraffe toy
Dr. Seuss's first children's book tells the story of what young Marco sees during his walk home from school. The vivid illustrations paint an enchanting picture of the boy's colorful imagination. What Mulberry Street experiences will Marco share with his dad when he gets home?
Thidwick the Big-Hearted Moose book and Thidwick toy
The beloved story about the kindhearted moose that allows a collection of critters to make a home on his horns is a family favorite. While Thidwick would like them all to leave, more rude animals are moving in. How will Thidwick find his friends and munch on moose-moss again?
The Sneetches book and Sneetch toy This timeless book contains four stories including The Sneetches, The Zax, Too Many Daves and What Was I Scared Of and is a must-have for every school or home library. Little ones will love learning if the Sneetches can be happy with or without their stars, or why a pair of pale green pants puts fear on a face.
Additional Kohl's Cares items include a Color with Mom coloring book that can artistically be completed together. The 101 Coolest Simple Science Experiments activity book gives instructions on how kids can create amazing science projects with items they can easily find at home.
At the end of February, the Happy Little Rabbit bundle will be available and features the sweet story of the rabbit's journey through life and comes with the adorable rabbit toy. The bundle will be the perfect fit for Easter baskets and gifts.
The Kohl's Cares collection is available at all Kohl's stores and on Kohls.com now through early April. To date, Kohl's has raised nearly $300 million through the Kohl's Cares merchandise program. To reinforce the company's commitment to children and families, and with your help, Kohl's has provided financial support to hospitals across the country. The donations fund hospital outreach programs focused on children's health initiatives and address the specific issues needed most in each hospital's community.
*I work with Kohls. All opinions are my own and not swayed by outside sources.*