Make learning fun with Alpha-Mania Adventures. Alpha-Mania Adventures gets kids excited about learning with a fun approach to learning phonological awareness and phonics. It does this by using an interactive, play-based storybook that draws kids in and gets them excited about what they're doing. It's a great way to help kids with reading skills and to make learning fun.
*This is a sponsored post. All my opinions are my own and not swayed by outside sources.*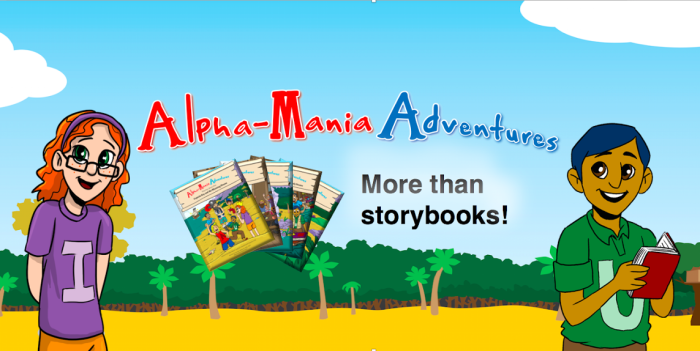 About Alpha-Mania Adventures
Alpha-Mania Adventures was written by certified teachers at Ruth Rumack's Learning Space, an academic support center. The center has been teaching early literacy for 20 years, so these teachers knew what they were doing. They are known for using uncommon methods to teach foundational learning skills including kinesthetic, multi-sensory learning, and direct instruction.
Using this experience as a base, the teachers developed Alpha-Mania Adventures to make learning fun while focusing on phonological awareness and phonics concepts.
Phonological Awareness
What is it? Phonological Awareness is the ability to hear and manipulate sounds with spoken words. Many children have trouble doing this, and Alpha-Mania Adventures addresses that. It helps kids understand that words are made up of sounds and helps them break words apart and put them back together to help with reading and spelling.
Phonics
Phonics is the correlation of letters to represent sounds. Alpha-Mania Adventures helps students understand how letters sound as well as how they work within words to further strengthen Phonological Awareness as well as traditional Phonics.
Make Learning Fun While Strengthening Reading Skills
Alpha-Mania Adventures is a 5-part storybook series that includes a number of ways of helping children with reading, word, and sound awareness.
Comprehensive introduction to phonological awareness and phonics for parents
Different phonological awareness skills taught in each book such as rhyming, blending, alliteration, segmenting, and sound manipulation
Phonics game in each illustration for kids to find matching letter sounds and objects
Additional game and activities to reinforce concepts
Easy-to-use guides on Letter Sounds and Letter Formation
My kids have been using Alpha-Mania Adventures, and I can already see a difference. My son has always had just a titch of trouble with Phonological Awareness, and after only a few session with this book, he's made huge improvements. It's also incredibly fun for him and for my daughter. They're both excited to read these books and learn. That's the key. In order to get kids excited about learning, you have to make learning fun, and Alpha-Mania Adventures has certainly done that for my kids.
If your kids are having trouble with phonological awareness or phonics or if you just want to give them the most solid foundation possible in reading and phonics, I encourage you to check out Alpha-Mania Adventures. It's a great way to give the kids a leg up and make learning fun in the process.
GIVEAWAY: One winner will receive the Alpha-Mania Adventures. This giveaway is run via rafflecopter so click read more to see the actual giveaway. The only mandatory entry is to visit Alpha-Mania and tell me why you want to win. While the other entries are optional, I highly suggest filling them out to increase your chances of winning. US only. Good luck!
a Rafflecopter giveaway