BuildUp Display is a new way for kids to build with blocks. How many times have you seen your kids try to do something with their blocks that just doesn't work because there's no way to get the blocks where they want them?! The traditional way of building is all in one dimension. Everything has to be flat. The thing is, kids don't imagine and dream in one dimension. Their minds are free to imagine almost anything. That's why I love BuildUp Display. It allows kids to build both horizontally and vertically.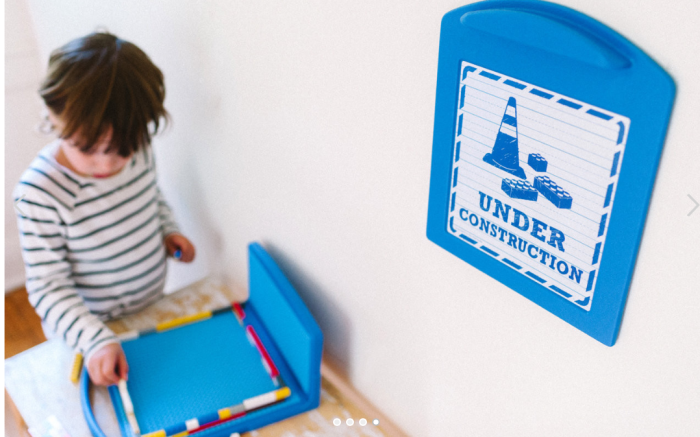 *This is a sponsored post. All my opinions are my own and not swayed by outside sources.*
BuildUp Display Removes Traditional Building Limitations
BuildUp Display is a new way for children to play with their building blocks. It was designed by Marie-Josee Dery and her husband, mother and father of 3, when they saw their kids trying in vain to create vertical creations with their blocks. This sparked a thought. What if there was a way to allow the kids to build up as well as out? That's when BuildUp Display was born.
It's a new and different way for kids to play with their building blocks, fostering creativity instead of impairing it. Whether the kids are building rocket ships set to blast off or a house and tress with fluffy clouds floating over them, BuildUp Display lets them do it. Now the only limits the kids have is their imagination. The secret is the integrated floor and back plate that allows building blocks of all kinds – including Lego® and MEGA Blok® – to be used both vertically and horizontally. It even lessens stress on the kids' creative process by adding an "Under Construction" label to the plate, so the kids don't have to feel like they need to finish right away.
BuildUp Display Builds Up Creativity
I love BuildUp Display. With this great new device, kids never have to be limited in their creations ever again. Now, the sky is the limit – literally. If you have a building block fan in  your home, consider BuildUp Display for a crazy cool Christmas present this year. It's a great way to encourage creativity for any builder in your home.