B-Air Fido Max 1 is a new dog dryer developed in close partnership with famed dog behaviorist, Cesar Millan. The Fido Max 1 dog dryer form B-Air is a multipurpose grooming helper that can be used to dry your dog after bathing (of course) but can also be used to de-shed your dog and even give a light massage. It's a great tool for any dog owner who wants to save money for themselves and stress for their dogs.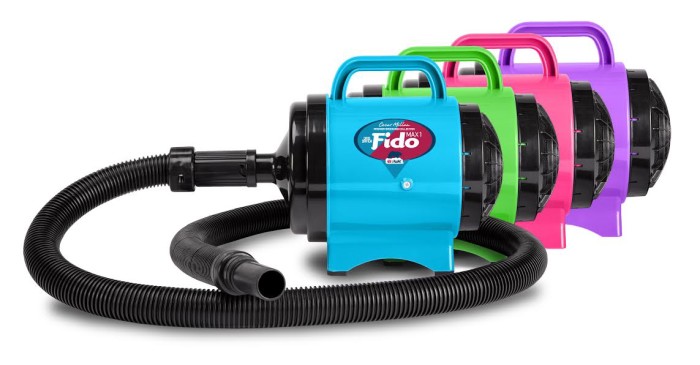 *This is a sponsored post with Fido. All my opinions are my own and not swayed by outside sources.*
Save Money and Stress with B-Air Fido Max 1
With the Fido Max 1 from B-Air, owners can groom at home, saving them time and saving their dogs stress. A trip to the groomer can be stressful for some dogs. While there are social butterflies out there who love to go anywhere, even the groomer, there are even more dogs who are absolutely terrified by the entire process. Sitting in a cage until their turn comes around, being groomed and bathed, and then sitting in the cage again while they are dried by industrial pet dryers can be hugely stressful on many dogs. The entire process is just loud and terrifying.
With the Fido Max 1 from B-Air, that's a thing of the past. This essential home grooming tool is a powerful, yet quiet, force dryer that effectively dries your pet's coat without the noise of regular dog dryers. It also uses no heat, which helps prevent rashes of over-drying of the skin. And because of it's compact, portable size, it can be used equally easily at home, mobile grooming units, self-wash stations, and even dog shows. It can go anywhere and do heavy duty work with minimal stress on your pet. And with a variety of head attachments for everything from drying to coat blowing to de-shedding and more, it's a truly versatile machine.
B-Air Fido Max 1 – Man's Best Friend's Best Friend
My son is horribly allergic to everything, but he still wants a dog. I mean, he wants one in the worst way. It's so sad to see him pining away to be the classic "boy and his dog". He is that boy sans dog. We're currently looking into hypoallergenic breeds, and when we find the right one, we'll be investing in a B-Air Fido Max 1 to further ensure that our new pooch stays clean, dander free, and keep my son's environment as free of allergens as possible.
And we can do that with this machine. Whether you want to save money on grooming, save the stress of grooming for your pet, or both, give the B-Air Fido Max 1 dog dryer a look. This compact versatile machine makes grooming at home easy, and since it's designed in conjunction with Cesar Millan, you know it's made to be as stress-free as possible for our pets. You can find the B-Air Fido Max 1 at Amazon right now. Check it out.
Giveaway: One will will receive the Fido Max 1 (retail value $119  ). This giveaway is run via rafflecopter so click read more to see the actual giveaway. The only mandatory entry is to visit b-air and tell me your favorite feature. Please put all comments in comment section proceeding the post. While the other entries are optional, I highly suggest filling them out to increase your chances of winning. US only. Good luck!
a Rafflecopter giveaway