**I received an all expense paid trip thanks to Disney. All my opinions are my own and not swayed by outside sources.*

I am SO excited for Christmas! There is nothing better than baking cookies with my kids and watching holiday movies. Now, Freeform is bring all the best Christmas classics to you for 25 days in December.  I'm so excited Freeform's 25 Days of Christmas is back! This year there is some really awesome movies and I can't wait to sit with my kids and introduce them to some of the best classics.  Freeform (formally known as ABC Family) kicks off TOMORROW, December 1st, and keeps everything going through Christmas night! So get ready!!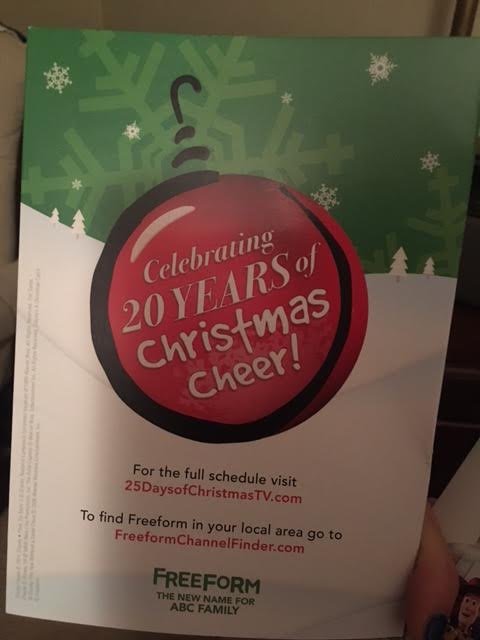 How cute was Freeform to deliver these awesome cookies and milk to us to get us ready for the #25DaysofChristmas: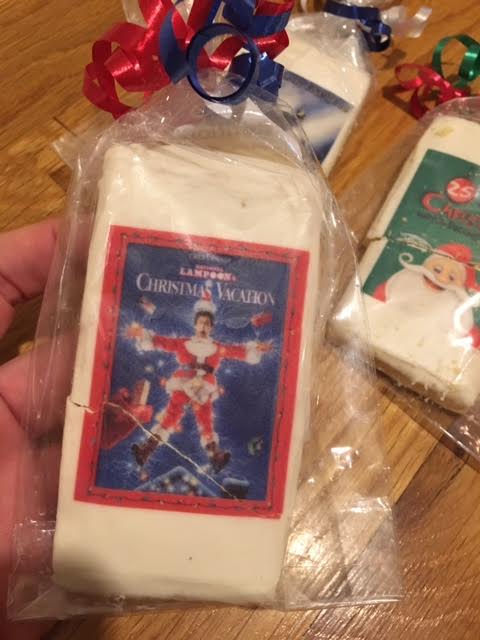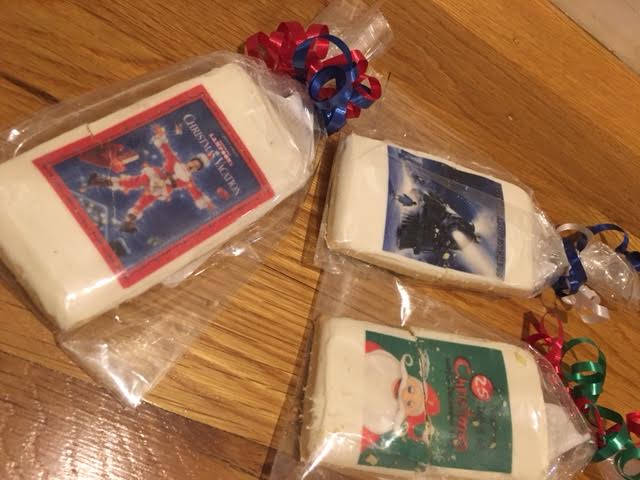 Visit 25DaysofChristmasTV.com for the complete line up and all the family fun. If you want to catch your Christmas favorites on the go, just download the Freeform app and watch on your mobile device! Happy watching!
HERE IS THE OFFICIAL SCHEDULE:
Thursday December 1
(3:30pm-6:00pm) Willy Wonka & The Chocolate Factory
(6:00pm-7:05pm) The Year Without a Santa Claus
(7:05pm-9:15pm) National Lampoon's Christmas Vacation
(9:15pm-11:20pm) The Santa Clause
(11:20pm-12:55am) Tim Burton's The Nightmare Before Christmas
(12:55am-2:00pm) Rudolph's Shiny New Year
Friday, December 2
(11:00am-12:00pm) Jack Frost (1979)
(12:00pm-2:30pm) Willy Wonka & The Chocolate Factory
(2:30pm-3:35pm) The Year Without Santa Claus
(3:35pm-5:10pm) Tim Burton's The Nightmare Before Christmas
(5:10pm-7:15pm) Disney's A Christmas Carol (2009)
(7:15pm-9:20pm) The Santa Claus
(9:20pm-11:25pm) The Polar Express
(11:25pm-2:00am) Charlie and The Chocolate Factory
Saturday, December 3
(7:00am-8:30am) Mickey's Once Upon a Christmas
(8:30am-10:00am) Mickey's Twice Upon a Christmas
(10:00am-12:00pm) Richie Rich's Christmas Wish
(12:00pm-2:05pm) Disney's A Christmas Carol (2009)
(2:05pm-4:40pm) Charlie and The Chocolate Factory
(4:40pm-6:45pm) The Polar Express
(6:45pm-8:50pm) Arthur Christmas
(8:50pm-10:55pm) Elf
(10:55pm-2:00am) The Holiday
Sunday, December 4
(7:00am-7:30am) 'Twas The Night Before Christmas
(7:30am-8:00am) Nestor, The Long Eared Christmas Donkey
(8:00am-10:05am) Richie Rich's Christmas Wish
(10:05am-12:10pm) Rudolph and Frosty's Christmas in July
(12:10pm-2:20pm) I'll Be Home For Christmas
(2:20pm-4:30pm) Arthur Christmas
(4:30pm-5:35pm) Santa Claus Is Comin' to Town
(5:35pm-6:40pm) The Year Without Santa Claus
(6:40pm-8:45pm) Elf
(8:45pm-10:55pm) National Lampoon's Christmas Vacation
(10:55pm-2:00am) Santa Claus is Comin' to Town
Monday, December 5
(4:00pm-5:00pm) The Year Without a Santa Claus
(5:00pm-7:00pm) Jingle All the Way
(7:00pm-9:00pm) National Lampoon's Christmas Vacation
(9:00pm-11:00pm) Scrooged
(12:00am-2:00am) Snowglobe
Tuesday, December 6
(5:00pm-7:00pm) Scrooged
(7:00pm-9:00pm) The Polar Express
(9:00pm-11:00pm) The Santa Claus
(12:00am-2:00am) Snow
Wednesday, December 7
(5:00pm-7:00pm) The Polar Express
(7:00pm-9:00pm) The Santa Claus
(9:00pm-11:00pm) Elf
(12:00am-2:00am) 12 Dates of Christmas
Thursday, December 8
(3:00pm-5:00pm) Holiday Joy
(5:00pm-7:00pm) Deck the Halls
(7:00pm-9:00pm) Elf
(9:00pm-11:00pm) Disney's A Christmas Carol (2009)
(12:00am-2:00am) Holiday in Handcuffs
Friday, December 9
(11:00am-11:30am) Frosty's Winter Wonderland
(11:30am-1:30pm) Holiday Joy
(1:30pm-3:35pm) Home Alone 3
(3:35pm-5:40pm) Santa Buddies: The Legend of Santa Paws
(5:40pm-7:45pm) The Search for Santa Paws
(7:45pm-9:50pm) Santa Paws 2: The Santa Pups
(9:50pm-1144pm) Snow Buddies
(11:55pm-2:00am) Rudolph and Frosty's Christmas in July
Saturday, December 10
(7:00am-7:30am) Mickey's Christmas Carol
(7:30am-9:30am) Santa Buddies: The Legend of Santa Paws
(9:30am-11:35am) The Search for Santa Paws
(11:35am-1:40pm) Santa Paws 2: The Santa Pups
(1:40pm-3:45pm) Snow Buddies
(3:45pm-5:45pm) Disney-Pixar's Toy Story
(5:45pm-7:50pm) Disney-Pixar's Toy Story 2
(7:50pm-10:20pm) Disney-Pixar's Toy Story 3
(10:20pm-10:5pm) Disney-Pixar's Toy Story That Time Forgot
(10:50pm-12:55am) Arthur Christmas
(12:55am-2:00am) The Year Without Santa Claus
Sunday, December 11
(7:00am-7:30am) The Little Drummer Boy
(7:30am-9:35am) Home Alone: The Holiday Heist
(9:35am-11:40am) Dennis the Menace Christmas
(11:40am-12:45pm) The Year Without a Santa Claus
(12:45pm-2:50pm) Arthur Christmas
(2:50pm-4:50pm) Disney-Pixar's Toy Story
(4:50pm-6:55pm) Disney-Pixar's Toy Story 2
(6:55pm-9:25pm) Disney-Pixar's Toy Story 3
(9:25pm-12:00am) The Polar Express
Monday, December 12
(5:30pm-7:00pm) Tim Burton's The Nightmare Before Christmas
(7:00pm-9:00pm) The Polar Express
(9:00pm-11:00pm) Elf
(12:00am-2:00am) Christmas Cupid
Tuesday, December 13
(3:30pm-4:30pm) Tim Burton's The Nightmare Before Christmas
(4:30pm-7:00pm) Willy Wonka & The Chocolate Factory
(7:00pm-9:00pm) Elf
(9:00pm-11:00pm) National Lampoon's Christmas Vacation
Wednesday, December 14
(3:00pm-5:00pm) Home Alone 3
(5:00pm-7:00pm) National Lampoon's Christmas Vacation
(7:00pm-9:00pm) Arthur Christmas
(9:00pm-11:00pm) The Santa Clause
(12:00am-2:00am) Santa Baby
Thursday, December 15
(7:30am-9:30am) Holiday Joy
(11:00am-1:00pm) Snow Buddies
(1:00pm-3:00pm) Home Alone 3
(3:00pm-5:00pm) A Dennis the Menace Christmas
(5:00pm-7:00pm) Arthur Christmas
(7:00pm-9:00pm) The Santa Clause
(9:00pm-11:00pm) The Search for Santa Paws
(12:00am-2:00am) Santa Baby 2: Christmas Maybe
Friday, December 16
(7:00am-9:10am) A Dennis the Menace Christmas
(9:10am-11:15am) Jack Frost (1998)
(11:15am-1:20pm) The Search for Santa Paws
(1:20pm-3:25pm) Santa Paws 2: The Santa Pups
(3:25pm-5:30pm) Home Alone: The Holiday Heist
(5:30pm-7:35pm) Jingle All the Way
(7:35pm-9:45pm) National Lampoon's Christmas Vacation
(9:45pm-11:55pm) The Polar Express
(11:55pm-2:00am) Disney's A Christmas Carol (2009)
Saturday, December 17
(7:00am-8:00am) Rudolph's Shiny New Year
(8:00am-8:30am) Nestor, The Long-Eared Christmas Donkey
(8:30am-10:30am) Jingle All the Way
(10:30am-1:00pm) Happy Feet
(1:00pm-2:35pm) Tim Burton's The Nightmare Before Christmas
(2:35pm-4:40pm) The Polar Express
(4:40pm-6:50pm) National Lampoon's Christmas Vacation
(6:50pm-9:00pm) The Santa Clause
(9:00pm-11:30pm) Disney's Frozen
(11:30pm-2:00am) Charlie and the Chocolate Factory
Sunday, December 18
(7:00am-9:30am) Happy Feet
(9:30am-11:30am) Richie Rich's Christmas Wish
(11:30am-12:00pm) Mickey's Christmas Carol
(12:00pm-1:35pm) Tim Burton's The Nightmare Before Christmas
(1:35pm-4:10pm) Charlie and the Chocolate Factory
(4:10pm-4:40pm) Disney's Prep & Landing
(4:40pm-5:10pm) Disney's Prep & Landing: Naughty vs Nice
(5:10pm-7:20pm) The Santa Clause
(7:20pm-9:50pm) Disney's Frozen
(9:50pm-12:00am) Elf
Monday, December 19
(7:00am-8:30am) Mickey's Once Upon a Christmas
(8:30am-10:30am) A Dennis the Menace Christmas
(10:30am-12:35pm) Richie Rich's Christmas Wish
(12:35pm-2:40pm) Home Alone 3
(2:40pm-4:45pm) The Search for Santa Paws
(4:45pm-6:50pm) Santa Paws 2: The Santa Pups
(6:50pm-8:55pm) Elf
(8:55pm-11:00pm) National Lampoon's Christmas Vacation
(12:00am-2:00am) Just Friends
Tuesday, December 20
(7:0am-9:10am) The Search for Santa Paws
(9:10am-11:15am) Santa Paws 2: The Santa Pups
(11:15am-1:25pm) Home Alone 3
(1:25pm-4:30pm) The Holiday
(4:30pm-5:35pm) Santa Claus Is Comin' to Town
(5:35pm-6:40pm) The Year Without a Santa Claus
(6:40pm-8:50pm) National Lampoon's Christmas Vacation
(8:50pm-11:00pm) The Santa Clause
(12:00am-2:00am) Holidaze
Wednesday, December 21
(7:00am-9:00am) Snow Buddies
(9:00am-11:05am) Santa Buddies: The Legend of Santa Paws
(11:05am-1:10pm) Happy Feet Two
(1:10pm-2:10pm) Santa Claus Is Comin' to Town
(2:10pm-3:15pm) The Year Without Santa Claus
(3:15pm-5:20pm) The Polar Express
(5:20pm-5:50pm) Disney's Prep & Landing
(5:50pm-6:20pm) Disney's Prep & Landing: Naughty Vs. Nice
(6:20pm-6:50pm) Disney-Pixar's Toy Story That Time Forgot
(6:50pm-8:55pm) The Santa Clause
(8:55pm-11:00pm) Elf
(12:00am-2:00am) The Mistle-Tones
Thursday, December 22
(7:00am-9:30am) Happy Feet
(9:30am-11:30am) Happy Feet Two
(11:30am-12:00pm) The Little Drummer Boy
(12:00pm-2:05pm) The Polar Express
(2:05pm-4:10pm) Jack Frost (1998)
(4:10pm-4:40pm) Frosty's Winter Wonderland
(4:40pm-5:10pm) Disney-Pixar's Toy Story That Time Forgot
(5:10pm-6:45pm) Tim Burton's The Nightmare Before Christmas
(6:45pm-8:55pm) Elf
(8:55pm-11:00pm) Jingle All the Way
(12:00am-2:00am) Disney's A Christmas Carol (2009)
Friday, December 23
(7:00am-7:30am) Frosty's Winter Wonderland
(7:30am-9:30am) Jack Frost (1998)
(11:00am-1:00pm) Richie Rich's Christmas Wish
(1:00pm-3:00pm) Jingle All the Way
(3:00pm-4:35pm) Tim Burton's The Nightmare Before Christmas
(4:35pm-5:40pm) Santa Claus is Comin' to Town
(5:40pm-6:45pm) The Year Without a Santa Claus
(6:45pm-8:50pm) Disney's A Christmas Carol (2009)
(8:50pm-11:00pm) The Santa Clause
(12:00am-2:00am) Home Alone: The Holiday Heist
Saturday, December 24
(7:00am-8:05am) Jack Frost (1979)
(8:05am-9:40am) Mickey's Once Upon a Christmas
(9:40am-11:15am) Mickey's Twice Upon a Christmas
(11:15am-12:20pm) Santa Claus is Comin' to Town
(12:20pm-1:25pm) The Year Without a Santa Claus
(1:25pm-3:30pm) Arthur Christmas
(3:30pm-5:35pm) The Polar Express
(5:35pm-7:40pm) The Santa Clause
(7:40pm-9:45pm) Elf
(9:45pm-11:55pm) National Lampoon's Christmas Vacation
(11:55pm-2:00am) Scrooged
Sunday, December 25
(7:00am-9:10am) The Search for Santa Paws
(9:10am-11:20am) Santa Buddies: The Legend of Santa Paws
(11:20am-1:25pm) Arthur Christmas
(1:25pm-3:30pm) The Polar Express
(3:30pm-4:35pm) Santa Claus Is Comin' to Town
(4:35pm-5:40pm) The Year Without a Santa Claus
(5:40pm-7:45pm) Elf
(7:45pm-9:55pm) National Lampoon's Christmas Vacation
(9:55pm-12:00am) Scrooged