Woobo is the most adorable learning tool your child will ever have. This guy is a masterpiece of interactive technology, but all your kids will see is something cute, cuddly, and super fun. Let's see… How to describe Woobo.  If you take Sully from Monsters, Inc., put a little of the face of Baymax from Big Hero 6, and then throw a splash of Maurice Sendak's Where the Wild Things Are, you've got this adorable little children's companion. I could seriously just stare at him all day.
Woobo Means WOOHOO Learning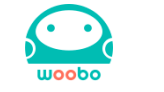 *This is a sponsored post. All opinions are my own and not swayed by outside sources.*
So what's the big deal about this little guy, you ask? I'll tell you. He's an interactive companion robot designed by parents. That's the key. Designed by parents. As part of the creation process of this adorable little guy, the company interviewed over 100 parents to find out what would be helpful to them in their day. Woobo can dance, answer questions, and have natural conversations with children. He is truly an interactive companion. And the best part is,  he's so much more than a distraction for the kids. He is an adorable companion who focuses on education. So the kids can have a good time playing and learn at the same time! As a mom of three, that's important to me.
A Learning Pal Who Grows with Your Children
One of the coolest things about Woobo is that he learns as your children do. He was created around an advanced voice interaction platform specifically designed for children. He comes alive through the use of built-in sensors that allow him to move, make facial expression, and more, and the included cloud-connected software allows Woobo to grow just like your children do. The kids can interact with him in a much more natural way than they can with other similar companions, choosing the adventures and imaginary worlds that may come into their minds with carefully crafted open-ended games, stories, and activities that foster your children's imagination as much as they do education.
Another feature that I love is the ability to stay connected to our kids even when we can't be home. With the Woobo Mobile App, we can send messages to the kiddos that they can actually hear through Woobo. A simple click on Woobo's hand is all it takes for children to record a message and send it back to mom or dad. No phone is required for the kids. All they need is their super cute companion, Woobo.
Woobo – The Cutest Companion Ever
I love Woobo. I love the educational aspect of him. I love the look of him. I love that I can keep in touch with my kids even when I'm not at home in an easy, super cute way. I just love everything about this little guy. With Woobo, my kids can play, laugh, learn, and explore the world around them as well as the worlds in their minds. Check out Woobo, and see how great he is for yourself.