*I received an all expense paid trip thanks to Disney. All my opinions are my own and not swayed by outside sources.*
Anyone who knows me, knows I am the BIGGEST Bachelor fan! Every season I have a premiere party and finale party at my house and I go all out with roses! I am such a Bachelor dork but I can not help it. I LOVE the show and have watched every single season thus far. So when I found out I was going to interview Bachelor Ben Higgins and adorable Bachelor contestant and winner, Lauren Bushnell from Season 20, I was more than pumped. Ben proposed to Lauren on Season 20 and now we all get to see so much more of them and their lives through the Freeform television show,  BEN & LAUREN: HAPPILY EVER AFTER?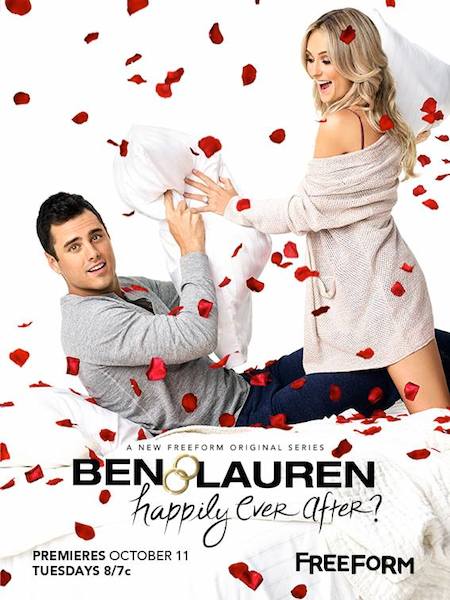 Before we interviewed them, we had the chance to screen episode 2 of the show and we were all in hysterics. I knew both of them were funny but didn't realize just how funny! I will save you the surprise just in case you did not watch, but Lauren really is a jokester and we find out something about Ben that I totally didn't think would fit with his character. Don't worry it is all good- just so funny!  Episode 3 is going to air next Tuesday night so in the meantime catch up on Episode 1 and 2 on Freeform.  BEN & LAUREN: HAPPILY EVER AFTER? airs 8/7c on Freeform, Tuesday nights.
After viewing the episode, we had the chance to do a Q+A with both of them. Once they walked in the room, I was giddy as a schoolgirl. I may or may not have changed my profile picture on Facebook within 30 minutes of meeting them. I told you I am a Bachelor "freak" in the best use of the word! Both of them are absolutely gorgeous and TALL! I think I was most shocked by how tall they were. I knew a lot about them from watching The Bachelor but honestly meeting them, it really brought it together for me. They are so unbelievably genuine and you can tell just how much they care for each other. In BEN & LAUREN: HAPPILY EVER AFTER? they will continue showcasing how their relationship goes after the final rose on The Bachelor. It is extremely interesting to get a look at their lives and see how they change through times. As Ben says, like any relationship and marriage, there is always bumps in the rode. They will showcase not only the good but some of the bad on the show too. I think all of us want to see them succeed but we all know if it is all roses, it is not really indictive of real life. I am SO excited to keep watching and see how their relationship progresses.
I could have asked them a ton of questions personally but that would have taken all day long. The 25 bloggers on the trip had some really good questions for the Ben and Lauren and we got some equally great answers. We were first interested in knowing just how much of the show is actually true. Ben told us that although they have cameras everywhere, what you see is what you get! He actually says it is so real sometimes that they forget that there are cameras everywhere. The producers have a TON of footage to use but it ultimately comes down to what gels together for the storyline in that episode. But he did stress to us that while it is a produced show, it is a real look at their lives.
I had to know whether the cast of The Bachelor and Bachelorettes in the past have hung out and they both answered yes. They are for the most part all friends because they all went through similar experiences. Some of the cast members hang out more than others but they are all friendly. Ben stated that "The Twins'-Haley and Emily are very good friends of Lauren and Ben. They also told us we will be seeing many Bachelor members on upcoming shows including Chad! I asked about Chad and Lauren was very sweet in her answer. She stated she loves to give everyone the benefit of the doubt including him. Next weeks episode will feature some of the past Bachelor cast so stay tuned…
We also asked about their holiday plans and they both are excited to go away to an island for a week just them two, no cameras! They told us they are excited for their first holiday together and can't wait for Halloween!
I can go on and on about that day! They really are such sweethearts and so down to earth. If you are a Bachelor fan, you must tune into Freeform to watch  BEN & LAUREN: HAPPILY EVER AFTER?- Who is EXCITED?!  When you watch let me know what you think and follow more of the interviews by searching #BenandLaurenEvent!
Also directly after BEN & LAUREN: HAPPILY EVER AFTER?- Who is EXCITED?!, be sure to tune into The Letter which is produced by Zelda Williams. This show follows a group of friends writing letters  answering the basic question of, "If you could anonymously tell your best friend in a letter the things that he or she really needed to hear, would you do it?" The preview below will have you tune in. What an ingenious concept!