Electromagnetic radiation is everywhere. From televisions to smart phones to electricity wires and electricity and cell towers, if you use electronics, you are exposed. And while electronics manufacturers might say that there's no proof that electromagnetic radiation is dangerous, the word "radiation" gives me pause. I always have it in the back of my mind when I use my phone or activate a device. I want to protect myself and my family, and I've finally found a way to do it.

*This is a sponsored post. All my opinions are my own and not swayed by outside sources.
Electromagnetic Radiation Protection with Vest

Vest is a company specializing in protecting people from all the electromagnetic radiation that's out there. Let's face it, unnatural things are never good for us, and the preponderance of electromagnetic radiation floating around out there is NOT natural. You don't find smart phones and cell towers roaming the wilds. Humans made them, which means humans introduced MORE of this stuff into the environment. It's only natural – and full of common sense – to assume that it's not good fro you. That's why I think Vest is such a great company.
Vest offers a full line of products to keep me and my family safe from all the bad stuff that electronics produce. Their products rum the gamut of protection with everything from anti-radiation phone cases to headsets to abdominal wraps and more. They are fully committed to helping us protect ourselves from electromagnetic radiation, and I think that's important. I mean, really, when you watch the news it seems like something man has invented is hurting our bodies in some way. Why not protect ourselves in every way possible.
Anti-Radiation Headset
Lately, I've been using Vest's anti-radiation headset. This wired headset offers great sound and a modern design. It also offers the protection of putting a buffer between me (or a family member using it) and the electromagnetic radiation that the components give off. In fact, it reduces up to 98% of the radiation we'd normally be exposed to. Other than the health benefit, I'm impressed by its sound and design quality, it's no chintsy product using the radiation protection to sell me on a piece of junk. It's a great headset!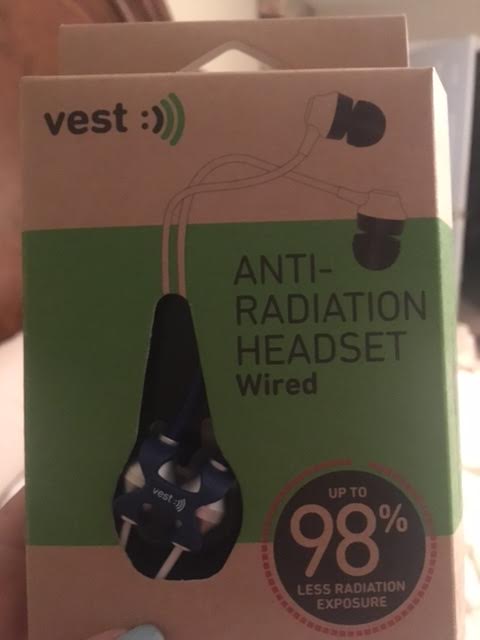 Anti-Radiation Baby Blanket
I really, REALLY love this one. As a complete tech fiend, I've been reading my youngest her bedtime stories using a reading app on my tablet. When I heard about electromagnetic radiation, I instantly thought of story time. With Vest's anti-radiation blanket, I continue to read to my little one – and my older ones, who I just have cover up with it – without the fear of exposing them to dangerous electromagnetic radiation. It's also quite soft and comfy, which I was really happy with!
Why Take a Chance with Electromagnetic Radiation
I know I'm not. I want to protect my family from everything possible. That includes getting organic food, non-GMO everything, and now protecting them from electromagnetic radiation. Visit the Vest website to learn more about electromagnetic radiation and how their products can help protect you and your family.
USE CODE (MHOOD) upon checkout and receive 15% discount off.