*I received an all expense paid trip thanks to Disney. All my opinions are my own and not swayed by outside sources. Photo Credit: Disney*

I love finding out about new Disney XD shows when I attend the Disney Press Trips. In May we were invited to screen a few episodes of Walk the Prank and this time around, we were introduced to the brand new Disney XD show, Future-Worm. This animated series is set to debut on Disney XD, August 1st so be sure to set your TV programmers now.
When we were invited to attend the screening of the first two episodes we had the chance to meet Ryan Quincy who is a huge name in animation. Ryan was one of the lead animators involved in the epic South Park and now is creator of Future-Worm. While we had the chance to meet him, he also allowed us to experience the magic of animation by having cute parts of the show come alive in the theatre and outside the theatre. He had the scientists take pictures with us and had some of the animators draw on our new Future-Worm lunch boxes. It was truly such a wonderful day! After seeing Future-Worm, I know it will be a hit! How can it not be when you Captain Cakerz cereal is involved-haha!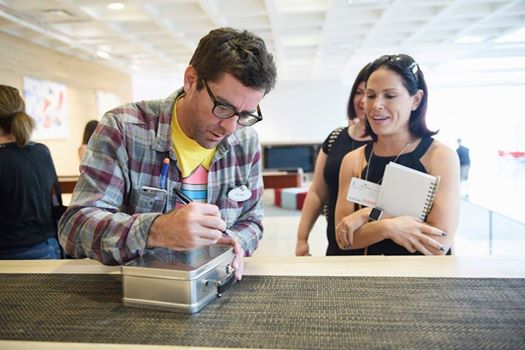 INTERVIEW WITH RYAN QUINCY: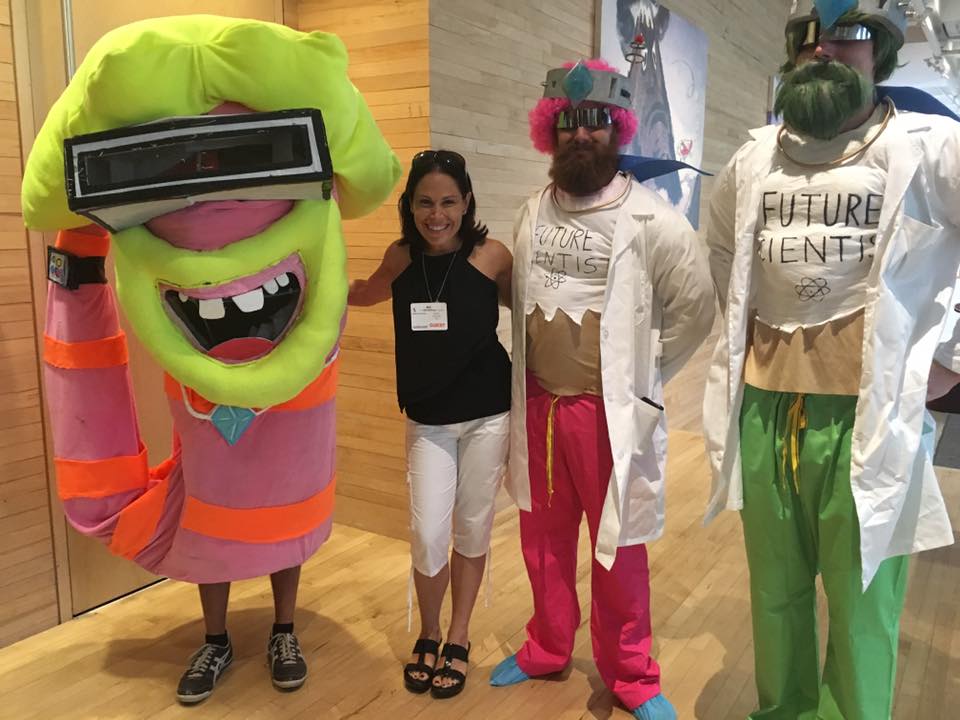 We started off the interview and Ryan gave us some background information on him. He has a 12 year old son and 8 year old daughter. He wanted to make a show for kids and not like South Park, which is for the adult audience. So the idea of Future-Worm came about and he had a grand time making it He said it's fun, it's absurd, and it's silly. He mentioned to us that it was the most fun he had in animation! In each episode, there is three cartoons that make up each half-hour. Each episode has a 11 minute, 3 minute, and 7 minute slot. This allows for a nice variety  to tell the adventures and stories. In making this film, he was up for anything but wanted to make sure there was some science education involved.
Question 1:   Will you explore the origin?
"There were five shorts that we did last summer, five 90 second shorts. Future- Worm shorts. That had some of the origin in it. With the series, we want to just hit the ground running. And over the course of the season, there'll be some callbacks to some of that. Basically, what happened was, Danny created this time machine lunchbox, sent it so far into the future that these future scientists found it, opened it up, and some of Danny's lunch was in there, there was an apple in there that happened to have a worm in it.
And they put it through their genetic escalator, and gave him all these attributes. Like, the bulletproof beard, the photoreceptor visor, and the 24 titanium-enforced abs.  So then they sent, Future -Worm back  to hang out with Danny.  That is kind of in a nutshell, the origin of how they met."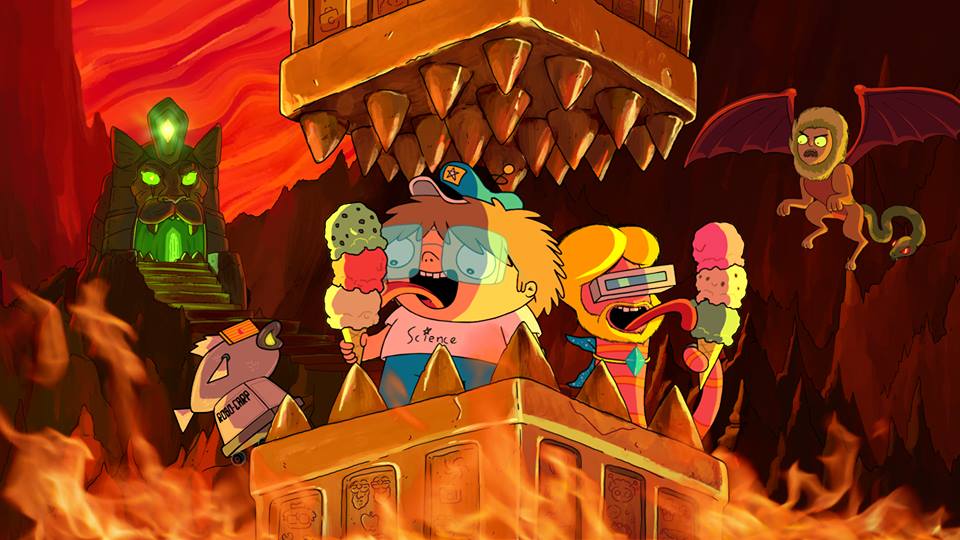 Question 2: Have your kids seen the show, and do they like it?
Ryan told us his kids love it. They give him some notes to the execs to what they liked about the show and what Future-Worm should like. He loves being able to share the process with them and loves getting their input.
Question 3:   What was the inspiration behind Future -Worm?
" I came over to Disney to develop something, I wanted what was so liberating about the marching orders. To make a show that you always wanted to make. And I always loved time travel and adventure shows, and  I'm good friends with Justin Roiland, who did Rick and Morty. When we were talking he said,  I think I want to do a time travel show. He's was like if you're gonna do that, you know, there's always the rules you have to deal with.
And then I was like, do you, though? I don't know if you do. Maybe the characters kind of say forget the rules, and just kind of barrel ahead. And that was really sort of the inspiration of doing this self-indulgent time travel. Not every episode is time travel though. There's other adventures, too." 
Question 3:   Who came up with Captain Cakerz?
He told us it is similar to a Cap'n Crunch but wanted one that would taste like birthday cake. One that is ridiculously bad for you! You will see the cereal though out the series. There is an upcoming episode where they go into the future and visit the Captain Cakerz factory and see the ghost. He told us it was really just a dumb cereal they came up with:)
Question 4:   Will Bud go on any adventures?
"That's kind of the big frustration for her is sort of this prophecy that a future version of Danny comes (voiced by Paul Williams) and says, you can't take her into the future, because  when she goes in the future, the whole universe implodes. So she's really frustrated, and they know that they can't take her on these adventures. But  there's a nice arc that you'll see over the course of the season, where we deal with that. She's gonna try her hardest."
Question 5:  How do they design the characters?
"I started with just the name, Future-Worm. That just sounded funny to me. It started with the name, and it was like, "If his name is Future-Worm, he has to be a time traveler." So it just started there, and I started thinking about the stuff that I loved as a kid, like I loved pro wrestling. I liked Hulk Hogan, Macho Man, Ultimate Warrior, Mr. T,  Chuck Norris, and  all that's stuff got thrown into the soup.  Also just wanting that sidekick, that Chewbacca, that ET, that would be by you, walking down the halls at school, or having your back. So, that was really the whole inspiration of the character."
He also told us he was on the chubby side as a kid but had a weird confidence. He wanted Danny to be comfortable in his skin. As for the hat, he used to wear a captain's hat that he got at Disneyland. That was the inspiration for the look. He told us he wasn't as much into the science of things. He was more into art, drawing, comic books, and making movies. He thought it would be fun though to have a kid that is really into science play the lead.
Question 6:   So you drew the characters?
" I designed the character.  Now we have an amazing staff that can draw better than I can. They do a great job. It's a lot of fun to develop too."
He told us he really just wants to create a show where the people watching can get into the characters and enjoy together as a family.
Question 7:    How long does an episode take?
He told us it takes a long time but it is a labor of love. He said he watched all the episodes at home and seen like 500 or so times. He still laughs at the same places. It is a huge job but he loves doing it!
Question 8   :    How many people did you see before Andy Milonakis?
Ryan told us Andy was his first choice.
"He was my first choice to be this character, do this voice of this character. He's fantastic. He's amazing. He does such a great job. He brings such a great energy to the character, and I love Andy. He's great."
Question 9:   How do you come up with the ideas for each episode?
" It's a lot of fun.  We go into the writers' room which is some of the most exciting times on the show, what stories are we going to tell? There are no rules. You know, that's kind of our thing, it is a time travel show, but  that's sort of more of the backdrop. It's more about these two best friends. We kind of use the core of it all as two best friends where Future Worm has seen everything, he's been everywhere.
He could hang out with anyone in any time period, and he chooses to hang out with Danny. And that says a lot about Danny's character. And Danny was always kind of looking for  a sidekick or someone to have his back through all these adventures. And so they complete each other. So that's the core, heart and soul of the show."
You can watch the first episode of Future-Worm! on Disney XD on August 1st!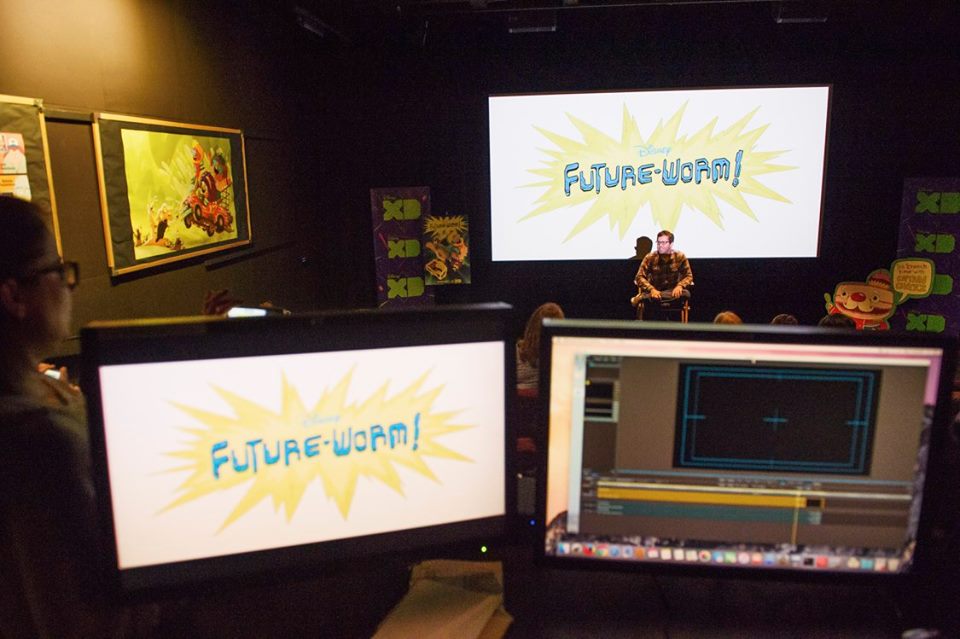 "Future-Worm!," an animated comedy adventure series about an optimistic 12-year-old who creates a time machine lunch box, and then meets and befriends a fearless worm from the future (with titanium-enforced abs), premieres MONDAY, AUGUST 1 (11:00-11:30 A.M. EDT), on Disney XD. (Disney XD)