*This is a sponsored post. All my opinions are my own and not swayed by outside sources.*
Infant CPR is such an important thing for parents to know. There's no telling when our children or children around us might need CPR. Things happen all the time. Crazy things that you never thought would happen. That's why it's so important to know how to perform infant CPR. With Infant CPR Anytime, you can learn CPR in your own home at your own pace.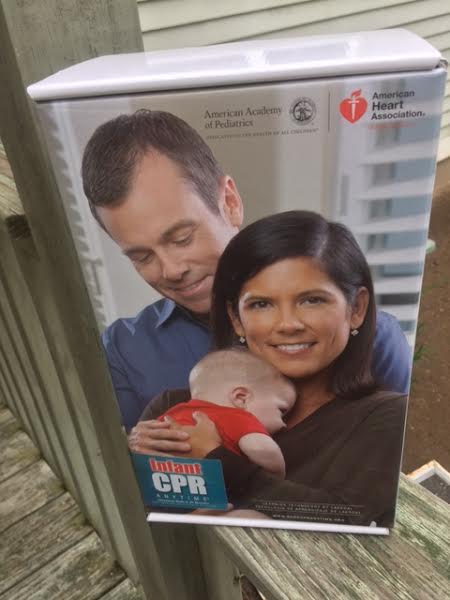 Infant CPR Can Save Lives
Between babies putting any and everything into their mouths, SIDS, and random occurrences that parents simply can't plan for, the world can be a dangerous place for young children. I'll never forget when I watched a child at the playground start choking on a bite of hot dog. She stood there hacking and grabbing at her throat and crying. It was awful. Luckily, she could still breathe, and it eventually worked itself out. I say luckily because in that moment, as I looked around at the other five moms, I realized that none of us knew CPR or what to do to help that little girl.
It struck me as ludicrous that I and all the moms I knew scoured the internet for baby proofing our homes, knowing which items to keep well away from our babies, and how to treat diaper rash, but none of us knew how to save our children in the event that something major like what happened to that little girl occurred.
EMS response times can range from 4 minutes to OVER 10. That's a huge time difference. And CPR can double or triple a person's chance of survival. It's important to have this skill in case of emergency, especially if you have infants or toddlers. They are so bad about eating things and tasting things and generally interacting with the entire world with their mouths.
That's why I think Infant CPR Anytime is such a fantastic idea. Infant CPR Anytime is an all in one kit which allows users to learn infant CPR at their own pace in the comfort of their own home. With Infant CPR Anytime, learning infant CPR is easier, because there's no apprehension about looking silly and users are free to go over whatever parts of the course they need to as often as they need to.
Additional CPR Benefits
Takes about 20 minutes. Simple, step by step format
Learn infant CPR and choking relief (up to 1 year of age)
Video makes practicing easy
Always there for a skill refresher
Self-directed program for easy home use and learning
Simple, easy to follow presentation for easier learning and lots of practice
Share with family and friends
Infant CPR Anytime Kit Includes
Bilingual Practice DVD
Bilingual Skills Reminder Card
Mini Baby CPR Manikin in Poly Bag
Replacement Lung
Manikin Wipes
Infant CPR is a Life Saver
That's why I think Infant CPR Anytime is such a valuable teaching tool. With Infant CPR Anytime, it's easy to learn the skills we need to help babies in crisis. This self-instructional package includes everything needed to fully learn infant CPR so we're prepared in the event of a life threatening emergency. Whether you're a parent or not, I encourage you to invest in Infant CPR Anytime, because infant CPR is something we should all know.
Giveaway: 5 winners will each receive this valuable kit. For this giveaway, simply leave me a comment and tell me why you are interested in winning. ENDS 6/1. US only! Good luck! To enter, follow this link and tell me what you learned!  PLEASE REMEMBER A VALID EMAIL ADDRESS!!!!