Happy weekend everyone! AND HAPPY MOTHER'S DAY!!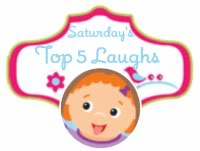 As always, come link up any cute or funny post you may have. Definitely check out the other blogs who link up as they all provide a great laugh. Feel free to take my button or share on social media, although this is not necessary.
MY TOP FIVE LAUGHS:
5. I flew back home from Mom 2.0 last week and the pilot comes on to tell us air traffic control center in RI was closed! SAY WHAT!!!
4. Also on the fight we had some bad turbulence. I heard a kid start crying and the mom says to him- visual it as a ride. The kid said that he wants off of the ride. I was laughing and feeling bad at the same time! He was so stinkin' cute!
3. Taylor is starting to learn how to climb out of her crib. I tell her no but she responds back yes. It is quite funny! I turned the crib around so that will help for a bit!
2. Zane is the earliest riser in the household. I can usually find him in his room acting out Captain America at 630 AM. He is addicted to superheroes!
1. Zane/Mommy school Mother's Day tea: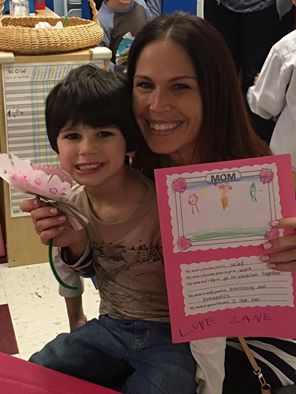 YOUR LAUGHS: