This is a sponsored post with The Motherhood and AT&T. All my opinions are my own and not swayed by outside sources.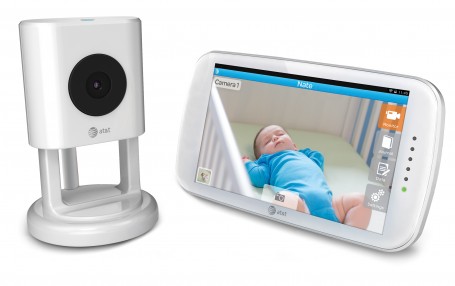 For all of you expecting mamas and papas (and family and friends looking to buy a baby gift) look no further for your must have baby monitor! Baby's Journey, an innovative children's products manufacturer, and AT&T are working together to launch a new baby monitor line, providing instant and intelligent information about baby's health and wellness. I just got their new AT&T Smart Sync™ 5" Internet Viewable Touch Screen Video Monitor and wow, I absolutely love it! In fact I am wondering how I ever lived without it. From the moment we opened the box, my husband and I were so oohing and aahing over how cool and beautiful it looked and most importantly how big the screen is!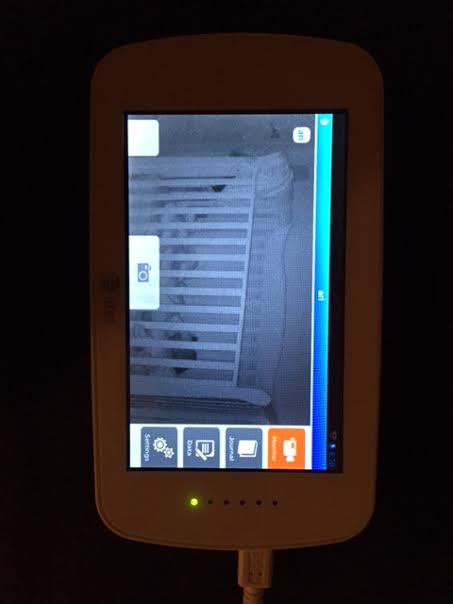 After going thru the quick and easy set it up, we were able to watch our little one, we were not disappointed! It has the most real and clear picture I have ever seen (and we had been thru quite a few different baby monitors from other companies). I immediately saw such a difference from our old monitor, which was grainy and never really clear enough to see exactly what the baby was doing. The AT&T Smart Sync™ 5" Internet Viewable Touch Screen Video Monitor not only shows an incredible picture but goes above and beyond to keep track of your baby's every move! It even allows your to track and record their daily activities including feeding and dirty diapers right there on the monitor or through the free AT&T Smart Sync™ Mobile App (available on the App Store and Google Play), giving users the most sophisticated way to watch and monitor their baby.
The touch screen monitor and app automatically sync, providing a seamless viewing and tracking experience. Parents can capture and share photos directly to social media directly from the monitor or via the app.
SETUP: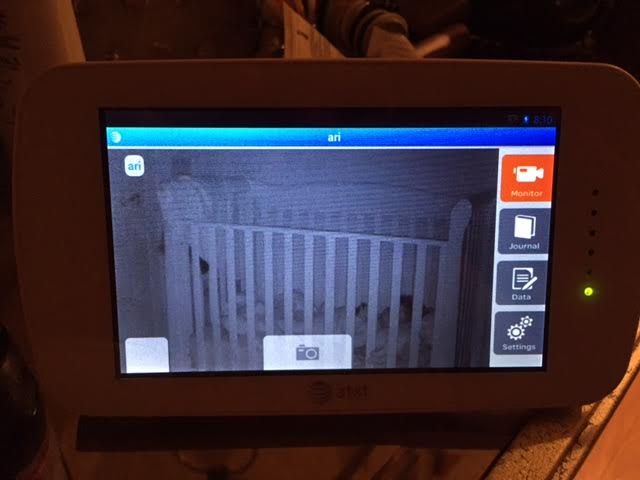 The setup was super easy with just a quick plug in and immediate prompts to connect to your wireless network. Everything is done in the touchscreen monitor. Camera setup: to pair the monitor with the Wi-fi camera was one very simple step. Plug in the camera and wait for the power led to blink red and then wait until it turns red before proceeding. Took under 30 seconds. Next you put in the serial number found on the bottom of the camera and they will pair themselves within a minute. Once completed, voila, ready to watch and be in awe. We watched our daughter roll around happily and even set it up in our other son's room where we caught him quietly reading a book! We were so amazed and happy at this special moment! Of course we wanted to share it so we did and you can too!
Sharing & Social Media:
You can share your baby's photos and first moments to either Facebook or Twitter in one easy step! Now everyone can be in on the action and watch your baby grow along with you! Baby's Journey social media channels are:
FACEBOOK: https://www.facebook.com/babysjourneyinc/
INSTAGRAM:
https://www.instagram.com/babysjourney/
TWITTER:
https://twitter.com/BabysJourney
PINTEREST:
https://www.pinterest.com/babysjourney/
FEATURES:
mHealth: the mHealth secure server stores all your baby's health and wellness data so you can quickly and easily keep all of the data in the palm of your hand. You have to create an account to use this feature.
MONITOR:

Touchscreen:
Beautifully designed and crystal clear. The 5″ makes viewing a pleasure and you can see everything on the large screen. The keypad buttons are on the small size so I did have to go back and correct some things since I had hit the wrong button a few times. You can adjust the screen brightness and can set the screen shutoff time at 5, 10 or 15 minutes.
Sound level:
The sound level of your baby can not only be heard but can also been seen. When you see a green light on the monitor it means the baby is quiet, orange means the baby is somewhat loud and the red lights mean the baby is very loud.
Picture/video:
Clear as can be! So impressed with the image on the screen. Colors are vibrant and very clear. Sound projection is excellent and you can hear every moment and noise that your little one makes.
-Digital pan and zoom: super easy to see your baby by zooming in and pinching the picture on the monitor. When zoomed in, you can swipe the screen to pan and scan from side to side and up and down. Simply pinch again to zoom out and return to the normal view. For a quick full screen image, double-tap the center of the video screen.
Baby tracker:
Journal button to write and take notes. You can scroll thru the various data buttons and can record: baby's weight & length (month, year) it even gives you the percentile that your baby is in! sleep data: record the hours baby sleeps by day, week, month; feeding in oz can be recorded on a day to day basis. Dirty Diapers: wet, dirty, both, total recorded every day. When baby gets sick you can record his temperature and medicine given. It's all right there! This is all you will ever need to keep track of your baby's every move and growth and daily activities and even doctors appointments!
Awesome addtional features: you can add additional babies or children and create their own profiles for them as well. It's perfect for twins and siblings!
The AT&T Smart Sync™ 5" Internet Viewable Touch Screen Video Monitor would make and excellent baby gift for any expecting mama or for yourself to be able to watch and track you baby's every move and growth. #ATTbabymonitor
The monitors are available to order on www.babiesrus.com/attmonitor
Find a Babies"R"Us near you to purchase a monitor in store: http://www.babiesrus.com/ (click "Choose My Store" and enter your ZIP code)
For more information, visit www.mhealthbabymonitors.com
GIVEAWAY: One winner will receive this amazing monitor- $300 value. This giveaway is run via rafflecopter so click read more to see the actual giveaway. The only mandatory entry is to tell me what you like best about this monitor by visiting here: AT&T Smart Sync™ 5" Internet Viewable Touch Screen Video Monitor. While the other entries are optional, I highly suggest filling it out to increase your chances of winning. US only. Good luck!
a Rafflecopter giveaway