I received an all expense paid trip thanks to Disney. All my opinions are my own and not swayed by outside sources. Pictures given with permission from Disney and Becky from MySparklingLife.com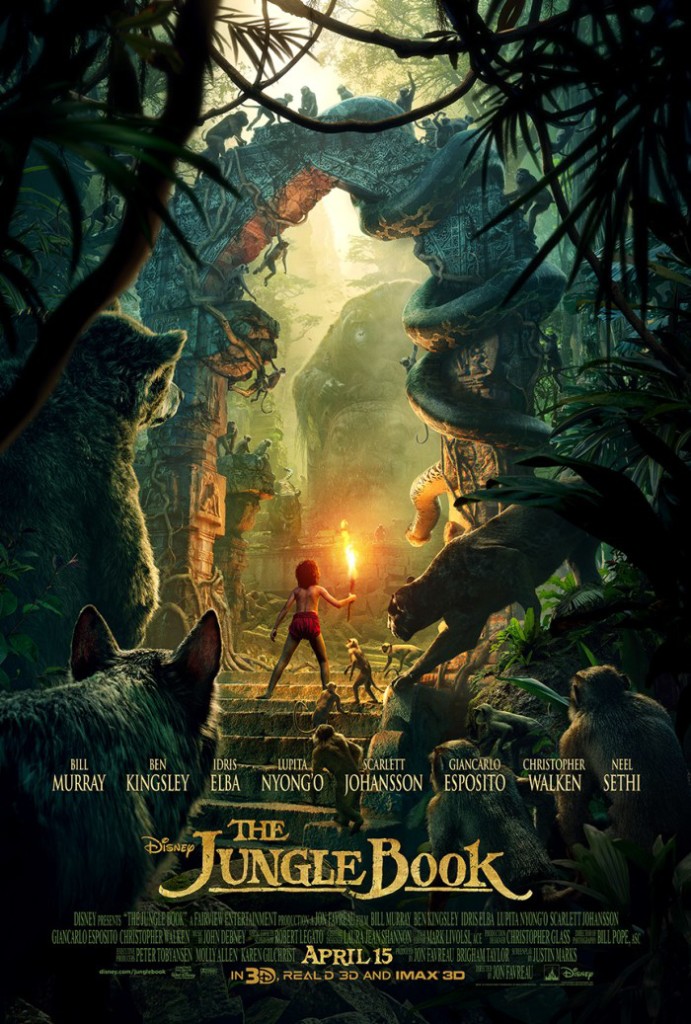 Do you recognize this man?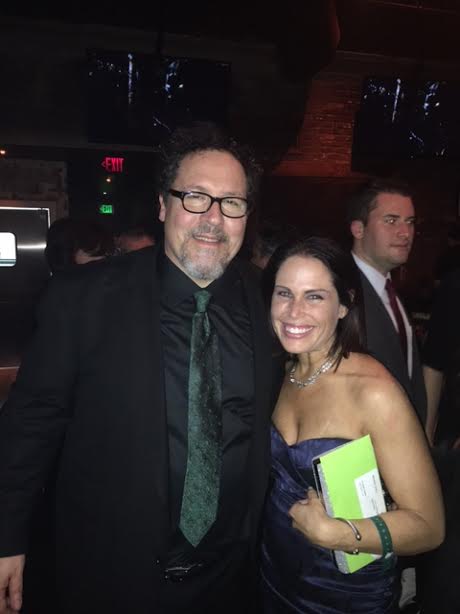 Of course, you ALL do because he is none other than the legendary director, Jon Favreau.  Jon Favreau has an abundance of film credits to his name including Elf, Made, Iron Man, Iron Man 2, Couples Retreat, and many more. He is a world famous director, writer, actor, and producer. Now he is back directing the live action movie The Jungle Movie, which debuts in theaters this Friday, April 15th!
This new actor might be a new name to you all but don't worry because pretty soon his name and face will be plastered all over the Hollywood movie scene.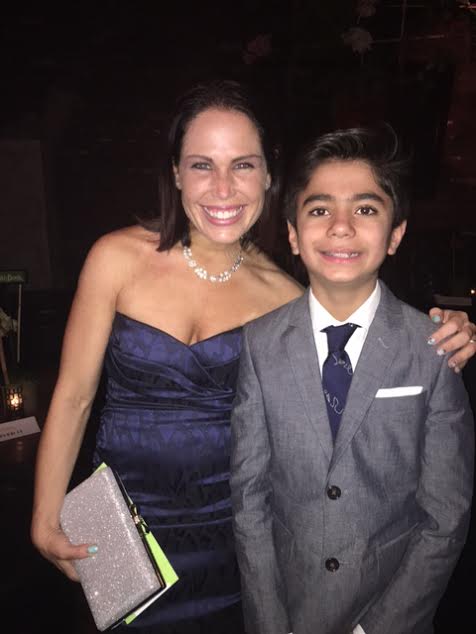 His name is Neel Sethi  and he is aa young, movie child actor who landed a phenomenal role as Mowgli in the  live-action version of the classic tale The Jungle Book. He is new to the acting scene and is truly spectacular in it. Once you watch the Jungle Book, you will know why this is just the start of his career. Being the sole human in this film, he truly excelled in every sense of the word to bring Mowgli to the big screen.
Having a chance to interview Jon Favreau and Neel Sethi was inspiring and exciting. When we sat down ready to welcome them, all of us were anxious and elated to have this opportunity. Once they both came in the room, it was clear to us just how excited they are to talk about The Jungle Book and how this movie was a dream come true for both of them. In this day of age, it is so nice to meet these two gentleman who are just as excited as we are to see and bring The Jungle Book to a live action feature movie. After talking to Jon Favreau about his Elf days and the Elf merchandise, it was time to talk all things about The Jungle Book.
INTERVIEW WITH JON FAVREAU AND NEEL SETHI: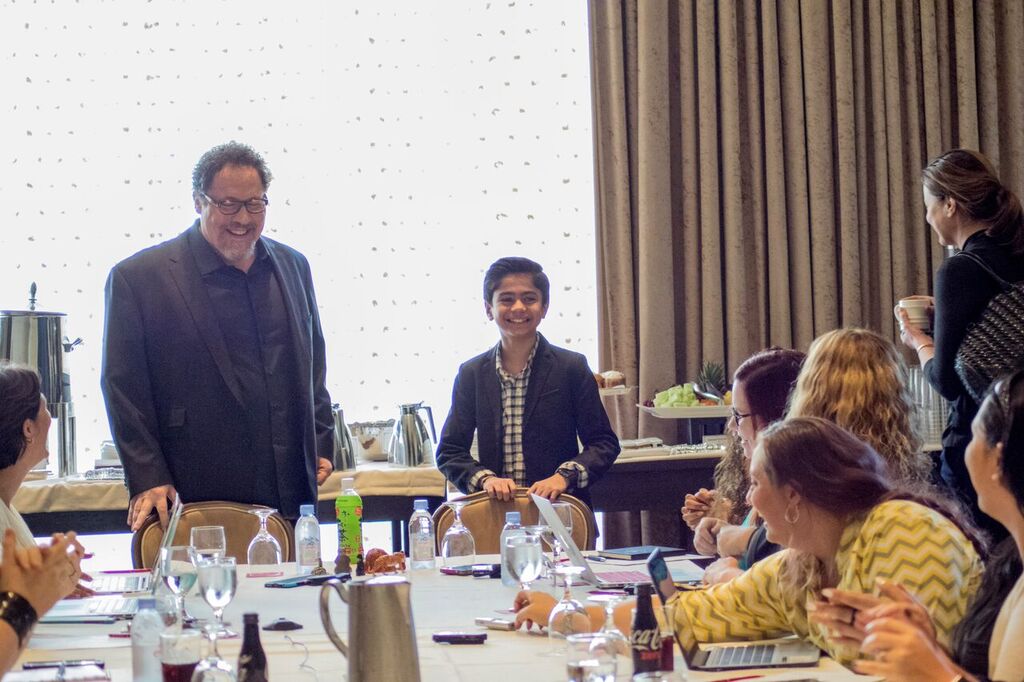 1.  How did you get started?- asked to Jon Favreau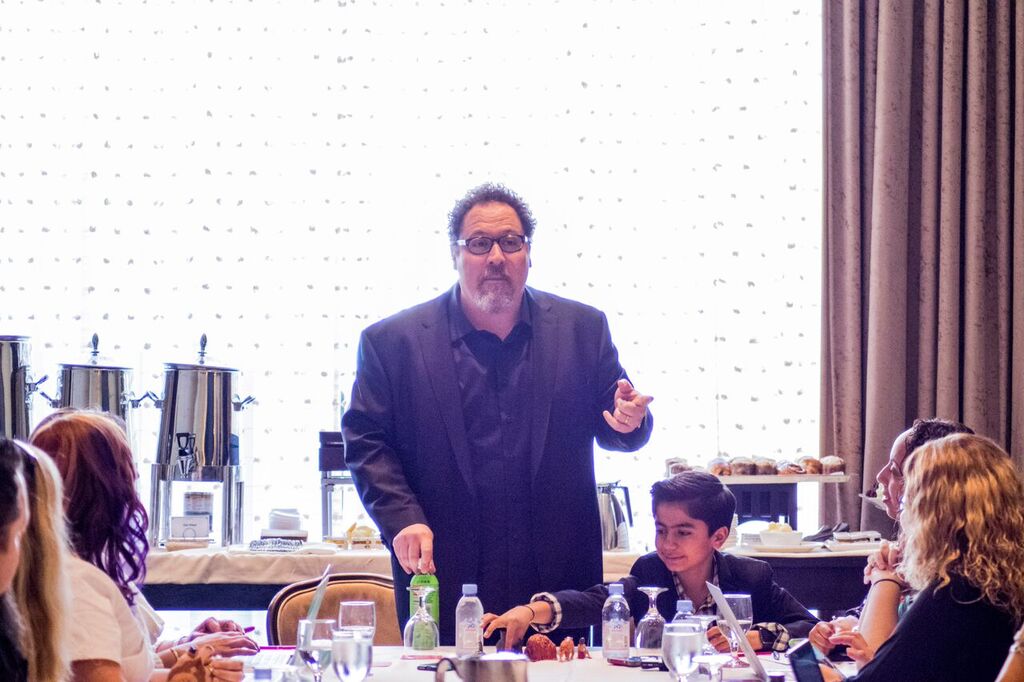 Jon Favreau told us he was working with Disney on a project called  "Magic Kingdom" which was essentially the park coming to life.  He talks about it as a a family that goes to the park every year and the daughter is about to go away to college. She doesn't want to go but it is the last time they get together to the park and then something happens. The family gets separated and they have to face challenges to get back together.  It was basically a big adventure but inspired by all the different lands of the park and the different attractions Jon grew up with, almost like a dream that Jon used to have when he was younger about Disneyland.
"And so we were working back and forth with this and at the same time, this was years ago, Disney begins doing films like "Cinderella" "Malificent" "Alice" and so each of these properties are being explored. "Pirates" of course being explored as their own franchises. So we weren't moving forward with this Magic Kingdom project but I had been researching how do I do something with live humans but a set that you're not gonna build because there are too many times when I worked on effects movies where we build these big sets and then you end up replacing them and you pay for it twice.
It seems wasteful and inefficient with all the money they're gonna spend on the screen. I met with Rob Legato actually who is our Visual Effects Supervisor on this. He was on the Awards tour for "Hugo" which I thought was a wonderful film.  I was discussing with him, how would I do this if I want to do this for "Magic Kingdom" hoping of course that maybe it would get made and I would hire him. He invited me back to his place, showed me Visual Effects, how he did things in "Hugo", talked about "Avatar" "Titanic" working with Marty Scorsese, talked with Jim Cameron.
Just a very experienced guy who really understood Visual Effects and what you could do with them. And I didn't really thing anything of it after that and then I got the call from Disney to come in. Alan Horn loves the "Jungle Book." He loved it as a kid. He loved the Novel, the stories, and this was gonna be the next one after the success that they had, they wanted to explore what could happen.  I knew the Animated Film but it didn't seem obvious how to do this. But as he discussed "Life of Pi" and he talked about the tone of that film and he talked about "Avatar", it got me thinking well we could create our own complete environment and if you do that, I could do something similar to what I was thinking about for Magic Kingdom . Similar to  Disney  who has a castle this big, make the castle this big- if the branches of trees in this movie in real life were this big or a panther is this big, make him as big as he was in the cartoon. Make him bigger, play with scale. Always keep it photo real but you could give it a dream like quality so you see the whole thing through kid's eyes. And so it was their enthusiasm, and their commitment to doing this. And honestly, the confidence they had with the success of the other live action adaptations that made me realize that they were an enthusiastic partner."- Jon Favreau
He worked three years on this movie and truly is proud of the work that came of it. I have to agree, it is purely magical. He stressed to us that he wanted to make the animals as life like as possible with the effects and he did just that. Honestly watching the movie, you would never know that they weren't real animal! Seriously, at one point I turned to my neighbor and asked if they were real-LOL! He also told us he loved all the support from Pixar and Disney in creating this film.
2.  How did you know when you found Mowgli? -asked to Neel Sethi and Jon Favreau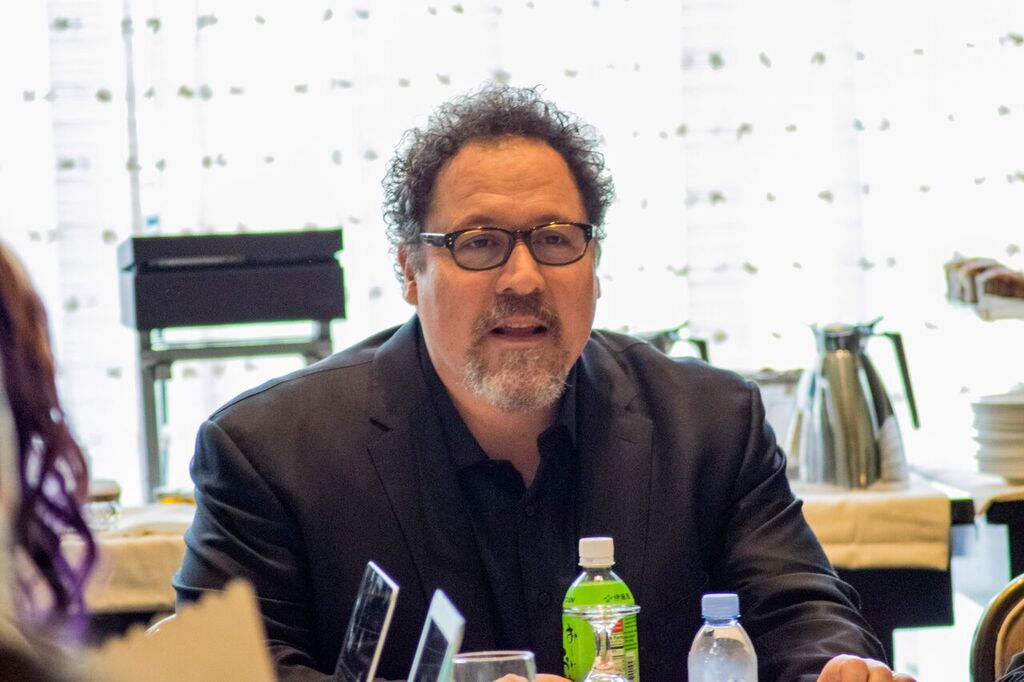 Jon Favreau told us he took credit for giving Neel Sethi the title role of Mowgli. He told us Neel was a very talented, young man who was not experienced, but he knew he had what it took to be given the title role in this film. He had a profound confidence which he saw right away.
"They auditioned and after, I was looking at 2,000 kids they had looked at.  You know, not all of them but they would send me the best of the lot although he's a little younger than we thought. He's from Manhattan, that helped. I'm from New York. I like the Century Theatre. And there was something that made me smile. And he started doing Martial Arts. After the audition was over, he says, I can do my own stunts. And he had a Stunt Man. And I was like, this kid's having a good time and I like him so we brought his family out and I met with the family."- Jon Favreau talking about Neel Sethi
He also told us that he loved the support system Neel had. He loved how his parents were dentists and his sister was so supportive. The whole set he told us became one big family! I love that!
3.  What it was like when you got the part and the audition process? -asked to Neel Sethi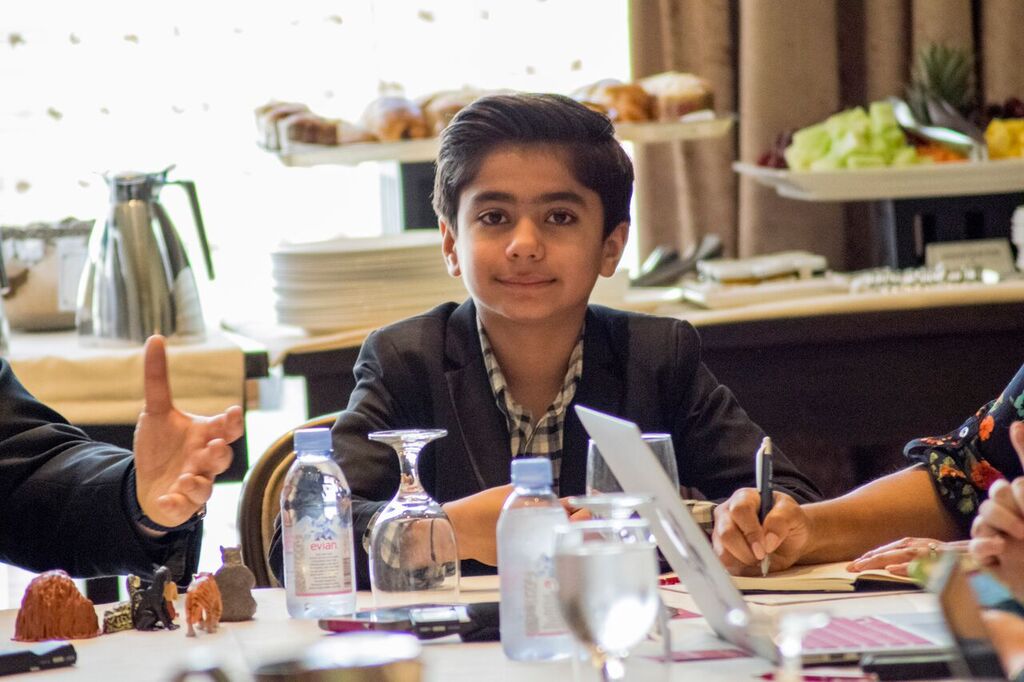 "I  was in a Dance Class and  the teacher for the dance class said I'd be very good for it and I never thought about acting before but I auditioned and  they really liked me so we flew in LA, and then 2 weeks later,  I got the part. The producer called and were  flipping and jumping and we were so happy. We were so happy, we went out, and got my favorite food which is lobster and ravioli." -Neel Sethi
4. You had to act with a lot of things that weren't there. Did you have something in your mind when you were actually filming and how close was the final film to that? -asked to Neel Sethi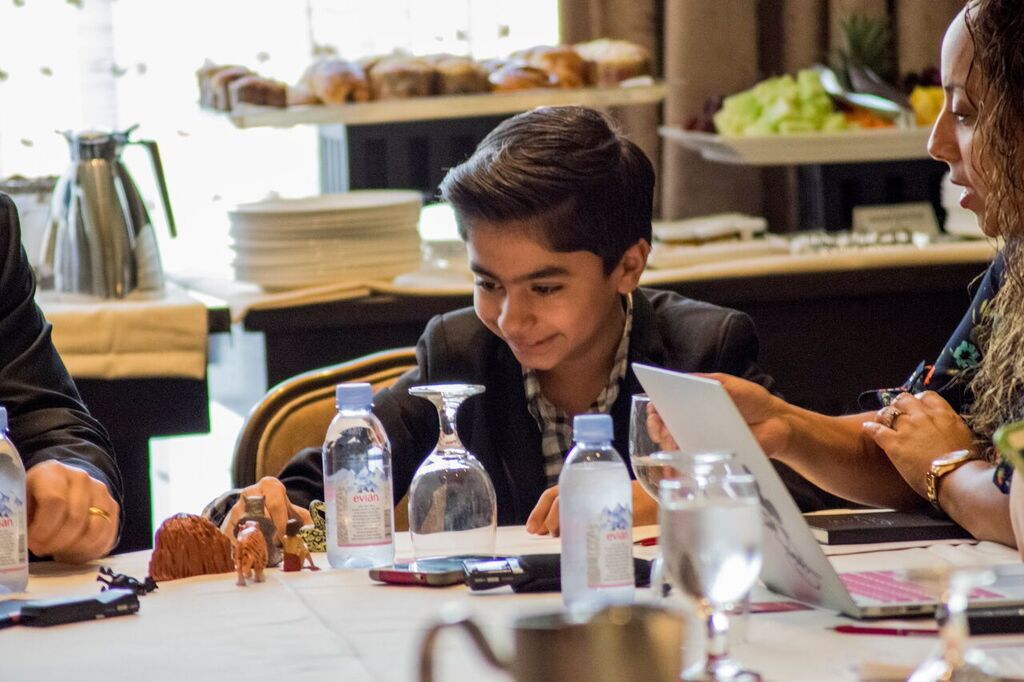 He told us it made it easy because they used puppets and then in his mind, he made the puppets be the real animals. When he saw the Ballou puppet, he would say that is not Ballou puppet but rather Ballou. It helped him get in character and interact with the animals.
5.  What as the scariest scene for you?- asked to Neel Sethi
He told us that none of it was really scary but he was always 30 inches off the ground, which was quite interesting to hear. He didn't love the mud because it made him itchy and then they would spray him off, to get muddy again. He said he had to act like it was normal and also normal to get chased by a stampede of Buffalo.
6. Did you go to a traditional school, what was it like to transition from school to set and back again?- asked to Neel Sethi
Neel told us Lois was his teacher and helpful as an acting coach on set too.
"I was in a normal school and when I auditioned  it was actually the last day of 5th Grade, the last day of Elementary School, and so our school split up into 2 schools basically for Middle School. And all of my good friends and everybody went to the same school as me.  We all had state testing and everyday thought it was cool for a week when he landed the part and then all right, you know, enough."- Neel Sethi
7.  Out of everything that you've worked on, have you taken anything meaningful from the set of one of your films? – asked to Jon Favreau
He told us the cowbell from the scene where King Louis is in the temple. Of course! One you see this you will know all about the cowbell.
8.   How did you decide what Musical Scores would go into it? It was very beautiful how you put the Music in. How did you decide that? -asked to Jon Favreau
"Some of it was intuition. A lot of it was trial and error, and honestly it was the part I was most concerned about as the plane is leaving the runway now because if you don't have the Music, it could break the movie. I know when I'm watching "Creed" and that Rocky comes on, I'm like it's the rocky song.  And when the Music in Cinderella starts popping up. And so I remember as an Audience Member, I wanted music to be a strong part. As a Film Maker, you're scared, you're like is it gonna break the tone but as a Film Maker, I'm like bring it on!
And as a Film Maker I know I got to give. And as a matter of fact, there was one of the songs that wasn't in the earlier version and my kids, and my wife, actually it was my wife  who told me to bring it in. She's like it's fine, everything is great. But this is the one time, she was like you're not gonna have that song in. And I'm like No, No, it might not fit tonally. And she's like, I think you should have the song. And the kids wanted to hear the song and so you want to bring it in.  The song was I Wanna Be Like You.  And so it was early enough in the process that we worked it in because I came on board, there was no music in at all. And I started working on the Bare Necessities and then we worked on  the one with Walken. But the trick of course is to bring music in but not into a pure musical. It  was John Debney, the Orchestration of the Music helped tie it in to the entire piece." -Jon Favreau
Both of them ended the interview eager to watch the final product of The Jungle Book on the Red Carpet, which was done later that night.  They are both so proud of the film as they should be! This film is purely MAGICAL!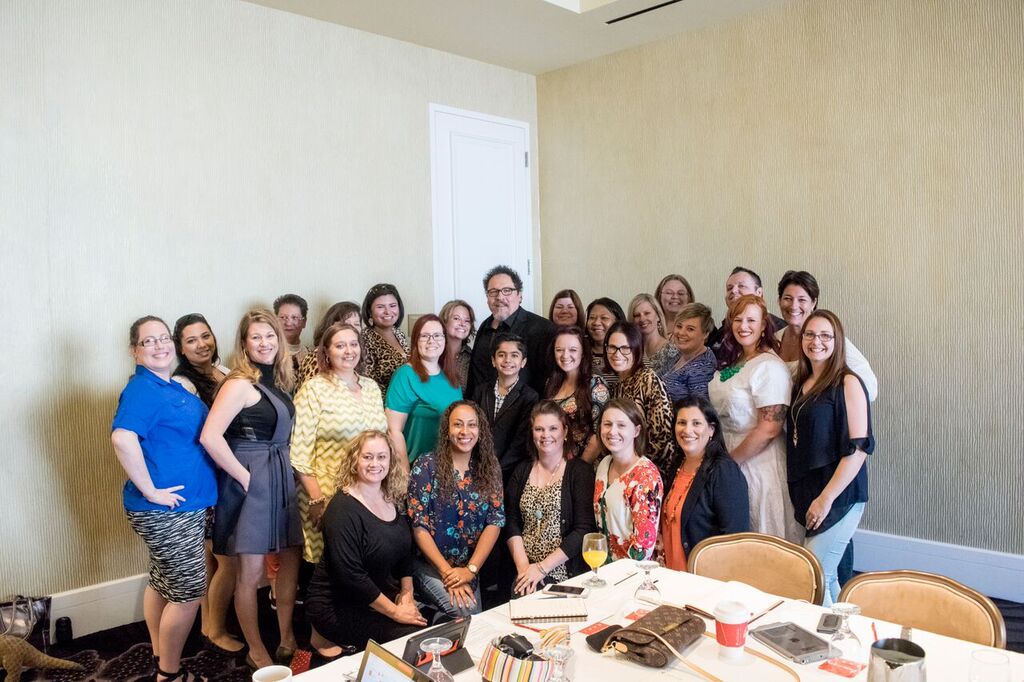 THE JUNGLE BOOK HITS THEATRES THIS FRIDAY, APRIL 15th!