I work with Pediped kids shoes on review. All opinions are my own and not swayed by outside sources.

Award-winning children's footwear brand pediped® debuts its Spring/Summer 2016 collection featuring over 70 new styles across its signature footwear system. The collection is highlighted by its fashion sandals featuring Memory Foam Technology™ and its aquatic water-safe, rugged, machine-washable Adventure Line.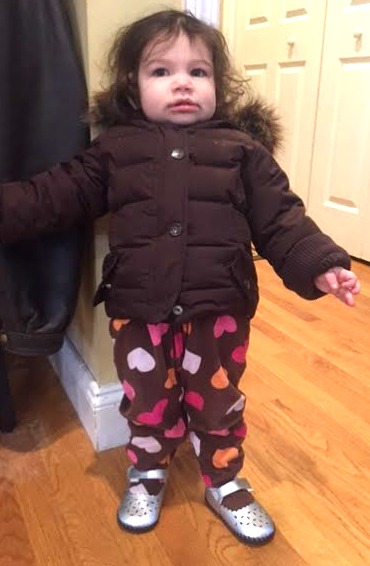 I am a HUGE fan of Pediped. Their shoes are just so comfortable and the little ones absolutely LOVE wearing them! Taylor is at the age where she loves styling in her Pediped shoes. They come in an adorable box and each shoe is made to fit those little feet! With the gorgeous spring weather coming our way, your child needs to own a pair of Pedipeds!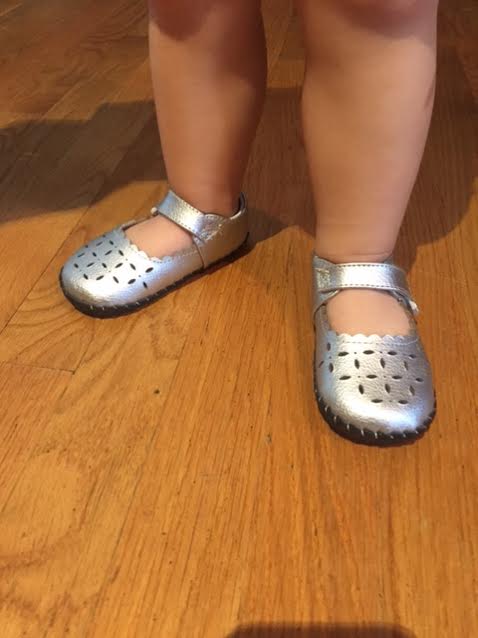 Whether a child is crawling, learning to walk, or running around, pediped® has a stylish shoe that fits comfortably and ensures healthy foot development. Each of the three footwear lines featured in the pediped® footwear system is specially designed to meet the needs of a particular walking stage.
Here are three styles of PediPed shoes: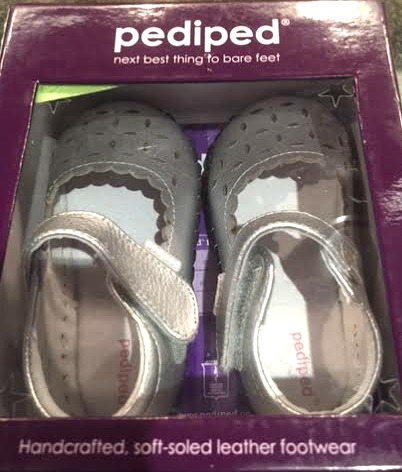 Originals®
· pediped® Originals® are the first step in the pediped® footwear system. Soft-soled, and flexible, these shoes are recommended by pediatricians and podiatrists, as the design closely mimics barefoot walking, and do not force a child to change their natural stride. Each style is lined with a slip-resistant leather sole and includes pediped® patented signature hand-stitching, allowing for a breathable shoe.
· Originals® styles retail starting at $37 and are available for children in sizes newborn to 24 months.
Grip 'n' Go™
· Grip 'n' Go™ styles provide a smooth transition for a child learning to walk with a more confident stride. The second step in the pediped® footwear system, all Grip 'n' Go™ shoes include G2 Technology™, which contains a specialized soft rubber sole for additional cushion, rounded edges that mimic the natural shape of a foot to help with stability, a grip zone for additional traction, and a soft toe box that allows toes to curl and grip the floor. Varied styles come with additional features such as Memory Foam Technology™, and machine-washable capabilities.
· Grip 'n' Go™ styles retail starting at $48 and are available in EU sizes 19-23, US kids 4-7.
Flex®
· The third, and final, step in the pediped® footwear system is Flex®. For those who have a developed a solid, natural stride, Flex® combines high quality materials and advanced technology to create the perfect, stylish choice for all-day comfortable wear. Most styles include the Flex Fit System™, which offers a customizable fit with the use of additional insoles, extending the life of a pair of shoes up to two months. To top it off, a cushioned arch support and flexible rubber soles ensure coziness and ongoing healthy foot development.
· Flex® styles retail starting at $39.95 and are available in EU sizes 20-38, US 5 kids-6 youth (available sizes vary between styles).
Soft pastels and bright fun colors enrich this collection with a diverse pallet. Spring style is already in full swing with 3D floral appliques blooming on the Sidra and Sabine sandals. Flower prints of pinks and blues wrap themselves around the Bree and Louisa shoes, making these the perfect accent to any casual spring dress. The popular boys' boat shoe Norm is now available in sizes EU 24-33 (US 7.5 kids – 1 youth) allowing little tikes to big kids alike to walk through this season in style. The Force athletic shoe, the Ultra Light Technology™ driven fan favorite, is back in three new colorways. Continuing to make life easier for grown-ups, this Spring/Summer collection by pediped® features over 60 machine-washable styles. Every style of pediped® footwear is approved by the American Podiatric Medical Association, allowing children to always put their finest and healthiest foot forward.
Please make sure you check out PediPed for all their amazing styles for the spring!
Win it: One winner will receive a pair of Pediped shoes. This giveaway is run via rafflecopter so click read more to see the actual giveaway. The only mandatory entry is to visit Pediped and tell me your favorite shoe in the comment section proceeding this post. While the other entries are optional, definitely fill it out to increase your chances of winning. US only. 
a Rafflecopter giveaway