*This is a sponsored post. All my opinions are my own and not swayed by outside sources.*
Beautiful skin requires attention. It takes proper nutrition, hydration, and the proper skin care routine to help keep your skin looking beautiful. Diet and getting plenty of water is easy enough, but it can be a bit trickier to find products that actually help promote beautiful skin instead of just saying they do.

Beautiful Skin Can be Yours
We all want beautiful skin, but it can seem just out of reach for so many of us. I really believe that's because so many brands only say they help reduce the appearance of aging. Emphasis on "say". Apothederm does more than slap a claim on a bottle of white creme. They've actually formulated their own proprietary peptide formula that is proven to help give you healthier, more beautiful skin.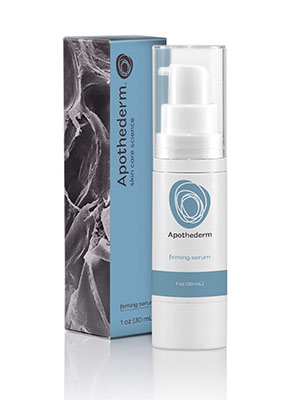 The Science of Beautiful Skin
Apothederm's parent company, Helix BioMedix, had developed a peptide technology which mimics the amino acid sequences of our skin's own naturally occurring protect and restore functions. These SmartPeptides work in tandem with one another to address skin problems such as:
Fine lines and wrinkles
Loss of elasticity
Loss of firmness and definition
Uneven skin tone and dark areas
Rough skin
Thin skin
Take a look at the four SmartPeptides developed by Helix BioMedix and used by Apothederm, and you'll get an idea of how Apothederm uses science to bring us beautiful skin.
Heptapeptide-7: Promotes keratinoctye proliferation and migration. In layman's terms, it supports skin renewal, an essential process for healthy, vibrant skin.
Palmitoyl Hexapeptide-14:  Helps boost collagen production to reduce the appearance of wrinkles and increase skin firmness. Additional lipid delivery to help eliminate dull, dry skin.
Hexapeptide-21: Stimulated collagen production and cell turnover to help improve the appearance of damaged skin.
Oligopeptide-10: Based on the human body's own antimicrobial peptides. Features anti-inflammatory properties to help reduce skin imperfections and increase skin health.
A Complete Approach to Beautiful Skin
Apothederm uses its patented SmartPeptide technology to promote beautiful skin through a wide range of products. This allows me to always be nourishing and healing my skin throughout all of my beauty routines. Apothederm has a complete line of skin care products designed to promote beautiful skin, with everything from moisturizing cleanser to stretch mark cream.
I love Apothederm. I think its great that they have such a substantial line of products, and I think it's equally great that they've been designed to be more than just creams in fancy containers. Give Apothederm a try.