*This is a sponsored post with Acorn. All my opinions are my own and not swayed by outside sources.*
Charmin Ultra Soft is my family's favorite toilet paper. It's like a cloud for our potty breaks. It makes the whole experience more comfortable. I wasn't happy when Charmin Ultra Soft stopped being offered at Sam's Club, but now it's back for a limited time. AND it's back with a little something extra. Yay!
Get More for Your Money with Charmin Ultra Soft
My middle son has been potty trained for a while (at night now), and my youngest will soon be moving into that next phase. I can tell you without question that getting more toilet paper for the money is a huge help with potty training. When kids clean up after going potty, they tend to be a little… enthusiastic… with their toilet paper use.
Now that Charmin Ultra Soft is back at Sam's Club, and with 1,0000 more sheets per package, I'll be sitting pretty when my little one begins her journey to being a big girl. That holds true for anyone in the potty training boat. You need lots and lots of toilet paper, and if you can get more for less, that's even better. Now that Charmin Ultra Soft is back at Sam's Club, we moms and dads can get all of that.
My Charmin Ultra Soft Story
The most memorable experience I have of potty training my son is both wonderful and horrible. He was nearing the end of his potty training journey, and he was riding high with pride. He really felt like a big boy, and mom was so proud of him. Unfortunately, one day he decided to be a total big boy and clean up after himself. I walked in to find an entire roll of Charmin Ultra Soft unrolled and stuffed into the toilet. Seriously, all you could see in the toilet was toilet paper. You couldn't even see the water.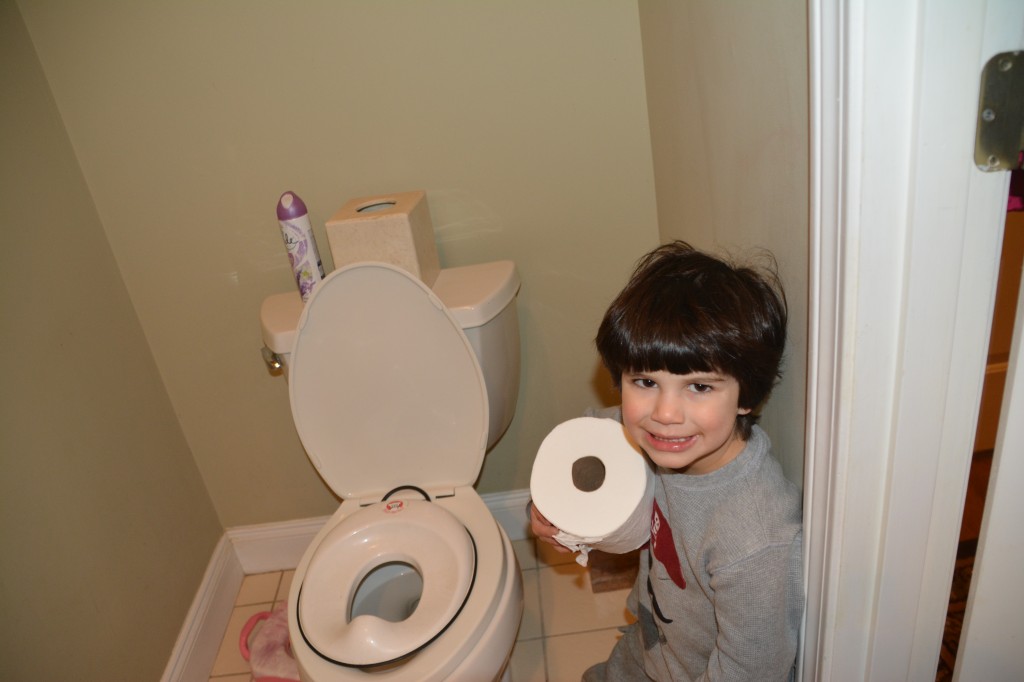 I did my best not to freak out over the fact that I'd have to manually remove most of that toilet paper before flushing the toilet, and I told Zane how awesome he was for doing the entire potty procedure all by himself. He was  a big boy! I then shooed him out of the bathroom so I could get down to disaster mitigation. So when I say you need LOTS of toilet paper when potty training your child, I speak from experience!
One of my huge tips to potty training is to make sure you potty train when THEY are ready. Do not force it upon them because it can ultimately backfire on you! With Zane, I tried at 2  years old but then he ended up hiding and going in his underwear, which caused a whole slew of problems. I waited till he told me he was ready and then it was easy peasy. Now I just need him to train at night!
Get More for Less with Charmin Ultra Strong and Sam's Club
With Charmin Ultra Strong being back at Sam's Club for a limited time, it's the perfect time to stock up on great toilet paper. And because there are 1,000 more sheets per package than before combined with a great Sam's Club price, you'll get way more for way less. I'm excited about it. I'll be headed to Sam's Club to stock up on Charmin Ultra Strong, and you should, too. It's great toilet paper and a great price, and you can't beat that! ESPECIALLY if your kids are potty training.
WIN ONE OF 53 $50 SAMS CLUB GIFT CARD:
To be entered to win, you must share your potty training tips/tricks and use #CharminatSamsClub on Twitter or Instagram. Prizes are 53 $50 Sam's Club gift card. Enter here and good luck:
$50 Sam's Club Gift Card Giveaway for Charmin