**I received an all expense paid trip thanks to Disney. All my opinions are my own and not swayed by outside sources.**
A few months ago I had the pleasure to interview Raffey Cassidy alongside George Clooney and many other fabulous actors/directors for the Tomorrowland Press Junket. I remember remarking to the other bloggers how absolutely gracious and purely adorable Raffey Cassidy was. Raffey plays Athena who is one of the main characters in Tomorrowland.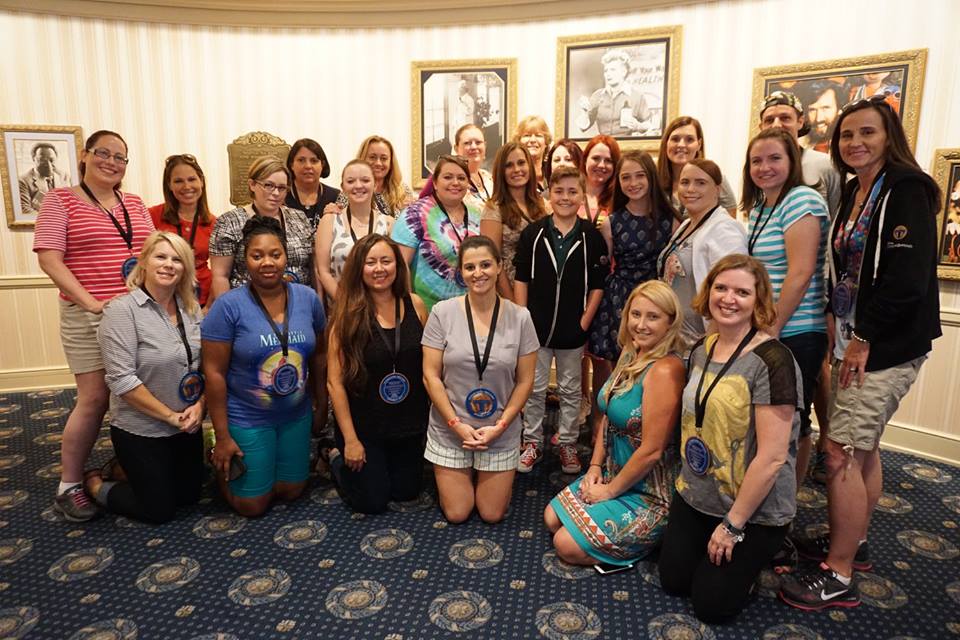 Raffey Cassidey  had starring roles in Snow White and the Huntsman and Dark Shadows to name a few of her earlier works.While you might not recognize her name YET in the acting world, trust me when I tell you that she is an up and coming actress, who we will be seeing a lot more of in the future! That is why I was so excited to learn that I was going to be interviewing her, alongside Thomas Robinson (who plays a young George Clooney) in Tomorrowland at the #TomorrowlandBloggers event. Both of them are AMAZING actors who not only have immense acting talents but are also so beautiful inside and out.
We had a chance to interview them at a roundtable together. When they sat down, they were both very eager to answer any questions we had. There was not one bit of nerves when they started talking, which was quite endearing. I would not expect otherwise though, since they are true professionals in every sense of the word.
We started out the interview by asking both of them how it was like working on the film? Raffey told us it was a blast working on the film and that it was just so cool being in this major motion picture. Thomas then told us that the stunts were his favorite part of filming and Raffey agreed with him. Raffey told us that her favorite stunt was the dream sequence and getting to rehearse with all the cast members. They loved training for the stunts and working together.
" I think we both had to do two months of training before the movie even started filming just to get ready for the roles that we were playing."- Thomas Robinson
We then went into asking how old they were and were amazed that they only were thirteen years old. For such a little age and such a big talent, this was amazing! Of course when they brought up their age, we had to ask Raffey if she actually did the driving in the movie and she actually did along with some help!
We then asked them if they look at Disneyland differently when they come here to visit now? They both said yes and Thomas told us that it is now even more magical looking at Disneyland because he knows how much work goes into making the place magical for all!
The next question we all wanted to know is how long the movie took to film and how long they were on set for?
Raffey told us from start to finish it was about a year. Thomas told us that he started practicing the dialect about two months before he was to report on set. He told us that he turned 11 on the second day of filming Tomorrowland.
Since they are so young, we wanted to know if they wanted to continue on acting or do something else when they grew older?
" I definitely want to do loads of different jobs. I wanted to do acting, but I always wanted to go to university and study British education because I would really like to learn."- Raffey Cassidey
"I really wanna be a chef." – Thomas
Next we wanted to know what their friends reactions were when they saw that they were cast in the film? They told us that some people recognize them and that their friends thought it was really neat. Thomas then went on to tell us that him and his brother both auditioned for the part but his brother got a little too old to play it. In turn, he ended up getting the party. He knew George Clooney as an actor and knew he had a lot to live up to.
"I was so excited because I did a movie or two at home, and then I went to Canada and got the part."- Raffey Cassidey
Raffey told us she lives abroad but would love to come over and live in the United States. We asked her why and she responded:
"You just got so many activities and different things that you can do. At home, you have to rely on the weather because it just probably going to be raining but here you can pick yourself up and do things. I like to live here."- Raffey Cassidey
Next we asked the important question of what do you think kids can learn from this movie. Thomas told us one of the main things is to optimistic and to reach for the starts. Raffey told us that an individual person could change the world and make a difference.
We then talked about the jetpack and how Thomas wanted to bring it home. He told us that the jetpack weighed 40 pounds and the light version was 39 pounds! He also told us he did a lot of practicing flying inside. He said he probably did what is the equivalent of fifteen thousand ski dives.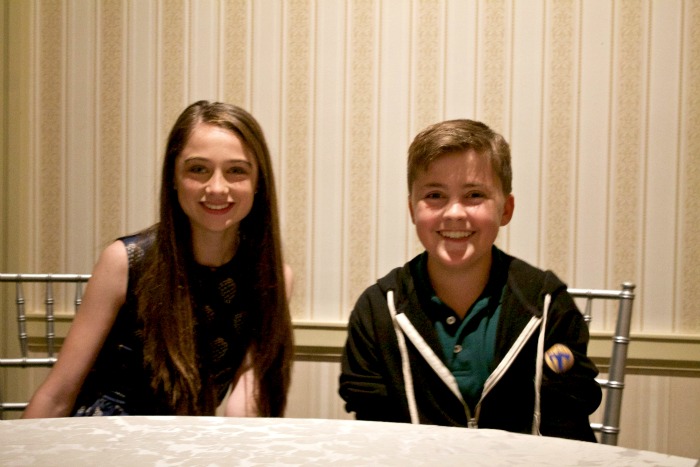 We then wanted to know if they have you seen any of the special features?
They told us they saw a few. However, since they are students and only got the DVD the day before, they had not had time to watch all of them. I love it! They are so down to earth! They also both told us they liked the blast from the past deleted scenes.
Since this movie involves inventions, we wanted to know if they invented anything in their lives.
"In fifth grade, I actually had an inventing class, so I made a board game- a really weird thing called The Rock Rack. I was really into rock collections at the time. It held rocks, on a rack, thus the name. It was made of a fishing line that you couldn't see. It was actually something there, but it was really weird." -Thomas
We ended the interview by them telling us they hope that everyone enjoys this film when they go out to buy the Tomorrowland DVD. For them, they will continue going on auditions and being regular children, attending school. It was a fantastic interview and one that I will always remember!