*I am a LeapFrog ambassador. All my opinions are my own and not swayed by outside sources. *
The LeapPad Platinum is a tablet designed to survive the kids and maker learning fun. My son has been making full use of the LeapPad Platinum. He loves the design, calling it his "big boy pad", and he's thoroughly engrossed in the great games that come with it. LeapPad is simply the best learning device out there.
LeapPad Platinum – Making Learning a Game for My Son
My son has been thoroughly enjoying his LeapPad Platinum ever since we got it. He's obsessed with it. If he's ever quiet for an extended period of time, I know it's because he's heavily involved in his learning games. He's always coming to me and showing a new thing he's learned or a new feature. He's just always showing me something, and I love that. I want learning to be fun for him, not a chore. And it's definitely fun. Therefore, the LeapPad Platinum is mother approved!!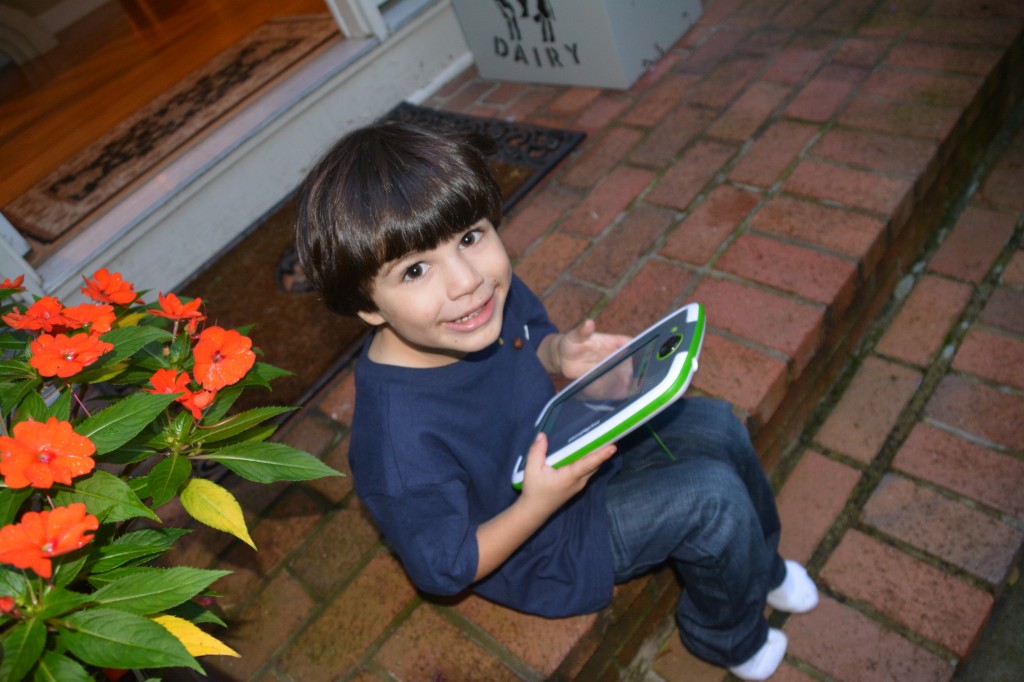 What Makes the LeapPad Platinum Great
Here's the thing about the LeapPad that I love so much. I mean, other than the great learning games. It's a real tablet. It's not some dinky toy. It has features that any good tablet would have, but they're all completely safe for kids. That means my son learns with his games and he also gets a taste of how to use a tablet. Take a look at the features on the LeapPad Platinum.
Hi-Res Mutli-Touch Capacitive Screen – A 7 inch hi-res touchscreen with big, crisp, sharp graphics.
Wi-Fi with Kid-Safe Web – A safe, protected web browser with all kinds of kid-appropriate that's reviewed or approved by learning experts.
Kid-Smart Fun – Over 1,000 games designed or approved by LeapFrog educators with select titles like Just For Me Learning.
LeapFrog Imagicard – Interactive learning is taken to another level with interactive cards.
See? It's learning and fun all wrapped up in a digital package. If my son is any indication, the LeapPad Platinum is the best investment any parent could make in their child's learning development. I have to add that the ability to take pictures and video with the LeapPad Platinum is one of his favorite features! He uses this tablet all day to take pictures!
Imagicard PAW Patrol
My son would be quite upset with me if I also didn't mention the game he's been playing the most – PAW Patrol. It's an Imagicard interactive game that helps teach math skills. Imagicard is a line of interactive learning games that use physical cards to unlock special extras within the game. It adds another layer of excitement for learning.
PAW Patrol helps my son hone his basic math skills with cards designed to "unleash mathematics skills" while he uses the camera to interact with the card and make it come alive right before his own eyes.
This is the main reason he comes to find me and tell me all about what he's doing. I really love to sit down and watch him help the residents of PAW Patrol. It's so exciting for me to see his excitement as he plays on his LeapPad Platinum and excitedly shows me the new Good Citizen badge he earned.
While PAW Patrol may be my son's favorite, the LeapPad also has other great learning games, as well.
Letter Factory Adventures – Activate cards and bring the magical Letter Factory Carnival to life. Unlock new attractions by playing more games.
Teenage Mutant Ninja Turtles – Lean math skills and activate cards to help the Turtles recover lost mutagen.
LeapPad Platinum and Imagicard – Learning is More Fun Than Ever
My son is absolutely obsessed with his LeapPad Platinum and his Imagicard PAW Patrol game. And although he's most in love with the PAW Patrol game, he's also put quite a bit of time into Letter Factory Adventures and Teenage Mutant Ninja Turtles. As a mom, I'm a big fan of the LeapPad Platinum, because it makes learning so much fun for my son, and that's always a good thing. If you have younger kids, I encourage you to give the LeapPad Platinum a look. I know my son and I love it. It is one of our favorite LeapPad devices yet!