*This is a sponsored post with Maty's. All my opinions are my own and not swayed by outside sources.*
I'm a huge fan of all natural products whenever I can get them. I know there are times when I'm going to have to give my kids either topical or oral products to help them feel better from time to time. I feel better when those products are all natural. I'm not big on introducing man-made chemicals or additives into my children's bodies.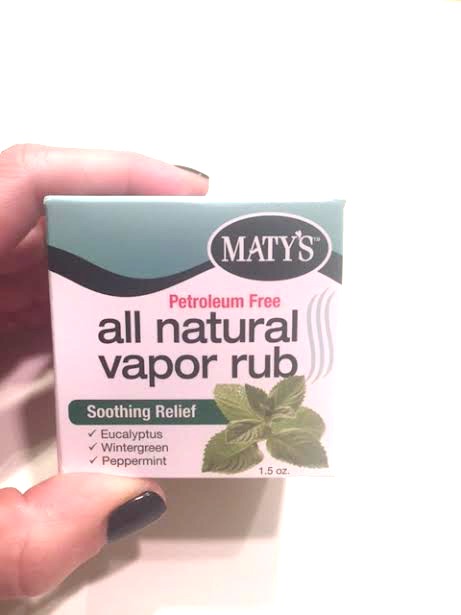 All Natural Vapor Rub from Maty's is My Fave
My son has terrible allergies. He has both environmental and food allergies, so he's basically allergic to the planet, Earth. It's really hard on him. Not only are his food allergies dangerous, his environmental allergies make him miserable. He has chronic head and chest congestion, and I frequently have to apply vapor rub to his chest to help alleviate his discomfort. That's why I love the all natural Vapor Rub from Maty's Healthy Products. I can help my son feel better and know that everything I put on him is 100% natural.
About Maty's All Natural Vapor Rub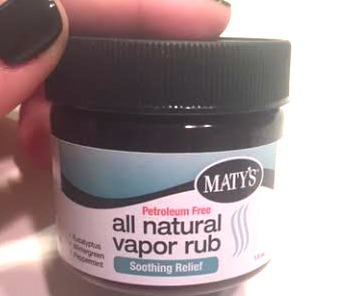 Maty's all natural vapor rub is an all natural alternative to traditional, chemical based products. Every single ingredient is all natural, and it's not petroleum based. This vapor rub uses eucalyptus and peppermint to help relieve head and chest congestion and soothe my tired cranky son. And because it isn't petroleum based, I don't have to worry about any sort of chemicals seeping into his skin. He gets relief, and so do I. Here are a few more details on Maty's all natural Vapor Rub.
#1 selling all natural vapor rub in the USA
Relieves cough and congestion
Petroleum, paraben, and chemical free
Dermatologically tested
All natural alternative to products like Vicks
Uses all natural ingredients like eucalyptus, peppermint, and wintergreen
I'm All About All Natural with Maty's
I'm a huge fan of Maty's all natural Vapor Rub. It worked wonderfully for my son, and because it's all natural, I can feel good about using it. This is one of those all natural products that works just as well as advertised, and I encourage you to give it a try. You can find all natural Vapor Rub from Maty's Healthy Products at major retailers everywhere like CVS, Giant, Bed Bath & Beyond and more. Give the all natural Vapor Rub from Maty's a try. It's great stuff. You can find it at CVS, Wegmans, Stop & Shop, Harmon Navarro, Shop Rite, United, Giant, Kinney Drugs, Food City, Ingles Christmas Tree Shop, Harris Teeter, Big Y, Raley's Tops, and Bed Bath & Beyond.