*I am receiving tickets in exchange for promoting. All my opinions are my own and not swayed by outside sources.*
I have heard about Menopause the Musical for quite some time now and also heard the raving reviews! Now, an all new Menopause the Musical is coming to the Stadium Theatre Performing Arts Centre in Woonsocket, Rhode Island! Best part is it is called the Survivor Tour because it benefits the  the SUSAN G. KOMEN® foundation for breast cancer!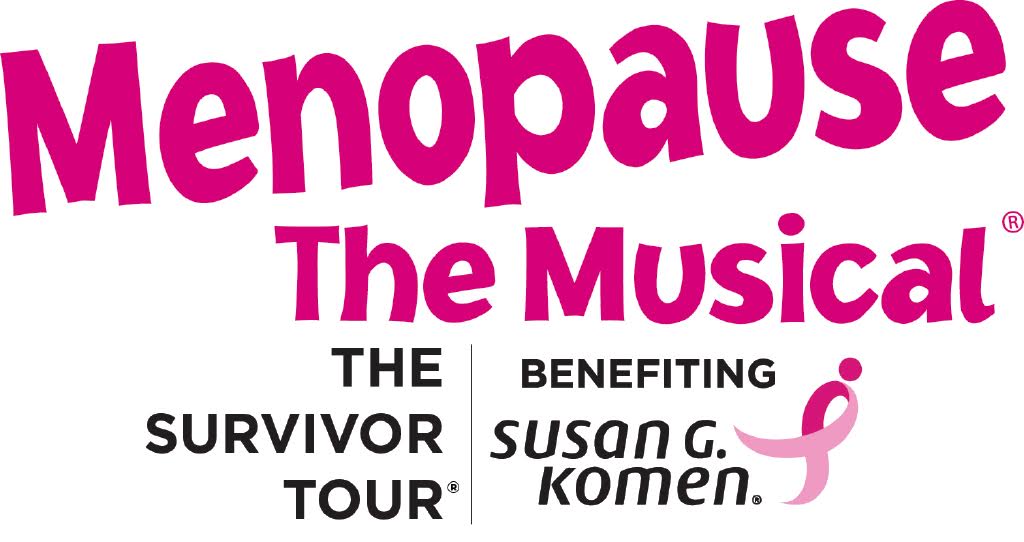 GFour Productions, winner of 54 Drama Desk Awards and 44 Tony Awards, has proudly joined forces with Susan G. Komen® to launch Menopause The Musical®: The Survivor Tour® benefiting Susan G. Komen® in 2015. With a cast of breast cancer survivors and co-survivors, Menopause The Musical and Komen partner to offer inspiration, sisterhood and hope. The Survivor Tour® comes to the Stadium Theatre Performing Arts Centre, 28 Monument Square, Woonsocket, R.I., for two performances at 2 p.m. on Saturday, October 31 and Sunday, November 1, 2015.Tickets are on sale now and available at the Stadium Theatre Performing Arts Centre Box Office, stadiumtheatre.com, or by calling 401-762-4545. The production will donate no less than $2 per ticket sold to Susan G. Komen® to further its mission to save lives and end breast cancer. Greater discounts for groups of 25+ by calling the box office at 401-762-4545.
The Survivor Tour® is proud to fundraise for Komen, which since 1982 has invested more than $2.6 billion in research, screening, treatment, education and support programs for people affected by breast cancer.
"Menopause The Musical has lifted the spirits of more than 11 million people worldwide, and we are thrilled to be part of this extraordinary mission with GFour and a cast that represents the more than 3.1 million breast cancer survivors in the U.S.," said Komen President and CEO Judy Salerno, M.D., M.S. "Their support makes a difference in the lives of women and men, and helps us move closer to our vision of a world without breast cancer."
SYNOPSIS:

Menopause The Musical is set in a department store where four women at a lingerie sale have nothing in common but a black lace bra AND memory loss, hot flashes, night sweats, not enough sex, too much sex and more! Singing along to classic tunes from the '60s, '70s and '80s, the cast forms a sisterhood with the entire audience. Whether naturally occurring or thrust into as a result of cancer treatment, Menopause The Musical helps women embrace and celebrate that menopause is no longer "The Silent Passage." For more information on the cast and tour, visit: TheSurvivorTour.com .
"GFour Productions is happy to partner with Susan G. Komen® to raise important awareness, while proving that laughter truly is the best medicine," said producer Kathi Glist.
For more than a decade, Menopause The Musical has worked to inspire and support women dealing with life after "The Change." "Menopause has always been a cause-based show," said Menopause The Musical Director Seth Greenleaf. "The cause was helping women see that what they are experiencing is perfectly normal, and that they are not alone. The Susan G. Komen partnership increases the importance of our purpose because now we're not just talking about life affirming, but life saving. We're deeply proud to be a part of this effort."
Menopause The Musical is recognized as the longest-running scripted musical production in Las Vegas and continues to entertain nightly at Harrah's. The hilarious musical has entertained audiences across the globe in more than 450 U.S. cities, nearly 300 international cities, and a total of 15 countries. For more information, visit www.MenopauseTheMusical.com.
GIVEAWAY: 
One winner will receive a 4 pack to see Menopause the Musical show on October 31 at 2 pm! For this giveaway, simply leave me a comment telling me why you are excited to win in the comment section proceeding this post. Please have a valid email address in case you are the winner. Giveaway ends 10-20. Good luck!