*This is a sponsored post with Lysol. All my opinions are my own and not swayed by outside sources.*
As a mom, I know the importance of washing hands. As a dentist who had to go through intense medical training, I'm doubly aware of how important it is to keep germs at bay. That's why I've tried to instill healthy habits in my kids from the start. By practicing healthy habits, they'll stay as healthy and as happy as possible, and that's what childhood is all about!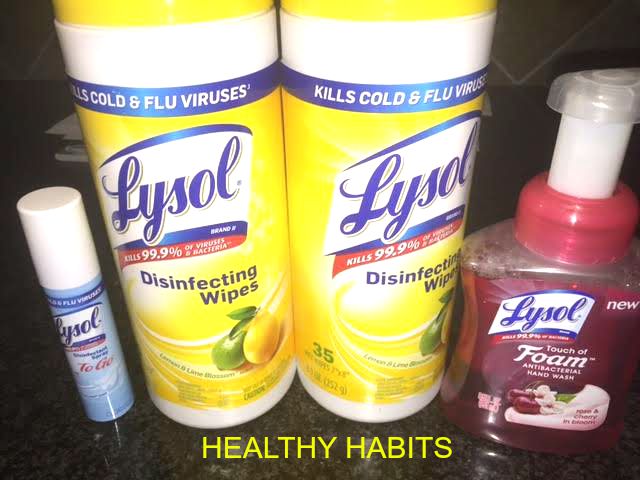 Healthy Habits Mean Healthy Kids
And that's the main thing. Staying healthy. It's about more than just washing hands, although that's part of it. It's about eating the right foods, moving, and hygiene. You can't just do one. You've got to do them all. That's why I'm excited about the Healthy Habits campaign from Lysol. They know that for kids to be healthy, they need to do all the things that will make them healthy.
Lysol has made football legend, Jerry Rice, their Healthy Habits Coach. He'll be giving Lysol his very own Healthy Habit anecdotes and best practices that allowed him to stay healthy and fit both on and off the field. Using this tips, he'll help teach students healthy habits to reduce absenteeism and improve children's performance both in and out of the classroom. And there's no better person to be a coach than one of the best football players of all time!
I'm a big fan of this, because I've been all about teaching my kids healthy habits from the time they were old enough to walk. I've made sure they know how to properly wash their hands. I've made sure to feed them good food, so they can have the nutrients their bodies need to grow. I've made sure they get plenty of rest. I've done everything I can think of to keep them as healthy as possible and instill a healthy lifestyle in them.
Some of My Healthy Habits Tips
To stay healthy, kids need to have health in their minds. That doesn't mean worrying about body fat percentages or anything like that. It just means remembering some basic things. I feel it's my job as parent to make sure I teach these things to my kids now, so they'll be healthy adults later.
Get Plenty of Rest
I've explained to my kids that the reason they have to go to bed "so early" is because their little bodies need lots of rest to grow. The recommended amount of sleep for growing kids is 8 – 10 hours, and I always make sure mine get as close to 10 as possible.
Stay Fit
I always make sure my kids exercise. I know they'll be having P.E. at school, and I know kids naturally love to run around, but I want them to recognize that a regular fitness routine is good for them. We don't do anything crazy like the treadmill – they're still way too young for that. Instead, I have specific times set up three times a week for a "mommy and kids workout date". We'll run in place and do a few jumping jacks and call it done after 15 minutes. The main point is that I'm teaching them that healthy habits include making time to be physical.
Handwashing
There's nothing more important to hand washing than the twenty second rule. In the realm of healthy habits, it's key. I have the kids sing their ABCs while they wash their hands to ensure that they've given them a good, 20 second scrub to kill as much germs and bacteria as possible.
Have Fun
This will be much more important to their healthy habits down the line. Stress is a killer – literally. Studies have shown that stress can actually shorten your life! I make sure that I teach my kids to approach each day with an air of joy that it will be a great day. I lead by example, and I show them that postivity is key to being healthy and happy.
Keep it Clean
Germs are everywhere, so I'm teaching my kids to combat them using Lysol Disinfectant Spray and Lysol Disinfectant Wipes. Of course, they don't use them, but they see mommy wiping down handles, door knobs, pencils, pens, and anything else that harbors germs with Lysol Disinfectant Wipes. They also see me spraying down the trash cans and other nasty places with Lysol Disinfectant Spray to keep down stinky germs in those areas, too. Both of these Lysol products are a huge help in practicing healthy habits because they allow me to quickly and easily kill over 99% of germs on hard surfaces.
Healthy Habits Start at Home
So be sure you're doing all you can to instill healthy habits in your kids. It's actually not as difficult as I thought it would be when I made the conscious decision to do it. I have a dental practice, a blog, and THREE kids, so I know if I can do it you can, too! Take the initiative and join Lysol in teaching our kids healthy habits starting right now.