*This is a sponsored post. All my opinions are my own and not swayed by outside sources. *
Remember when you were a kid? What was the one thing you always wanted to do? That's right. Build a fort. Whether it was two chairs and a blanket or a bedroom completely draped in blankets, forts were a big part of childhood fun. Fortsy is taking fort fun to the next level with their inflatable forts.
Fortsy – Because Forts are Fun
Forts are just plain fun, and Fortsy knows that. That's why Fortsy has developed inflatable forts for kids to enjoy. Their forts are fun, and because they're inflatable, they're cushy and safe.
What is Fortsy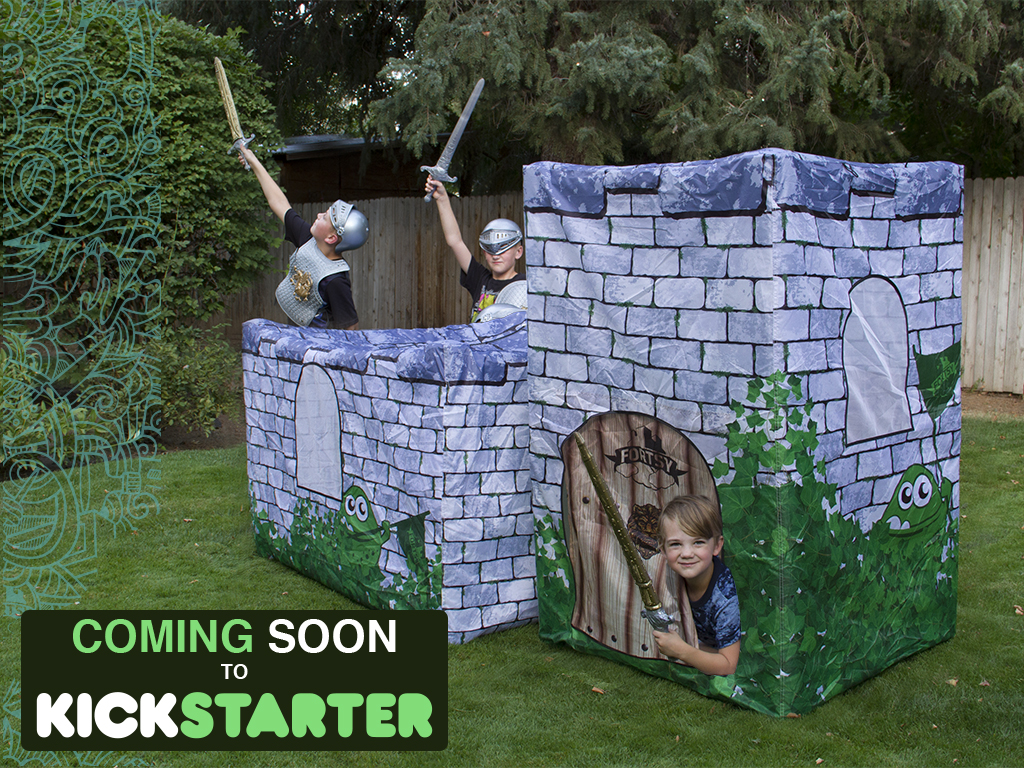 Fortsy is company that knows a fort is the best part of childhood. They make forts with sturdy inflatable frames which are enclosed on all sides by custom printed nylon covers. These forts are fun and safe. That's a great combo for us moms. Here's a quick rundown of what makes a Fortsy fort so great.
Safe – With a Fortsy inflatable fort, there's no more worry of a chair toppling over onto the kids from the weight of the blanket draped across it.
Sturdy – Fortsy is strong, lightweight, durable, and built to last.
Easy – So easy to set up, even kids can do it themselves.
Portable – You can easily take your Fortsy inflatable fort anywhere, because the carry bag is always attached.
Modular – Combine any combination of bases and towers.
Fun – Theme based forts that kids love like castles, space stations, and playhouses.
What Does a Fortsy Inflatable Fort Have to Offer
Fortsy is designed for fun, and that's what kids will have with these inflatable forts.  They have a base and tunnel base type. Use the base for a smaller fort, or combine any number of the base and tunnel types to create the most epic fort ever! They also have fun printed designs in all of the classic styles that kids love.
Fort Designs
Base – Roughly 5 feet wide, 5 feet deep, and 3 feet high. Easily accommodates 4 to 5 children.
Tower/Tunnel – Roughly 5 feet high and 3 feet wide. Zippered tops and bottoms allow the tower to easily convert to a tunnel.
Designs
Castle
Treehouse
Pretty Playhouse
Magic Cottage
Moon Base
Help Fortsy Get off the Ground with Kickstarter
If you think a Forsty inflatable fort is as cool as I do, help Fortsy make it a reality with Kickstarter. Their campaign kicks of September 30th, and right now, they're running a pre-Kickstarter referral giveaway. 1 in 100 people will win a Fortsy fort!
Fortsy is the coolest thing I've ever seen for kids, so help make it a reality. Join Fortsy's Kickstarter campaign and help make a super cool fort a part of every kid's childhood. Because nothing is more fun than a fort!