*This is a sponsored post and giveaway. All my opinions are my own and not swayed by outside sources.*
How many times have you been shopping and you dropped your phone or your list or any of the other things you have when you're out and about? If you're like me, it's been a lot. That's why I think GalsShopper is so cool. It actually makes easy shopping a reality.

Easy Shopping with GalsShopper
Here's the thing about easy shopping. Until now, I thought it was a unicorn. You know, I wanted it to exist, but I was pretty sure it didn't. I had to juggle my phone, my list, my coupon book, and most of the time, my kids. That made it extremely difficult to get my shopping done. It's not easy juggling all of that!
That's where GalsShopper comes in. It's so amazing, I'm surprised no one has thought of it sooner! GalsShopper is a completely self contained device that make easy shopping a reality. GalsShopper holds your smart phone, shopping list, coupons, and pen all in one convenient place. Right in front of you! Best of all, your GalsShopper comes with you and leaves with you when you shop. Your GalsShopper clips on and off any shopping cart handlebar or baby stroller handlebar, allowing you and the retailer to gain valuable shopping time. And when you're done shopping, your GalsShopper fits right in your handbag or vehicle glove compartment.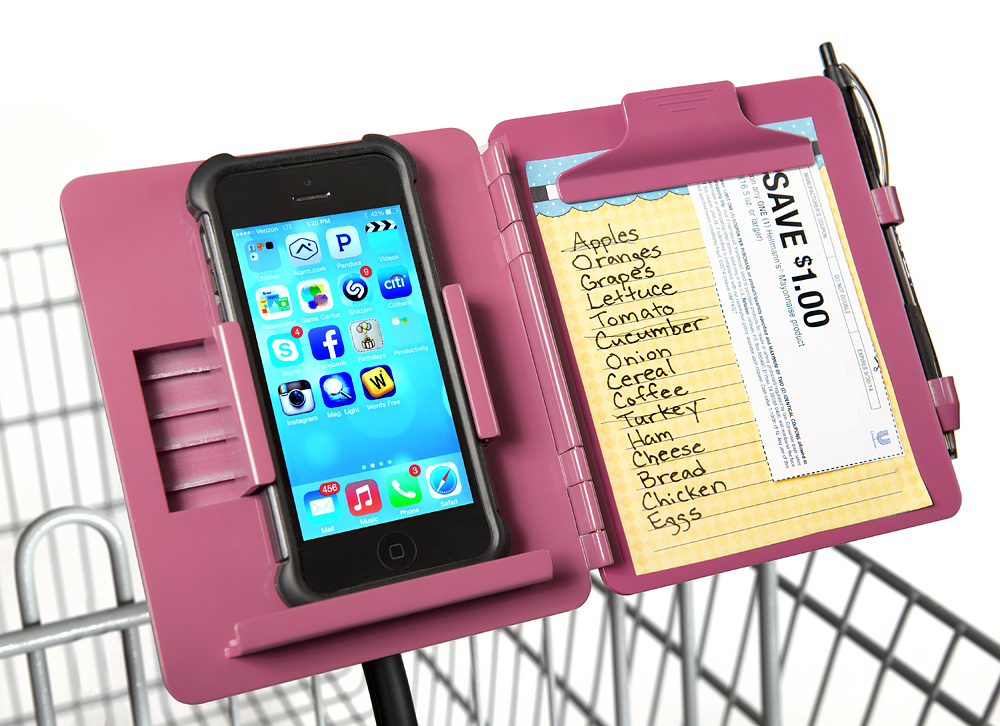 Some of the Great Features of GalsShopper
Easy to use
Universal attachment to any shopping cart or stroller
Holds phone comfortably and can be opened and closed while mounted
Easy to insert phone, lists, pens, and the like either at home or right in the car before shopping
Checkout ready
Save time, effort, and sanity!
GalsShopper Saves the Day
I can't tell you how much easier it is to shop when your hands are free! I thought I had it down when it came to easy shopping, or at least easy-ish shopping. That was before I saw the GalsShopper! Now I can do all of my shopping, keep track of my coupons, keep track of the kids, AND save a ton of time. And it's all thanks to GalsShopper.
Make Your Shopping Easier, Too – Win a GalsShopper!
Right now, 5 lucky readers can win a GalsShopper for themselves! Winners can win a GalsShopper in their choice of pink or black. This is the absolute best way I've ever seen for easy shopping. So good luck! This giveaway is run via rafflecopter so click read more to see the actual giveaway. The only mandatory entry is to visit GalsShopper and tell me what you like the best. While the other entries are optional, I highly suggest filling them out to increase your chances of winning. Good luck! US only.
a Rafflecopter giveaway