*This is a sponsored post. All my opinions are my own and not swayed by outside sources.*
Declutter your home and make some cash with eBay if you're like me, and you have a ton of stuff just taking up space!  I certainly could stand to get rid of quite a bit, so I think it's awesome that Marie Kondo and eBay have partnered to create a guide about how to declutter your home and make some money in the process.

To Declutter Your Home with eBay, a Guide is Helpful
I'm sure there are a lot of eBay savvy super sellers out there, but I'm not one of them. If you're like me, and "Power Seller" has never appeared next to your name, Marie Kondo's guide on how to declutter your home and turn a quick profit is for you.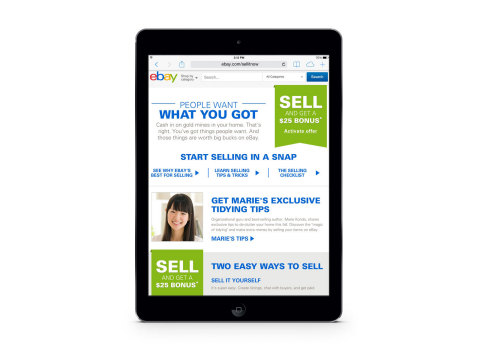 Her guide to decluttering and selling products on eBay is a gold mine for anyone with lots of items they don't want or use but with no idea of how to properly leverage eBay's massive market to get any money out of it. You can download Marie Kondo's exclusive guide here to help you declutter your home and use eBay's simple yet powerful tools to auction off all the stuff that's just been sitting around and taking up space in your house. Here are just a few of her great tips.
Clothing, handbags, and shoes are bestsellers on eBay.
People love "vintage" electronics – vintage being anything over two or three years old
You have more items than you think that are worth money on eBay
Declutter Your Home – Make Some Space and Some Green
Now is the perfect time to declutter your home and make a little money in the process. As part of eBay's anniversary celebration, they're offering a Zero Insertion Fee (ZIF) for up to 80 listings through October 15th. That means you pay no insertion fee for fixed price AND auction style listings. That makes this the absolute perfect time to try out Marie Kondo's guide!
Whether you're selling on eBay, using their Valet service, or using their new simplified selling tools, using Marie Kondo's guide to decluttering your home can help you makes some space in your home and make some green in your wallet. So download your guide, start decluttering your home, and make a little cash.