I have received information and materials from McNeil Consumer Healthcare Division of McNEIL-PPC, Inc., the makers of TYLENOL®. The opinions stated are my own. This is a sponsored post. 
Quality time is #HowWeFamily. My kids aren't going to be little forever, and one day, they'll be more interested in boyfriends and girlfriends and hanging out with their peers than they will be in Mom and Dad. That's why we make sure to make the most of summer fun whenever we can. Summer fun makes us all closer as a family and creates life long memories for us and for the kids.
Summer Fun – Summer Memories
This has been a big year for summer fun for our family. From birthday parties do beach bum days, we've been doing our best to make the most of our summer and build fantastic memories we can share for a lifetime.
Taylor's Birthday!
My youngest daughter turned one! I can't believe how fast time flies. We had a big birthday bash for her with all of our family and friends. It was quite the to-do. You may think that's overkill for something that my little girl won't even remember, but it's about more than her birthday. It's an excuse to get all of our loved ones around us again. It's a reason to reconnect with family and friends that we may not see on a daily basis. It's a chance to strengthen bonds.
Onward to the Beach
We took some time out of our busy schedule for a little summer fun at the beach, too. This was another first for Taylor, my youngest. She had such a wonderful time! She was fascinated by the sand, and after a few moments of "What have I gotten myself into?" she was in love with the water, too. We spent the day at the beach just laughing, snacking, swimming, building sand castles and generally having a blast together. Some of the best moments were when my older kids helped Taylor enjoy the sand and surf. It was one of our most successful family outings!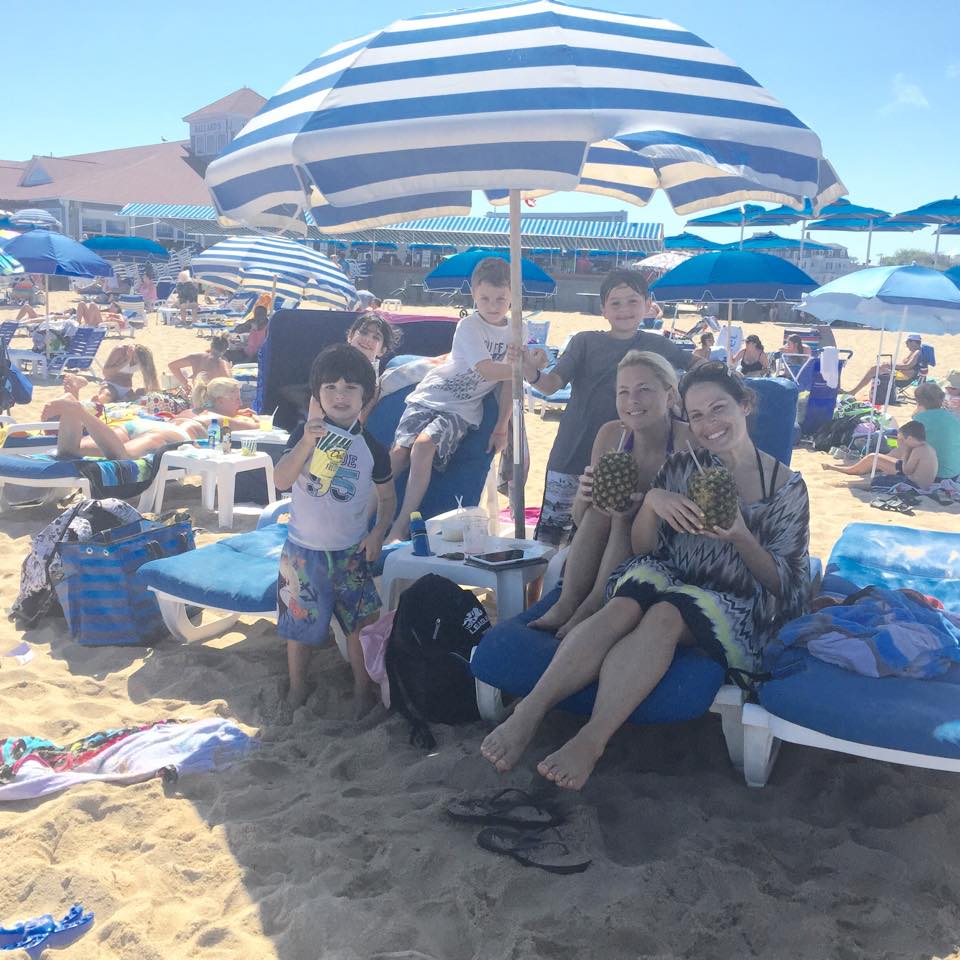 We love movie night, especially for summer fun. There's no school, so we can have a marathon if we decide we want to. We had movie night at least once a week all summer, and it was fantastic. Of course, we're a Disney family, so the majority of the screen time went to Princesses, Princes, mermaids, and the like. The kids loved it, so did my husband and I. They were nights fill with snacks, laughter, and cuddling – perfect summer fun evenings.
Summer Fun is #HowWeFamily. How Do You Family?
You've read about how we family? Now tell me how you family. I want to know, and so does TYLENOL®. Their #HowWeFamily campaign is all about how, even though each family is different, we're all the same, as well. Whether it's making memories with summer fun, movie nights, camping, or whatever your family loves to do, we all want our time to mean something. We want memories that last.
So share you photos and videos across social media using the hashtag #HowWeFamily and show me and TYLENOL® how you family, and share all your summer fun!