*This is a sponsored post with Solutions 24 Clinical. All my opinions are my own and not swayed by outside sources.*
Dark spots. My nemesis. As I get older, I am finding more of these. It's my own fault. I love the sun. I love to sun bathe. I love to bake myself on the beach. So now that I have dark spots to battle, how do I defeat them? My new go to solution is Solutions 24 Clinical. They have a line of beauty sticks designed for various uses, and their Dark Spots corrector stick is absolutely fantastic.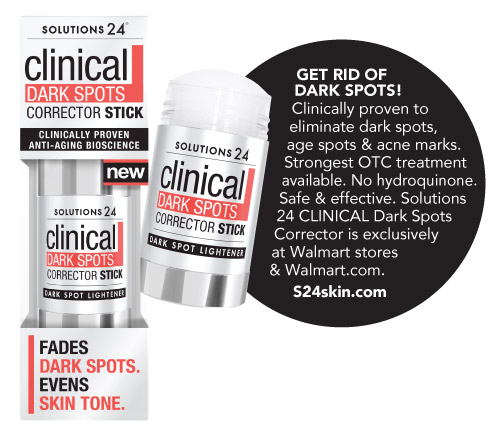 Dark Spots Have Met Their Match
I recently got a Solutions 24 Dark Spots corrector stick from Solutions 24 Clinical products. I have to be honest, I was skeptical that a stick like this would work for me. As you all know, dark spots are terribly difficult to manage. You either have to use heavy makeup, or you have to just cover as well as you can without caking on the makeup too much.
Solutions 24 Dark Spots corrector worked like a charm for me. It covered well, and over the course of a few days, I could see a definite improvement in my skin tone, which I loved! I haven't used the product long enough to notice a reduction in the actual dark spots yet, but if what it's doing for my skin tone is any indication, all signs point to awesome. In addition to working well, it's stick design is super portable and convenient to use. I'm able to keep it with me in my purse, and because of that I can use it for touch ups whenever necessary.
I could go into all the technicalities, but it's confusing and very boring. The upshot is this. Dark spots are terrible, and Solutions 24 Dark Spots corrector helps lessen them. Rather than just a covering foundation, Solutions 24 Dark Spots corrector actually has ingredients that lessen the appearance of dark spots, and it works! WOOT!
Head to Walmart and Destroy Your Dark Spots
Solutions 24 Dark Spots corrector is helping me, and I know it can help you. I love this corrector, and I'll be picking up their other great sticks as well. They have a complete line of convenient corrector sticks to help you make the most of your skin, and they're only available at Walmart and Walmart.com. Check out Solutions 24 Dark spots corrector here, and head to the Solutions 24 Clinical products page to learn more about their dark spots corrector stick and their other great products.
After using this product: