*I received a sample for review. All my opinions are my own and not swayed by outside sources.*
At Blogger Bash last month, I learned all about Kleynimals and what a cute baby toy it is. I was intrigued by it, so Kleynimals sent me a sample to try out with Taylor. Taylor absolutely loves her Kleynimals and toys around with them everyday.  Kleyanimals are non-toxic, stainless steel toy keys that are perfect for those little hands.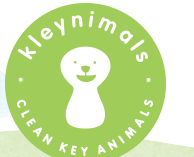 How many times have your kids reached for your keys to play with? I know all three of mine did, especially as babies. Now Kleynimals is there to help!  Kleynimals helps to satisfy your child's desire to play with metal keys without the hazards of lead contamination, sharp edges, or the daily grime that come with the keys in the bottom of your diaper bag.
There are three main kinds of Kleynimals-Eli the Elephant, Gus the Giraffe, and Leo the Lion! These are structured beautifully and the young kids love having their own set of keys to play with. They do NOT contain lead, phthalates, BPA or cadmium, which is great if your child puts them in his/her mouth!
We are big fans of Kleynimals in our household.  If you want to bring  the joy of #kleynimalsflatware to a little one in your life, you should visit their campaign page to support them and order their flatware at discounted prices. Let's get Kleynimals into the young ones hands.