Happy weekend everyone! I hope you all have a nice weekend!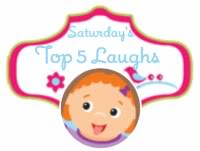 As always, come link up any cute or funny post. Feel free to take my button or share on social media, although this is totally optional. Definitely check out the other blogs who link up as they all provide a great laugh!
My top five laughs:
5. We went to NYC this week for a press event. Hayley and I went and left the other ones at home. All over NY, she was telling everyone how it was her special mommy and me time. How cute!
4. Zane found out when we got home last night that Hayley and I went. We were trying to keep it a secret from him. He was upset until he found out that we bought him M+M's! After this, he was totally fine with us going. Only took chocolate:)
3. In NYC, we went to the Eloise store in the Plaza hotel. Hayley loves Eloise so I told her she could pick out one thing to bring home. It took girlfriend an hour to come up with her gift. At the end of showing her the whole store, she picked out a $10 book! Say what!
2. We went on a carriage ride through Central Park which was so nice. The driver kept telling me all these tidbits like where Woody Allen living along the path, etc. Hayley told me, "Mom..Why do I care about all of these people"? She couldn't care less about the guy talking but rather taking note of the horse the whole way.
1. We went to see Finding Neverland on Broadway which was AWESOME! At the end, she told me, "Mommy…You are the best mommy I will ever have"! I sure hope so Hayley! LOL!
Your laughs: