*I received this necklace for review. All opinions are my own and not swayed by outside sources.*
As a mom of three small kiddos, I love to have some personalized bling to wear to showcase just how special my three loves are! I have worn personalized necklaces before but ultimately had to get rid of them because I kept adding on another kid to our family. Thankfully, I now have a beautiful and final personalized necklace from Heart On Your Wrist.
They have so many selections of personalized bling but the one personalized necklace they sent me is simply gorgeous and a piece I wear every single day! I actually get stopped a lot of places to ask where I bought it! Answer is simple: Heart On Your Wrist!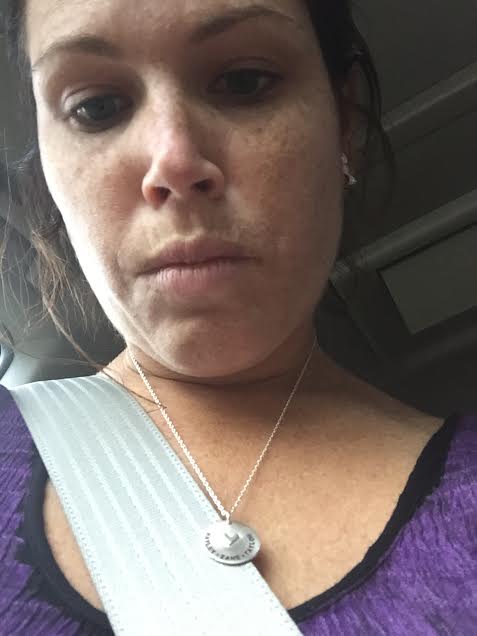 **It all started with mommy jewelry, and delighting moms with a piece of custom jewelry unique to them is still at the heart of what we do. Our hand stamped silver necklaces come in many styles, and can be matched with handmade earrings and stamped silver cuffs or charm bracelets for any style. Looking for elegant and simple? Our monogram necklaces fit the bill. Colorful? Check out our name disc necklace with birthstones. Fun and chunky? Our stamped charm bracelets are for you! We use silver for most of our mom jewelry, but we also have mommy necklaces in gold, gold-filled, pewter and copper.**
My necklace has penmanship of my three kids names on a circular plate. It is then attached to a beautiful silver chain, that fits beautifully around my neck. This is a piece of jewelry that is made to last. It is simply gorgeous!
If you are looking for personalized jewelry (you can even use your own handwriting if you like) check out the large jewelry selection at Heart On Your Wrist.  Their Handwriting Necklaces retails for $68 and up and are available on their website at www.heartonyourwrist.com and at their retail store in Menlo Park, CA.