*I sent my contributor, Courtney Buteau from The Mod Mommy, to the Sony Press Junket for Ricki and the Flash. Her travel expenses and junket were covered by Sony Pictures. All opinions are her own and not swayed by outside sources.*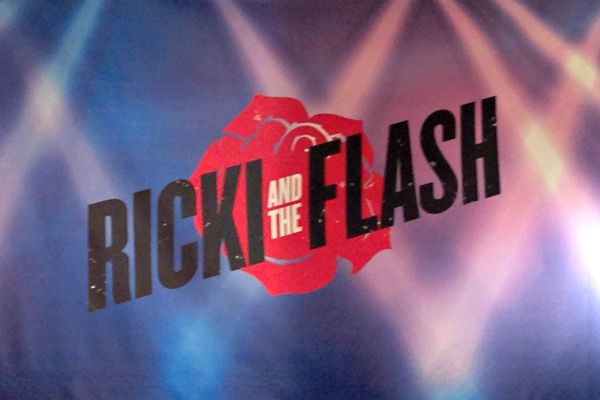 It's a whole new role for film legend and Academy Award-winning actress Meryl Streep. In her latest movie, she plays a hard-rocking singer and guitarist whose dream in life was to make it to rock 'n' roll stardom.
But, Ricki Rendazzo is also a mom of three who made a lot of mistakes trying to follow her dreams.
In the film, Ricki and The Flash, Ricki is called back home to Indiana to reunite with the life she left behind, so she can be with her daughter during a time of crisis.
As a mom of three myself, I connected with this film on many levels.
Without giving too much away, there are a lot of real moments where Ricki has some uncomfortable dialogue with her children.
As Streep said herself, the movie is "not tied up in a bow- it feels like real people."
I teared up a half-dozen times empathizing with each of the characters who at some point, has gotten hurt by Ricki's life decisions.
Many scenes are funny and will make you laugh out loud, but others will tug at your heart and break it at the same time.
At its core, Ricki and The Flash, is a mother-daughter story. And what's interesting is, Meryl's real-life daughter, Mamie Gummer, portrays her daughter Julie in the film.
The two are very close in real life, but the distance between them on film is as obvious as their resemblance.
At first glance you would think the two characters are different, but it turns out the apple doesn't fall far from the tree.
The Music
While the film is definitely character driven, the music cannot go unmentioned and is just as important.
Streep, who already is a talented singer, learned to play guitar in a matter of months for the part. She truly held her own rocking out on stage next to Rick Springfield.
Rick Springfield portrays Greg, Ricki's band mate and love interest. Greg is a complicated character, but at the heart of him is a tender and sweet soul. He is likable and committed. Greg truly is the Yin to Ricki's Yang.
Fun fact: Ricki and The Flash was indeed a live band. They were not just actors pretending to play with an overlay of a previously recorded track. Each song they sang was performed live in front people.
At first Streep was to learn two to three songs to play Ricki, but it turned out she sang 10 throughout the whole movie.
In my opinion, this is a role made for Meryl Streep and only her. Much like all of the roles Meryl takes on, she becomes that character. Watching her as Ricki, you experience a flood of emotions from loving her to sometimes disliking the choices she's made as a mother.
If you're a sensitive sap like me, grab your tissues and hide them in your handbag, you may need them for some of the scenes. But, I promise, your giggles will trump the tears.
The film hits theaters nationwide on August 7, 2015.
Follow all of my Ricki and The Flash press junket adventures on Twitter or Instagram.