*I work with Fab Kids on review. All opinions are my own and not swayed by outside sources.*
It is Back to School time which means the shopping has begun! With Hayley going into first grade, she wants to have hip and fresh clothes! One way I love to buy her clothes is online at Fab Kids. Fab Kids has some of the freshest clothes at extremely reasonable prices. Whatever you are looking for in terms of style, you can generally find at Fab Kids. They even have a great line of accessories including some of the most stylin' shoes I have seen for the little ones!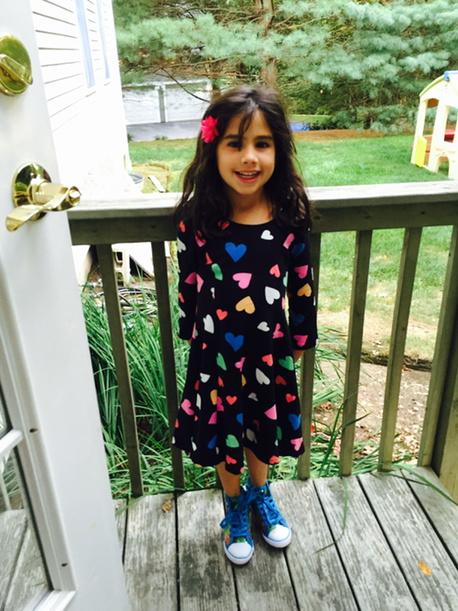 If you are not familiar with Fab Kids, they are the premiere kids clothing shop that is both trendy, and best of all affordable. The way it works, is you answer a series of questions about your kids such as what would they wear to a party (they give you 4 looks and you pick the one your kids would wear) and then Fab Kids will give you their choices of clothing selections for your kids. This style quiz is all of 4 questions and then you will receive your own personalized selections for your kids. Then it is time to shop! So easy and best of all so efficient!
Hayley received this amazing heart dress with matching high top sneakers for review. This will be her first day of school outfit and she is just so excited to wear it. The cotton is so soft on the dress and the jewels jazzing up the high tops makes Hayley feel so special! She has already worn this outfit twice and has gotten compliment after compliment on it.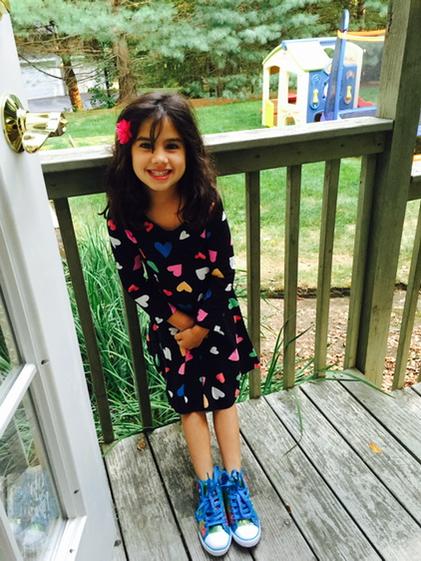 Be sure to check out Fab Kids today for all the latest kids clothes!