*We received this product for review. All my opinions are my own and not swayed by outside sources.*
With three kids, it is definitely hard to keep them entertained all the time. We love being outside in the summer and for this reason, we turn to some of our favorite outside toys including the Micro Kickboard Maxi Scooter. Since we have received this Maxi, it is has been a fan favorite of Hayley and all her friends. We love it so much that I am looking at getting Zane one for the holidays.
Micro Kickboard offers the latest in 'green' mobility, providing a fuel-free, fast, safe and eco-friendly way to get around. We received the traditional maxi and it has a three wheel design for stability and function.  Once she is on the Maxi, she feels balanced and able to get around without any assistance from me. It is quite easy for her to maneuver and then store away once she is done. She can carry it by herself because it is extremely lightweight, but sturdy too, which this mom likes!
The Maxi scooter is ideal for kids ages 5-12 years old.  It is one of the highest rated scooters on the market today and has won many prestigious awards such as the Best Toy Award Gold and Family Choice Award. It is very easy to see why this scooter received these awards and rave reviews from parents time and time again.
The smooth gliding Maxi has a curving and carving action that allows kids to surf the sidewalk like a skateboard, with the handlebar providing greater control and maneuverability. This makes it easy for someone like Hayley's age (6) to use it.  Kids use their body weight and handlebar to lean into a turn, resulting in smooth, safe turns. The Micro Maxi has the smoothest, quietest ride available thanks to high quality polyurethane wheels and a flexible fiberglass reinforced deck, which together absorb bumps in the sidewalk. The features of this scooter are second to none!
Once Hayley got the hang of it, she was on the go. She used the T-Bar to navigate and was readily able to do it!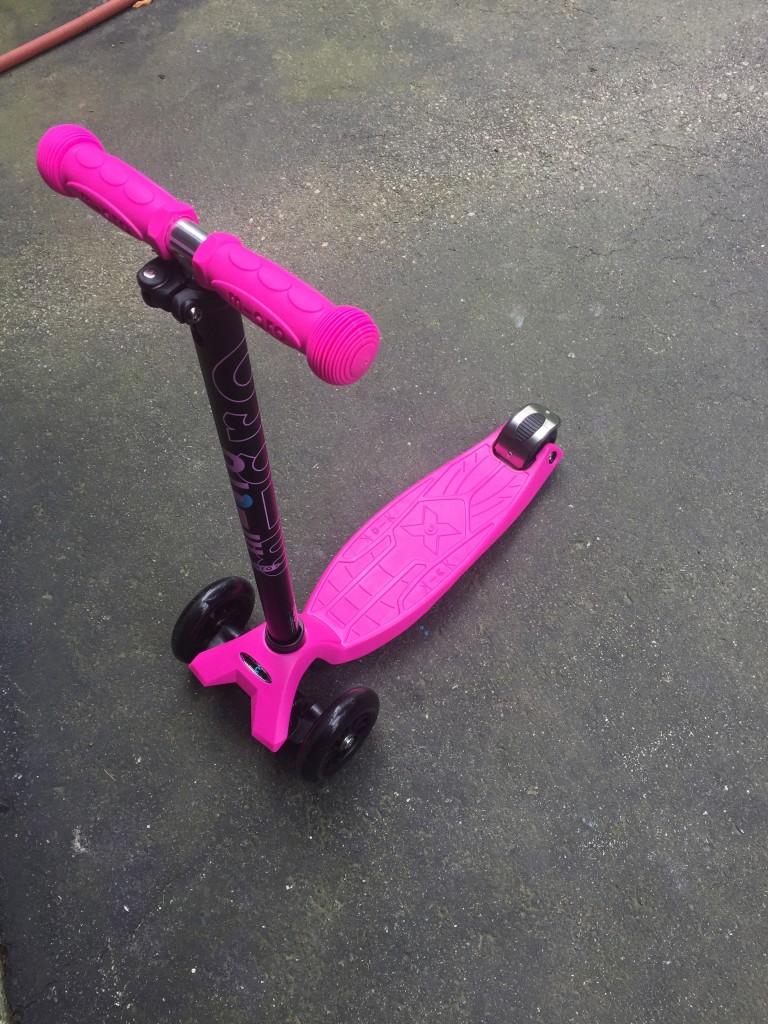 If your kids are younger or older than mine, do not worry as they have the Mini 3 in 1, Mini, Sprite, Trixx, and more to go along with the age. Be sure to check out their range of scooters today!