Who has Doc McStuffins fans in their household?? I know we do and so I am excited to bring you some news!
Doc McStuffins opens a new veterinary practice in her backyard clinic where she treats stuffed animals and toys – in a "Doc McStuffins" programming event for kids age 2-7 that will highlight care and responsibility for pets. The multi-episode story arc, "Doc McStuffins: Pet Vet," presented in collaboration with the ASPCA (The American Society for the Prevention of Cruelty to Animals®), Solid Gold Holistic Pet Food and Nationwide, begins FRIDAY, AUGUST 14 (9:00-10:00 a.m., ET/PT) on Disney Channel and WATCH Disney Junior. Additional pet-themed episodes of "Doc McStuffins" will roll out on Disney Channel, Disney Junior and WATCH Disney Junior.
A music-video mash-up of Doc's signature song, "Time For Your Check-Up," and new song "Get Your Pet to the Vet," as well as "Stuffy's Pet Vlog," an animated short-form series about Doc's toy dragon, Stuffy, and his new pet, Squibbles, will also premiere during the programming event. DisneyJunior.com/Doc will also feature a Pet Care checklist designed to help kids nurture and care for their own pets.
Two new "Doc McStuffins: Pet Vet" mobile experiences will be released in conjunction with the programming event. On August 13, before the story debuts on TV, the popular Disney Junior Appisodes app for iOS devices will debut the full "Stuffy and Squibbles" episode with interactive elements, including the ability to help Doc diagnose and treat Stuffy's pet Squibbles when he runs low on energy. On August 20, a "Doc McStuffins: Pet Vet" mobile game will be available in the Apple App Store. Featuring several mini-games, the app allows players to diagnose and treat pets, as they earn new tools and treats for the pets and special badges for their doctor scrubs.
Disney Publishing Worldwide will release multiple "Doc McStuffins: Pet Vet" print and e-book titles, including A Dragon's Best Friend, a collectible storybook featuring original artwork, on August 4; a Pet Vet storybook on September 1; and Take Your Pet to the Vet, a level one reader on October 6.
The "Doc McStuffins: Pet Vet" premiere schedule is:
FRIDAY, AUGUST 14 – "Doc McStuffins: Pet Vet"debuts with back-to-back episodes.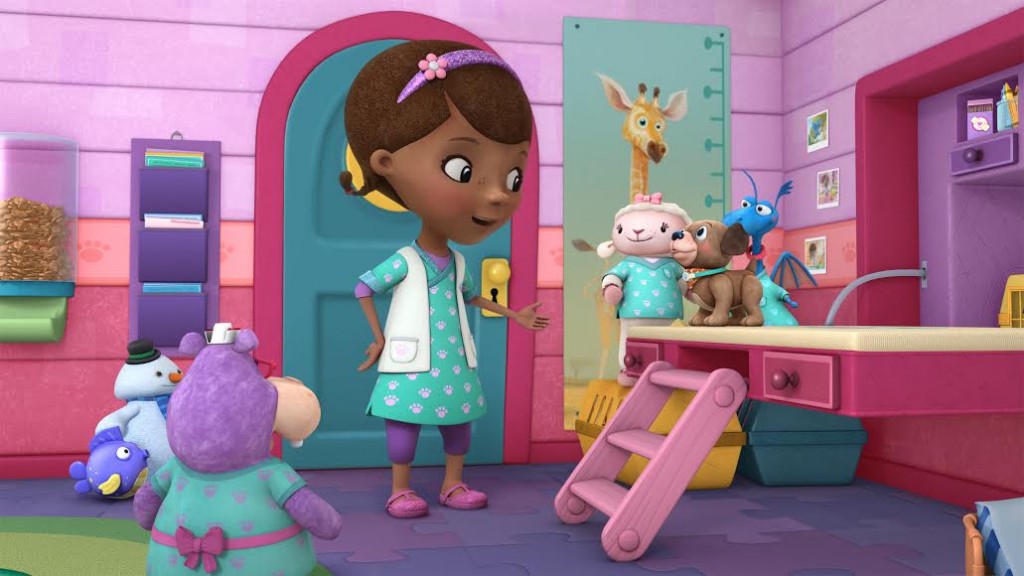 "Fetchin' Findo/Dragon's Best Friend" (9:00 a.m., ET/PT *extended episode) – Doc gives Donny's new animatronic toy dog, Findo, a check-up and discovers that he has sand in his nose, which is preventing him from fetching. Then, the toys come across a furry creature-like toy named Squibbles at the park where Stuffy adopts as his pet.
"Take Your Pet to the Vet" (9:35 a.m., ET/PT) – Doc brings home her class hamster to care for over the weekend and must take her to the veterinarian after she comes down with a cold.
FRIDAY, AUGUST 21 – Two new "Doc McStuffins: Pet Vet" episodes premiere.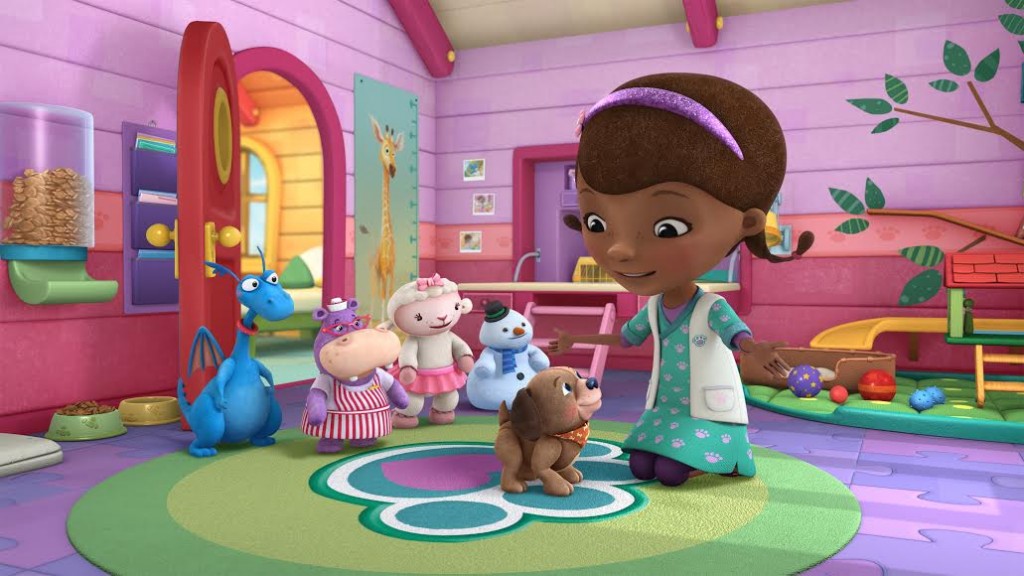 "Stuffy and Squibbles" (9:00 a.m., ET/PT) – On Stuffy's first full day of being a pet owner, he forgets that Squibbles needs to be plugged in to charge, so Doc must remind him that pets need special care and attention every day.
"Three Goats A' Cuddlin'" (9:30 a.m., ET/PT) – When Farmer Mack's three toy pet goats start acting strangely, Doc discovers that their wool is tangled and shows Farmer Mack how to care for them properly.
The Peabody Award-winning animated "Doc McStuffins" series has been lauded globally for its imaginative storytelling about a young girl who aspires to be a doctor like her mom and runs a clinic for stuffed animals and toys. Through Doc and her toys, the series models good health practices while imparting to young viewers the importance of taking care of oneself and others.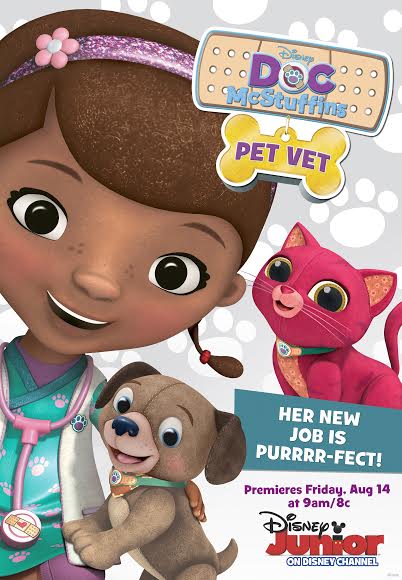 Created and executive-produced by Humanitas Prize and Emmy Award-winning Chris Nee and directed by Emmy-winning Norton Virgien, "Doc McStuffins" is a production of Dublin, Ireland's Brown Bag Films in association with Disney Channel. The Hollywood Health & Society division of the USC Annenberg Norman Lear Center serves as its health and medical consultants, advising on basic health issues that are relevant to young kids and families.