*My sister is a contributor on my blog. She received products from One Step Ahead for review. All her opinions are her own and not swayed by outside sources.*

Although my sister did this review, I will tell you all that I used the Baby Merlin Magic Sleepsuit with Taylor and I swore she went from 4 hours of consistent sleep to 11 hours!! AMAZING PRODUCT!!!
Melissa's sister Shara here. Officially part of the best club in the world- the Motherhood club! What a rewarding time- filled with love, baby cuddles—and LACK OF SLEEP! Oh, I just love my baby girl Alexa, but she seems to be a stay up all day- party all night type of gal! And while I can relate to the thrill of being a nighttime owl, at this time in my life- I certainly would enjoy just a tad bit more sleep.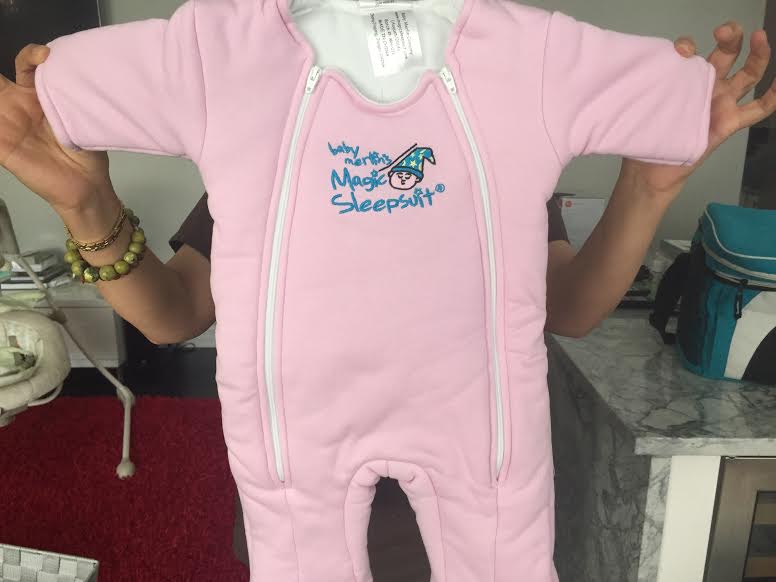 Alexa is eight weeks old now, and sleeps very peacefully until about 6 PM every day. Then, 7 PM comes and the horrible screaming cries come. I shudder thinking of that not so fun time each night!
Enter the joy of a good swaddle. The first three weeks of baby's life, I had a wonderful baby nurse who swaddled my baby like no other! She wrapped Alexa like a baby tortilla and she slept so well! If I am being totally honest, my swaddling skills plain old suck. On top of that, I swaddle Alexa during her fussy period (nighttime) each day. So, her legs and arms are whipping all around. I mean it's like catching a shooting star getting her to sit still for me to swaddle her. I tried every trick in the book, but now I just "cheat" with the miracle swaddle type products. Seems to work for her, but I still cannot master getting her arms to stay in the swaddle- she really like to throw her arms around when she sleeps!
I had the opportunity to receive and review the Baby Merlin's Magic Sleepsuit from One Step Ahead recently, and I have to say I am very impressed with this unique baby product. For one, this product is great transitioning baby from swaddle to no swaddle. The website says that happens around three months, and it's best to try as close to three months as possible. Reason being, baby shouldn't really be able to roll over in the sleepsuit, as this was designed for baby to sleep on his/her back. It looks like it would give a very safe feeling for baby, and would quiet baby's need to whip her arms and legs around, making her sleep a bit more soundly.
The sleepsuit was designed by a mom of four, and a pediatric physical therapist. This impressed me, as she would know children's bodies the best- both personally and professionally. Can't get much more field research than that!
The Magic sleepsuit comes in two different fabrics- Microfleece and Cotton version. The microfleece is meant to be a bit more "cozy", and the cotton would be a bit more "breathable". Both of the versions have the same jersey cotton inner layer and same polyfil layer. The only difference is the outer layer. The feet part of the suit is open, allowing the option for baby to have airflow or to cover feet with socks or booties. If you feel baby is too warm in the suit, you can leave the feet open to dissipate heat. You can put baby is a traditional onesie, pajama set, or whatever they are most comfortable in. If you feel baby is too hot, you can even have the baby sleep in the suit with diaper only. Another design plus for me is the fact that it has a scooped neckline. I occasionally freak out about swaddles being too close to my baby's face (my husband wants to kill me for my fears sometimes). This magic sleepsuit would remove that fear, because the fabric would be far from baby's face and mouth!
As for value, I am happy to report the cost of the Magic sleepsuit would fit into anyone's budget! They start at only $31.96! To me, that is totally reasonable and anything that would help my baby sleep better is completely worth it. On top of that, you don't need expensive bedding and you don't need to overuse your heat in the baby's room, No other sleep aids are needed. It's easily machine washable, so you really only need one or two. I probably would recommend two just in case baby wets her diaper and leaks through the suit.
The sleepsuit comes in two sizes- 3-6 months (12-18 pounds) and 6-9 months (18-21 pounds).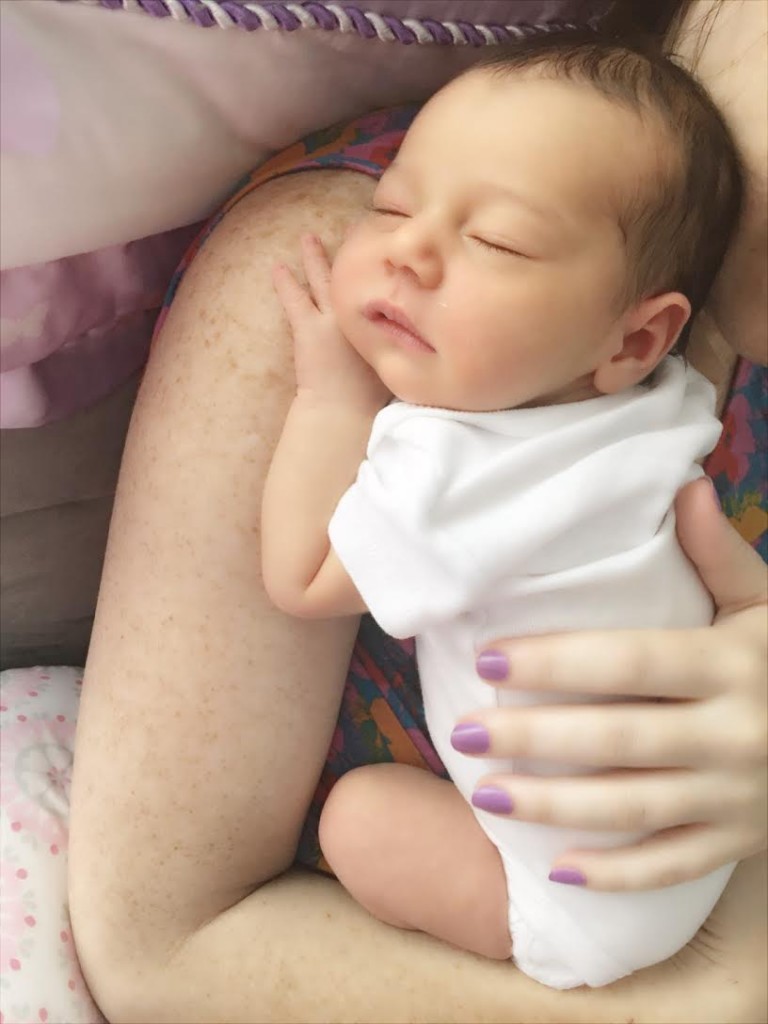 I just think Alexa will look so cute in her sleepsuit and can't wait till she is big enough to wear it!! What a great invention. Melissa is also a fan and always talked so highly of the sleepsuit with her baby Taylor!
Happy sleeping!!
Shara