*This is a sponsored post and giveaway with Tom Tom! All my opinions are my own and not swayed by outside sources.*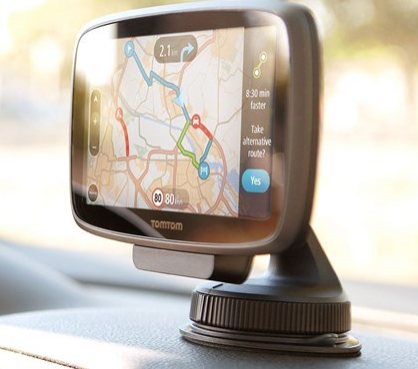 Traffic. We all know it. We all hate it. Traffic sucks up so much time. I don't know about you, but I'd much rather be at home with the family than out on the road. Thanks to the TomTom Go, driving has become far less of a headache. With the TomTom Go and its extensive database, getting home is easier than ever before.
TomTom Go Takes the Pain out of Travel
You know how it goes when you're on the road. Everything's fine, then suddenly you're in a traffic jam. Or maybe there's a road closure you didn't know about. Whatever the reason, it seems like there's always something to delay you when all you really want to do is get home to your family and relax a little. That's where the TomTom Go comes in. This navigation system is top of the line, and it's designed to take the pain out of travel for everyone.
I live in Rhode Island. It's a tiny state, but you wouldn't know it with all the traffic. I've been using the TomTom GO for a while now, and it's made a huge impact on my driving experience. Even when I know where I'm going, I program my destination into my TomTom Go. I do that because it can tell me about any accidents or traffic congestion on my route and offer alternatives which is really great. That alone is a huge time saver. I've actually been saved from extra time on the road a few times already. I love that because at the end of the day, I just want to get home to my three kids and my hubby.
What Makes the TomTom Go Stand Out
The TomTom GO 500 or 600 is far and away the best GPS system out there. With its amazing map coverage and its smart technology that can detect possible traffic blockages and redirect you to a faster route, this device is a must have for anyone who just wants to get home.
Serious Technology: TomTom is the preferred traffic intelligence resource for local governments and traffic agencies to solve mobility issues. That's serious clout.
Massive Database: The database used by TomTom Go and other TomTom devices covers 99.9% of roads. That's more than any other navigation system on the market.
MyDrive Cloud: The MyDrive Cloud allows you to plan your route before leaving your home or work and send it directly to your TomTom GO device, saving you even more time.
The Best of the Best: MyDrive Cloud technology has been recognized by multiple tech magazines such as ZDNet as "one of the best available".
TomTom Go Saves Time and Your Sanity
I love the TomTom Go. Both the 500 and 600 models offer advanced technology and features that make driving a much simpler, more enjoyable experience. With the TomTom GO, everyone can #GetHomeFaster than ever before, and I can't think of too many people who wouldn't love that. I know I do.
Giveaway: One person will receive the TomTom Go. This giveaway is run via rafflecopter so click read more to see the actual giveaway. The only mandatory entry is to tell me what you like about TomTom Go by visiting their website. While the other entries are optional, I highly suggest filling them out to increase your chances of winning. US only. Good luck!