*This is a sponsored post with trimino. All my opinions are my own and not swayed by outside sources.*
I love to run. I love to stay in shape. I try my hardest to get in all the water I need in a day and go heavy on the protein to fuel my runs and my active lifestyle. I had a chance to try trimino, and I really love it. It's got everything I want in protein water and nothing I don't.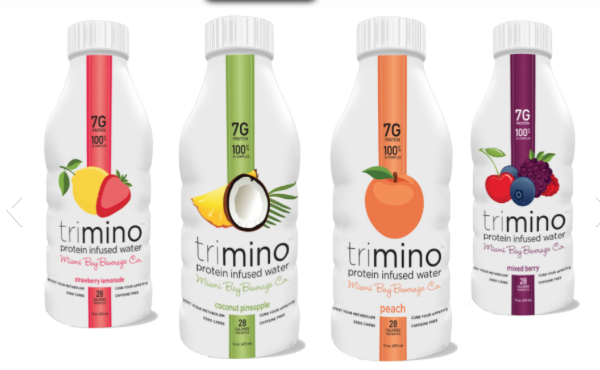 trimino Protein Water Gives Me Everything I Want and Nothing I Don't
I'm in love with trimino. This power packed protein water has 7 grams of high-quality whey protein to fuel my runs, 100% of the Recommended Daily Allowance of vitamin B complex for increased energy, and only 28 calories per bottle. In addition to all of that great stuff, what it doesn't have is sugar, carbs, or caffeine. That means when I drink it, I'm getting extra energy, protein, and hydration without empty calories or stimulants that I don't want.
I took trimino for a test drive this past week, and it was incredible. I took it with me on my runs to stay hydrated and get some protein and all-important B vitamins in while I ran. I really felt a difference! Those B vitamins powered me through my run, and I was able to go longer and with more intensity. It was a wonderful feeling to know that I was consuming something that helped me so much in my workout without pumping me full of caffeine or other stimulants. While it's free of stimulants, its protein, B vitamins, and the fact that it's extra hydration all contribute to boosting my metabolism, curbing my appetite, and giving me increased energy.
Aside from the health benefits, trimino tastes delicious, too. I tried all their flavors: peach, coconut pineapple, strawberry lemonade, and mixed berry. They're all delicious, which is surprising considering there's no added sugar. The flavor is there, but it's not sweet, which I love. I'm interested in results, not in drinking a sugary drink, and Trimino delivers on that.
trimino Protein Water Powers My Day
I love trimino. It's a great boost for workouts, and it also helps keep my appetite down while increasing my energy. All of that adds up to a happy, healthier me. Trimino works for me, and I think it will work for you, too. I highly recommend this product, and I highly recommend that you check out their website to learn more!
trimino powers my day, and it can power yours, too. Give it a try. While I can't guarantee that you'll love it, I'm pretty darn confident of it. Take it with you to work, on a run, or while you're lifting, and feel the difference Trimino can make for you.
New: try all four delicious flavors by ordering a 4-pack online. Shipping is only $2. Just log drinktrimino.com and follow on fb/twitter today!
The Mommyhood Chronicles has arranged for a 20 percent discount on the trimino Mixed 4-Pack which contains four Simply Delicious fruit flavors: Peach, Mixed Berry, Strawberry Lemonade, and Coconut Pineapple. It sells for $9.99, plus only $2 shipping.
Mixed and single-flavor 12-bottle cases are also available for $24.99 with $6 per case for shipping.
Just enter the discount code: MB001. The offer is valid through July 31, 2015.