*This is a sponsored post with Three Bridges. All my opinions are my own and not swayed by outside sources.*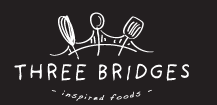 Three Bridges is committed to bringing its customers the highest quality chef-crafted meals, pastas, and sauces. With Three Bridges, even a rushed family can enjoy culinary masterpieces any night of the week.
Three Bridges Gourmet Dining at Home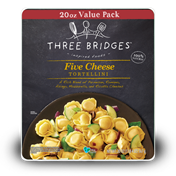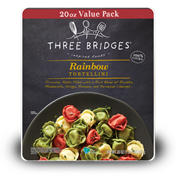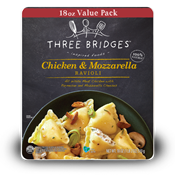 That's the thing about Three Bridges that I love so much. I can serve my family a gourmet meal in a fast food time frame. I NEED that. I have three kids, a blog, and a day job. I don't have time to cut, chop, make roues, and all of the other things that go into a gourmet meal. At the same time, I don't want the family to live off of macaroni and cheese. That's where Three Bridges saves time for moms like me—especially their tortellini value packs, which have enough pasta to feed the whole fam! Pair any Value Pack with their delicious sauces (my fav is the Heirloom Marinara) and you have a delicious meal without spending hours and hours in the kitchen.
What Makes Three Bridges Better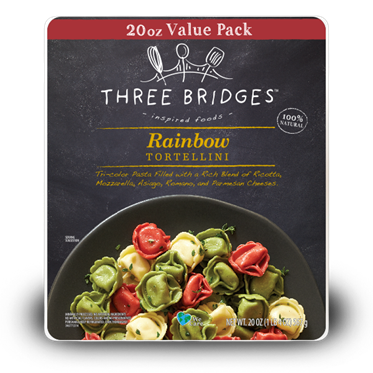 Three Bridges doesn't just throw something together and then slap the word "gourmet" on it. Their recipes are all gourmet quality. REAL gourmet quality. Some of their items include Bolognese Pasta Shells chef-crafted meal, Pesto sauce, Porcini Mushroom Parmesan Alfredo, Organic Pappardelle and more! These are super high end items.
In addition to being gourmet quality, Three Bridges uses real ingredients, with no weird chemicals or preservatives. They even offer superfood and gluten-free products. When you combine quality ingredients, gourmet recipes, and a super fast cook time, you've got a recipe for quick and easy gourmet. In addition to all of that, their website has recipes you can try using their sauces and other Three Bridges ingredients, like the one I included below!
Parmesan Tortellini Bites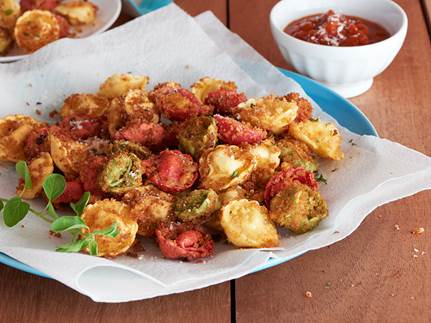 Now that I'm done raving about this family friendly brand, let's get down to business. This recipe, which is sure to please any picky eater, is completed in 6 simples steps, and in 25 minutes you're serving up a gourmet meal—what's better than that! As summer is quickly approaching I'm definitely going to use this recipe for upcoming parties and an easy finger food for the kids.
Parmesan Tortellini Bites
Ingredients:
20 oz
package of Three Bridges Rainbow Tortellini
1 cup
vegetable oil
1 cup
panko breadcrumbs
½ cup
parmesan cheese, freshly grated
1 cup
all-purpose flour
4
large eggs, beaten
1 cup
Directions:
1. Bring a large pot of water to a boil. Add tortellini and cook according to instructions on package. Drain well.
2. Heat vegetable oil in a large skillet over medium heat.
3. In a large bowl, combine panko and parmesan then set aside.
4. Working in batches, dredge tortellini in flour, dip into eggs then dredge in panko mixture, pressing to coat.
5. Add tortellini to the skillet, 8 or 10 at a time, and cook until evenly golden and crispy, about 1-2 minutes. Transfer cooked tortellini to a paper towel lined plate. *Tip: If the oil begins to smoke, reduce heat and continue cooking.
6. Serve immediately with marinara sauce and garnish with additional parmesan, if desired. Enjoy!
Win Three Bridges Products to Try for Yourself: GIVEAWAY!
Enter to win $50 worth of Three Bridges products! For this giveaway, simply leave me a comment and tell me what product from Three Bridges you are most excited to win after visiting their site. Please remember to put your email address so I can contact you if you are the winner. US Only. Ends 6-19.