Hope you all have a great weekend! This weekend is the air show, which is a big thing in our hometown.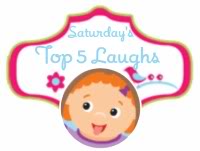 As always, come link up any cute or funny post. Definitely check out the other blogs who link up as they all provide a great laugh. Feel free to take my button or share on social media, although this is not necessary, just appreciated.
My top five laughs:
5.  Zane finished preschool today and I wrote out his sign saying-Last Day of Kindergarten! I have too many kids lol!
4. Hayley finishes kindergarten next week and asked if she could stay next year because she loves it so much. I told her it was time for first grade and she told me, "It's Okay mom.. I will just do kindergarten again."
3. Taylor is a little mumbling machine these days. However, once she starts "talking", she never stops until she gets everyone in the rooms attention.
2. Zane had a playdate with his friend yesterday and it was his friend's birthday. He was so sweet and set up a birthday table for him with a pretend cake. I love his imagination and his sweetness.
1. Enough said!

Now your laughs: