*This is a sponsored post with AccuMed. All my opinions are my own and not swayed by outside sources.*
I recently had the opportunity to review the AccuMed AT-2102 Non-Contact Infrared Thermometer. Since AccuMed has been a leader in health and wellness products for so many years, I was sure the thermometer would be great. I wasn't disappointed!
AccuMed – A Leader in Health
AccuMed has bee around for years, and they've consistently brought high quality health and wellness items to market. They provide us with everything from their Non-Contact Infrared Thermometer to blood pressure monitors to pregnancy and fertility  tests and more. They've pretty much covered all the bases on home diagnostics. I think that's great, because anything I can do to help my family's health is a plus.
The AccuMed AT-2102
Today, my focus is on their AT-2102 Non-Contact Infrared Thermometer. This wonderful thermometer allows you to take your temperature using infrared technology with no need to touch the patient. In my case, patient means child, so I really love this.
This thermometer uses technology that has been shown to be more accurate and tolerable than tympanic (ear) or rectal (you know that one) thermometry, and THAT'S why I love it so much! When your child is young, there's really no sticking a thermometer in their mouth. I remember having to take my kids' temperatures when they were very young, and I always hated have to stick something in their ear or an even more uncomfortable place. With the AccuMed T2102, I don't have to!
Features
Backlit digital display screen and auto-power off
Memorizes previous 32 temperatures taken
Non-contact reading from 5 cm away from body
Reliable temperature measurement in Celsius or Fahrenheit
2 AAA batteries included
I put the AccuMed  AT-2102 through its paces, and it didn't disappoint. I probably took well over 100 readings of different family members, and the results were always accurate. In addition to that, I didn't have to listen to one complaint from my children. The best part of all is that I never once had to poke or prod my child, and I don't have to worry about the transference of germs when they little ones get sick. Because I never have to touch them with the thermometer! Yay!
AccuMed Giveaway!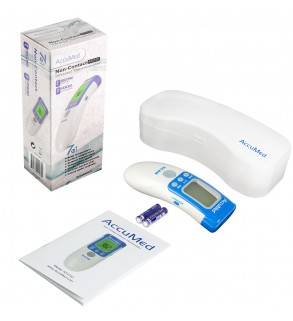 I love the AccuMed T2102 Non-Touch Infrared Thermometer. It's basically answered my prayers on this issue. AccuMed is fantastic brand, and to prove it, they're offering a great giveaway.
AccuMed would like to give 3 people a chance to win any AccuMed product. Some restrictions might apply due to availability. This giveaway is run via rafflecopter so click read more to see the actual giveaway. The only mandatory entry is to tell me what AccuMed product you are most excited to win in the comment section proceeding this post. While the other entries are optional, I highly suggest filling them out to increase your chances of winning. US only. Good luck!
a Rafflecopter giveaway