*Warner Brothers sent me this DVD for review. All my opinions are my own and not swayed by outside sources.*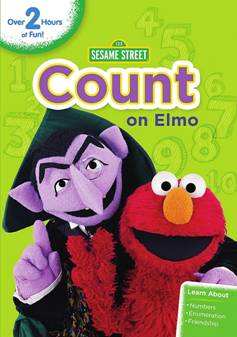 Warner Bros. Home Entertainment (WBHE) is excited to announce Sesame Street: Count on Elmo DVD including over two hours of fun with Elmo and bonus Elmo's World episode! 

LEARNING HOW TO COUNT IS MADE FUN AND EASY WITH
THE RELEASE OF
SESAME STREET: COUNT ON ELMO
ON DVD AND DIGITAL JULY 7, 2015
Features Over Two Hours of Fun with Elmo and Bonus Elmo's World Episode!
— Get ready to learn with everyone's favorite furry red monster, Elmo, as Warner Bros. Home Entertainment (WBHE) and Sesame Workshop, the nonprofit educational organization behind Sesame Street, release Sesame Street: Count on Elmo on DVD and digital July 7, 2015. For more than 45 years, families across America have looked towards Sesame Street's beloved Muppets to help children everywhere grow smarter, stronger and kinder by learning their ABCs, building their inner strength and developing their moral compass – along with a lasting love of learning. These important lessons continue in the latest Sesame Street DVD, as Elmo and friends teach children to love math in Sesame Street: Count on Elmo. Order due date is June 2, 2015.
Kids can rely on their Sesame Street friends for lots of fun, laughs and counting in Sesame Street: Count on Elmo. When the Noble Counting Prize committee is looking for the World's Greatest Counter, Elmo knows that his friend The Count is perfect for the prize. Elmo, Grover, Abby and Cookie Monster try and capture The Count's amazing counting skills on camera so they can enter him in the contest, but everything goes awry! Will The Count win the prize or will it be a Count-astrophe? Kids will learn about friendship and math concepts such as numbers, counting, and enumeration. With over 2 hours full of friendship and fun, kids will really enjoy counting along. Featuring the new song "Count on Friends," this DVD also includes the bonus video Pre-School is Cool: ABC's With Elmo.
"Warner Bros. Home Entertainment is thrilled to release Sesame Street: Count on Elmo as the next Sesame Street home video adventure," said Mary Ellen Thomas, WBHE Vice President Family & Animation Marketing. "Elmo has become one of the most loveable preschool characters of all time. We are very happy to be releasing Count on Elmo on DVD and digital, and helping Elmo continue to teach preschoolers in a fun and engaging way."
Celebrating its impressive 45th anniversary this season, Sesame Street is the longest-running program in children's television. The series has received more Emmy awards than any other show in television history, as well as a Lifetime Achievement Emmy Award.
This is such a cute DVD and one definitely to add to your Sesame Street Collection!