*This is a sponsored post. All my opinions are my own and not swayed by outside sources.*
Non-toxic products are important to me. I don't want to expose my family to chemicals and other harsh irritants that can harm our bodies. I look for non-toxic everything whenever I can to try to keep my family safe and healthy while still using the types of products we love.
Non-Toxic Products from Attitude for Healthy Living
Attitude is a company specializing in a wide variety of non-toxic products. From bath and body to baby products to cleaning supplies, Attitude is committed to bringing your family that very best products doing the best job without the use of the harsh, toxic chemicals you normally find in traditional cleaners. I love that.
One of the main reasons I love non-toxic products like the ones from Attitude is because chemicals can be absorbed through the skin. That means that the chemicals in the shampoo, baby products, and cleaning supplies we use can seep into our skin and from their into the rest of our bodies. That's a pretty scary thought to me. When you consider that most of that stuff is deadly when ingested, it makes sense to keep it off of our skin, as well.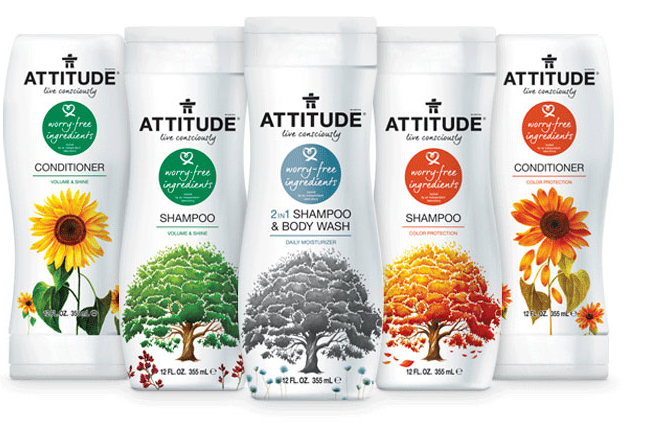 That's why I think Attitude is so great. They have such a variety of non-toxic products, it's easy to live a health chemical free life. Whether I'm cleaning the bathroom, doing the dishes, giving the baby a bath, or changing her diaper, I know that I'm using something that won't harm me or my family in any way. That's a huge comfort, especially with the ongoing increased rates of things like ADHD and autism, which really don't understand. I'm not saying that chemicals can cause these conditions, but I am saying that I see no reason to introduce a foreign substance in my body or my children's bodies.
Non-Toxic Products from Attitude
Attitude has a large selection of non-toxic products available for everyday use including:
Baby products such as biodegradable diapers, baby safe fabric softener, hair detangler, body lotion, bubble bath, fluoride free tooth paste, toy cleaner, hypoallergenic body wash, 3-in-1 shampoo, body & conditioner, as well as host of other baby products.
Bath & Body products such as hypoallergenic body lotion, body wash, moisturizer, shampoo, conditioner, body and face bars, and more.
Everyday cleaning supplies like laundry detergent, fabric softener, dish washing liquid, dish washer pouches, and more.
That's only a small portion of all the non-toxic goodness you can find from Attitude. This is a great company. They carry so many products, you can buy almost all of your household and hygiene products from them and know you're getting quality, non-toxic products for the whole family. If you're interested in non-toxic products, I would suggest checking out Attitude.
If you're interested in Attitude, why not enter their giveaway? Just go here and enter to win one of three non-toxic bundles!