*This is a sponsored post and giveaway. All my opinions are my own and not swayed by outside sources.*
This Mother's Day kicks off the 16th Annual National Women's Health Week. I think that's a great thing. Living healthy can be challenging for anyone, but it's even more challenging for moms because we always put the needs of our family ahead of our own. It's noble, but it can backfire on us.
Living Healthy is Easier Than You Think
It's great to make sure the hubby and kids are tended to, but if we don't make a point of living healthy, we might find ourselves in the role of being cared for rather than caring for others. Nobody wants to be in that boat! That's why it's so important to really strive to live a healthy lifestyle. Living healthy means a longer life and more time with our husbands, kids, and grandkids.
1: Regular Checkups
One of the biggest keys to living healthy is getting routine checkups. And, yes, that includes mammograms for the girls and a trip to your OBGYN. I know it's time consuming and a pain in the butt, but it's got to be done. I'm guilty of not taking the time to get to the doctor for regular checkups myself, but I'm working on it. Regular checkups can ensure your continued good health by finding problems in their early stages when they're easy to treat, rather than after they've had time to become severe.
2. Take Time for Yourself
It's so important to your mental health. It can be tempting to go, go, go until you drop, but that's definitely not a help when it comes to living healthy. As moms and wives, we need  a chance to recharge our mental batteries. A little down time can help rejuvenate us for the challenges of the day to come. So always make a little quiet time for yourself to just be.
3: Relax
Relaxation is another important factor in living healthy. Stress is a killer. Literally. Studies have shown that continued stress can reduce your lifespan by years! If you want to be around to see those grandchildren and great grandchildren, RELAX! Read a book, take a bubble bath, go watch a movie. Do whatever makes you feel calm and relaxed and stress-free. It's important to your health and longevity.
4: Exercise
Ah, the dreaded E word. Exercise. I know what you're thinking. Who wants to exercise before or after a long day of work, kids, dinner, and whatever else happens to be on your plate? It's an important part of living healthy, though. Exercise strengthens your body and mind, improves your mental attitude and acuity, and can help stave off diseases like heart disease, diabetes, and cancer.
5: Pamper Yourself
How does that fit into healthy living? It fits in because healthy living is both a mind and body thing. If you give yourself just a little pampering, it can improve your mood and your outlook. Some studies have shown that positive people tend to live longer than sour pusses, so do whatever you can to improve that mood.
6: Eat a Healthy Diet
This is actually a lot easier than you might think. All you really need to do to start down a road to eating better and living healthy is change a few minor things to start. Switch out brown rice for white rice, multi-grain bread for white bread, whole grain pasta for regular pasta, and if you drink pop, ditch it. Those changes alone can help you dramatically. It only take s a few minor changes to start living healthy today.
7: Take Care of Your Mouth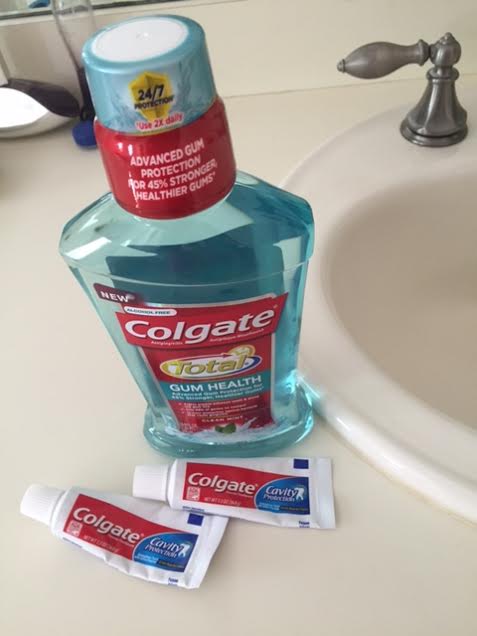 As a dentist, this one is near and dear to my heart. The state of your mouth can drastically affect your overall health. Did you know that an infected mouth can release germs into the bloodstream which can affect your heart, liver, and kidneys? It's a proven fact. It's also a proven fact that people with a bad smile tend to have lower self-esteem, which works on their mental state.
To keep my mouth in order, I use the Colgate Total regimen. Colgate has been THE name in oral care for as long as I can remember, and there's a reason for that. They have wonderful oral care products. I use Colgate Total Advanced Whitening toothpaste, Colgate Total Advanced Pro-Shield mouthwash, my Total Advanced Power Toothbrush, and i floss to keep my gums healthy and my chompers chomping.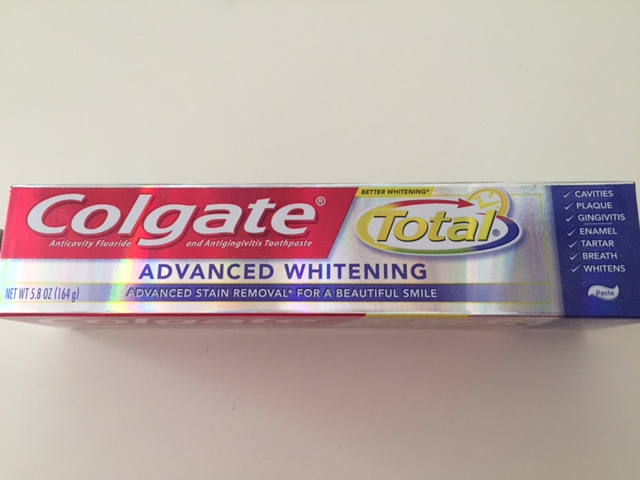 Always make healthy living a high priority in your life so you can be around for all the great moments we as moms look forward to, and don't forget your mouth!
Giveaway: One winner will receive a $60 Healthy Kit package. This giveaway is run via rafflecopter so click read more to see the actual giveaway. The only mandatory entry is to visit Colgate Total and tell me what you learned. Please put all comments in comment section proceeding the post. While the other entries are optional, I highly suggest filling it out to increase your chances of winning. US only. Good luck!
a Rafflecopter giveaway