I am back! Did you miss me?!! We had a great time on our cruise and there will be plenty of fun posts from me on this great Disney cruise.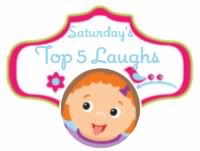 In the meantime, come link up any cute or funny post. Definitely check out the other blogs who link up as they all provide a great laugh. Feel free to take my button or share on social media although this is not necessary, just appreciated.
My top five laughs:
5. Taylor is a crawling machine these days. I turn for a minute and she has something in her mouth or climbing on something. Yesterday I found her in the bathroom toilet. I guess it is time for locks again!
4. Taylor is also really proud of herself with trying to get up. Every time she gets up, she yells UP! It is really so cute!
3. Hayley and Zane did not feel well this week. Both of them laid in bed and were actually very quiet. I told them I liked them like that (not sick..just quiet) and they responded that they love to be loud and give me a headache. Haha!
2. Zane knows all his months in Spanish. I asked him where he learned and he told me Dora. I had no idea he still watched Dora.
1. My cute family:
Now your laughs: